Yankellow Honors Eddington Through Major Gift
$500,000 gift will support five initiatives at the School and university.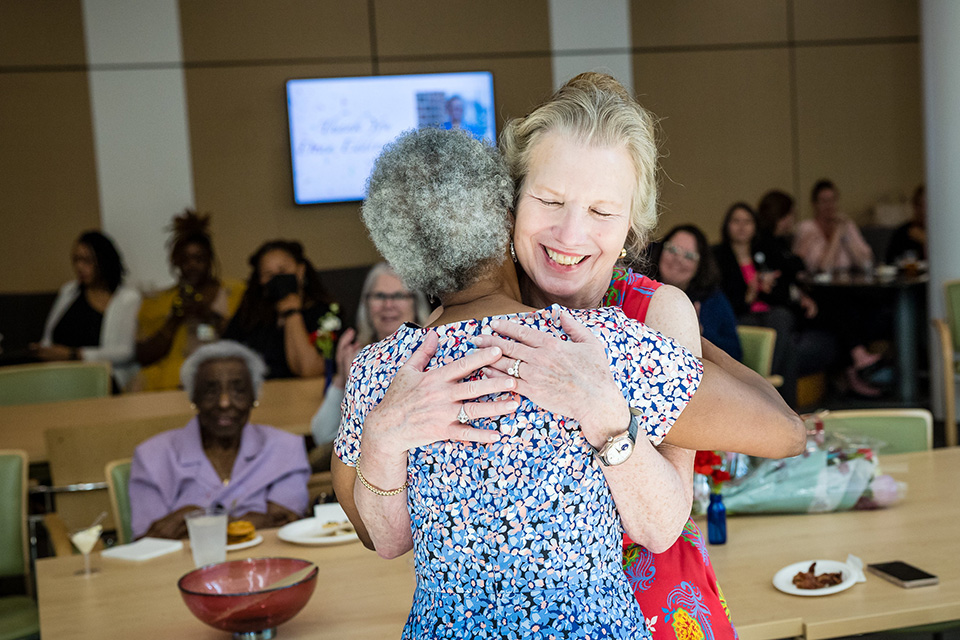 By Andrew Tie
July 19, 2023
The deanship of Natalie D. Eddington, PhD, FAAPS, FCP, proved to be a transformative period for the University of Maryland School of Pharmacy (UMSOP).
In honor of Eddington's 15-year tenure as dean, Ellen H. Yankellow, PharmD '96, BSP '73, president and CEO of Correct Rx Pharmacy Services, Inc., announced a $500,000 gift to the School during a celebration for Eddington on June 1, 2023.
Yankellow is one of the School's Founding Pharmapreneurs, a member of the Board of Visitors and Center for Women in Pharmapreneurship task force, and namesake of the Ellen H. Yankellow Grand Atrium in Pharmacy Hall.
"When people ask me 'why do you give to the School of Pharmacy?' the answer is simple, people give to people they trust," Yankellow said. "Trust is earned, and Natalie earned my trust along with that of so many others that our gifts would be used wisely and impactfully."
"We are deeply appreciative of the incredible gift that Ellen Yankellow has provided to the School of Pharmacy," said Ken Boyden, JD, EdD, associate dean for development and alumni affairs. "This gift from a great pharmapreneur honors the pharmapreneurial vision of Natalie Eddington and will open many new opportunities for our students within these exciting programs."
The gift will be used for five initiatives at the School and university.
$100,000 over three years to the Peter Lamy Center on Drug Therapy and Aging to support a training fund for residents, fellows, and students.
$100,000 over three years to provide scholarship support for students from under-represented communities within the MS in Regulatory Science.
$100,000 over three years to support the Center for Innovative Pharmacy Solutions telehealth program in its leading collaboration with other University of Maryland, Baltimore (UMB) schools.
$100,000 over three years to provide student support in the PhD in Pharmaceutical Sciences (PSC) program and its NIH-awarded Initiative for Maximizing Student Development program, which strives to increase the number of students from under-represented groups in the PSC doctoral program.
$100,000 over three years to provide support for UMB's new EMBRACE initiative, a multi-faceted approach designed to increase the vibrancy of the greater UMB campus, boost UMB's community impact in West Baltimore, and strengthen UMB's profile with its internal and external constituencies. Eddington now has a leadership role with EMBRACE.
"Throughout my career and deanship, Ellen Yankellow has been a nationally recognized pharmacy leader, supporter, partner, and friend," Eddington said. "I'm truly humbled when I think about how a gift of this magnitude will propel our School and university forward through these five impactful and diverse initiatives."
Under Eddington's leadership, the School grew in many ways. Physically, the School's footprint expanded in 2010 with the opening of Pharmacy Hall addition, a 126,000 square foot, seven-story building that doubled the School's space. In its academic offerings, the School developed new graduate level programs, such as the first-of-its-kind MS in Medical Cannabis Science and Therapeutics in 2019, and expanded its enrollment across 10 academic degrees.
Clinical and research portfolios grew with the addition of new practice sites, extramural funding, and new centers and programs. Eddington also led the School through the multi-year pandemic and launched the transformational Pharmapreneurship initiative in 2017, enhancing the School's national reputation.
If you wish to make a gift to the Annual Fund in honor of Dean Eddington's tenure please visit www.pharmacy.umaryland.edu/go/capsule or mail a check to:
Office of Gift Administration
220 N. Arch Street, 13th Floor
Baltimore, MD 21201
Please make checks payable to UMBF Inc. 
Related News Stories