Tenure of Dean Natalie Eddington Honored for Expertise, Influence, Impact
Friends and colleagues gathered for celebration on June 1.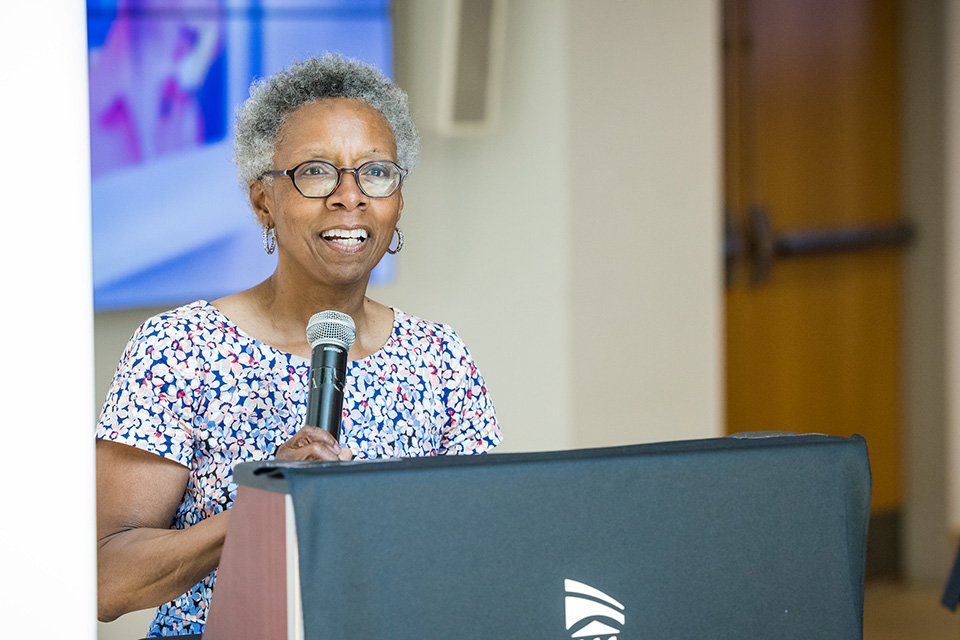 By Andrew Tie
June 8, 2023
Expertise, influence, impact – these three words have been the hallmarks of the University of Maryland School of Pharmacy's (UMSOP) efforts and initiatives under the leadership of Natalie D. Eddington, PhD, FAAPS, FCP.
On June 1, faculty, staff, peers, campus colleagues, and many other friends heard about Eddington's expertise, influence, and impact as they celebrated her nearly 16-year tenure as dean of UMSOP. Eddington stepped down from the deanship on May 31.
"I would say the word 'magic' comes to mind when I think about Natalie," said University of Maryland, Baltimore (UMB) President Bruce E. Jarrell, MD, FACS. "She has been a leader at the university level in remarkable ways. Natalie, you've made a big impact here. It's going to be a hard act to follow."
Pinnacle of Professional Career
Eddington has a long history with UMSOP, beginning with her graduation with a PhD in pharmaceutical sciences in 1989. After spending three years at Pfizer, Eddington returned to UMSOP as an assistant professor in the Department of Pharmaceutical Sciences (PSC), eventually becoming chair of PSC, director of the Pharmacokinetics-Biopharmaceutics Laboratory, and then dean in 2007.
Under her leadership, the School grew in many ways. Physically, the School's footprint expanded in 2010 with the opening of Pharmacy Hall Addition, a 126,000 square foot, seven-story building that doubled the School's space. In its academic offerings, the School developed new graduate level programs, expanding its enrollment across 10 academic degrees. Clinical and research profiles grew through the addition of new practice sites, extramural funding, and new centers and programs. Eddington also led the School through the multiyear pandemic and launched the transformational Pharmapreneurship initiative in 2017, enhancing the School's national reputation.
"It was the pinnacle of my career leading the University of Maryland School of Pharmacy, the home of my entire professional career and my alma mater," Eddington said. "Working with faculty, staff, alumni, preceptors, campus leaders, our Board of Visitors, external collaborators, and partners to advance the School's mission and continue our expertise, influence, and impact was fun and really challenging."
Tributes from Others
Andy Coop, PhD, associate dean for academic affairs and professor in PSC, served as emcee for the event. He listed a number of accomplishments under Eddington's tenure and crises she helped shepherd the School through.
"But it's not about buildings, not about programs, it's about people," Coop said. "Natalie impacts all of us here. It's her mentorship and how she's taken junior individuals and mentored them to be leaders, award winners, and decision makers. It's been a blast, Natalie. Thank you, and I know everyone here thanks you for 16 years."
Jay A. Perman, MD, chancellor of the University System of Maryland, got to know Eddington well in his previous role as UMB president. He recalled fondly the many ideas she had that shortly thereafter became reality.
"She's the type of person who, if she comes to you with a problem, also comes with a proposal or solution," Perman said. "She's not just a talker – she does it. That may not seem spectacular, but it is."
Ellen H. Yankellow, PharmD '96, BSP '73, president and CEO of Correct Rx Pharmacy Services, Inc., is one of the School's Founding Pharmapreneurs, member of the Board of Visitors, and namesake of the Ellen H. Yankellow Grand Atrium in Pharmacy Hall. She attended the celebration to help announce a new $500,000 gift to the School in the dean's honor.
"When people ask me 'why do you give to the School of Pharmacy?' the answer is simple, people give to people they trust," Yankellow said. "Trust is earned, and Natalie earned my trust along with that of so many others that our gifts would be used wisely and impactfully."
Eddington officially stepped down as dean at the end of May, and Sarah L.J. Michel, PhD, professor and chair of PSC, has been named interim dean. Eddington will remain on faculty and will lead UMB's EMBRACE initiative, a multifaceted approach designed to increase the vibrancy of the greater UMB campus, boost UMB's community impact in West Baltimore, and strengthen UMB's profile with our internal and external constituencies.
"The School of Pharmacy's legacy of excellence will continue, and I will always be one of your biggest cheerleaders," Eddington said. "Thank you for your support, well wishes, and encouragement."
Related News Stories