Eddington Receives Mentorship Award from ACCP
Former dean receives the Hartmut Derendorf Mentorship in Clinical Pharmacology Award.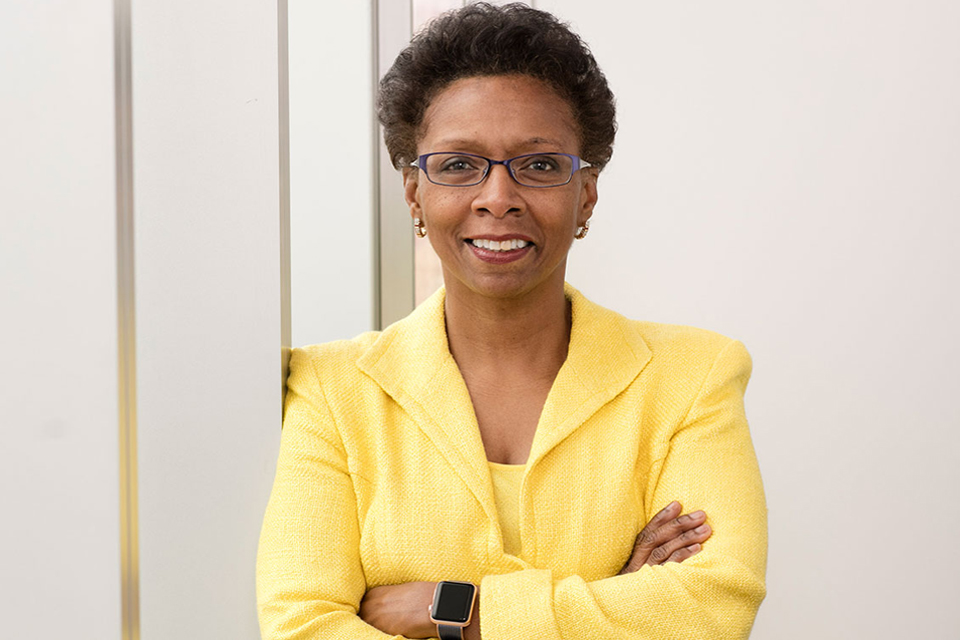 By Andrew Tie
September 27, 2023
Natalie D. Eddington, PhD, FAAPS, FCP, former dean of the University of Maryland School of Pharmacy, was recognized for her careerlong mentorship of students and colleagues as the recipient of the American College of Clinical Pharmacology's (ACCP) Hartmut Derendorf Mentorship in Clinical Pharmacology Award.
The award is given annually to someone who demonstrates exemplary promotion of clinical pharmacology, with emphasis on training and guidance of junior scientists or colleagues.
"This recognition holds a special place in my heart, not only because of the prestige associated with the award, but also because it reaffirms the importance of mentorship," said Eddington, who remains a professor in the Department of Pharmaceutical Sciences (PSC). "Guiding and supporting the next wave of clinical pharmacologists has not only been a duty, but a source of immeasurable joy and fulfillment."
Eddington, who stepped down in May as dean of the School after nearly 16 years, first came to UMSOP as a graduate student in the PhD in PSC program. After graduating in 1989 and a brief stint at Pfizer, Eddington returned to the School as a faculty member and was later named chair of the PSC department in 2003. In 2007, she became the School's first African-American female dean.
Over her career, Eddington, a nationally known expert in drug delivery and pharmacokinetics, has mentored more than 25 graduate students, 10 postdoctoral fellows, and two research assistant professors.
"I have known Dr. Eddington for more than 20 years, have worked closely with her, and have greatly benefitted from her guidance in achieving the research and educational goals of the School of Pharmacy," said Paul Shapiro, PhD, associate dean for research and advanced graduate studies and professor of PSC. "Natalie has a stellar record of accomplishment in training and mentoring outstanding clinical pharmacologists. Her students have had tremendous success in academic research laboratories, government agencies, and the pharmaceutical industry."
Eddington's research focuses on various medications used in the treatment of cancer, epilepsy, arthritis, and drugs of abuse, and on understanding the role of biopharmaceutics and pharmacokinetics in elucidating the underlying mechanisms important in optimizing drug therapy. Her research has been supported by the National Institutes of Health (NIDA, NIBIB, NIMH, NCI), the US Food and Drug Administration (FDA), the Department of Defense, and the pharmaceutical industry.
She has been an active member of numerous scientific and professional organizations, including the American Association of Colleges of Pharmacy, American Society of Health-Systems Pharmacists, American Association of Pharmaceutical Scientists, and ACCP.
"When I joined the department, my laboratory was next to Dr. Eddington's, and it was clear from the get-go that she was a superb advisor. Her students were bright, hardworking, and really engaged in their research projects," said Sarah L.J. Michel, PhD, interim dean of the School and professor of PSC. "When I was a new faculty member, Dr. Eddington was a great mentor to me – her door was always open – and she was and remains an amazing role model for me."
The Hartmut Derendorf Mentorship in Clinical Pharmacology Award is one of seven awards ACCP presents at its annual meeting, which was held in September.
"To all those who I've had the privilege to mentor, this award is as much yours as it is mine," Eddington said. "I encourage you to pay forward the invaluable gift of mentorship in your work in academia, government, and the pharmaceutical industry, and in your personal lives and communities."
Related News Stories