Independent Pharmacist, Longtime Preceptor Inducted into Dean's Hall of Fame
Dr. Peter Mbi honored for his dedicated service to the School and commitment to educating the next generation of pharmacy practitioners.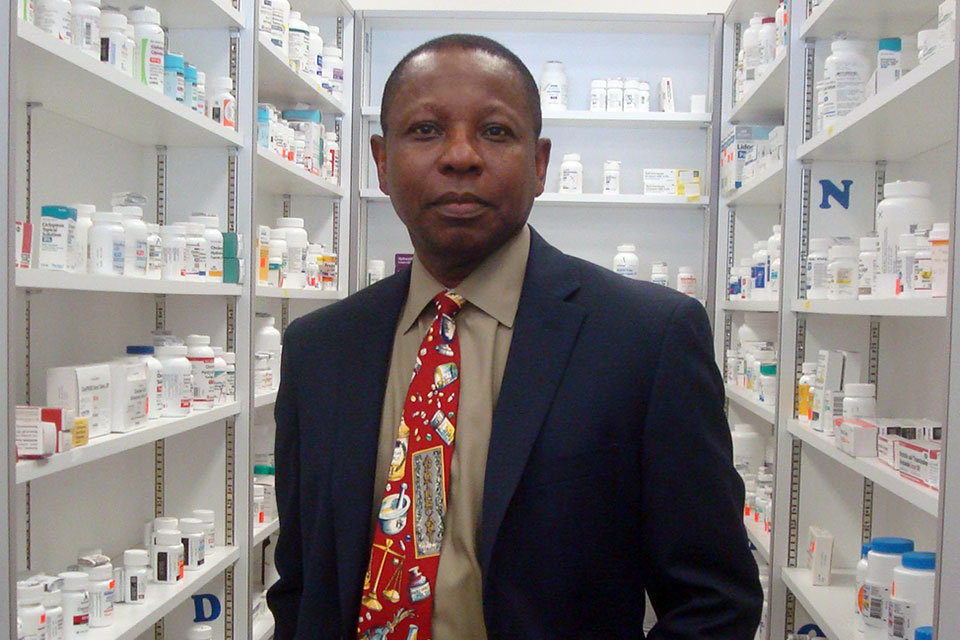 By Malissa Carroll
June 19, 2018
Peter T. Mbi, PharmD, PhD, owner of Global Health Pharmacy in Laurel and Odenton, Md., was inducted into the Dean's Hall of Fame for Distinguished Community Pharmacists as part of the annual banquet hosted by the National Community Pharmacists Association (NCPA) Leavitt Student Chapter at the University of Maryland School of Pharmacy on April 19. Established in 2006, the Hall of Fame Award is presented each year by Natalie D. Eddington, PhD, FCP, FAAPS, dean and professor of the School, in recognition of a pharmacist's leadership, entrepreneurship, and passion for independent pharmacy.
"Dr. Mbi is a highly educated and extremely accomplished pharmacist," said Eddington. "His extraordinary dedication to serving the patients who visit his practice is matched only by his commitment to equipping the next generation of pharmacy professionals with the knowledge and skills they will need to achieve their personal career aspirations. Each year, when it comes time for students to enroll in their community pharmacy rotation, demand for Dr. Mbi as a preceptor is high. I am honored to present him with the 2018 Dean's Hall of Fame Award for Distinguished Community Pharmacists."
Mbi received a Bachelor of Science in biology and chemistry from the State University of New York, Brockport. He later attended Creighton University School of Pharmacy and the University of Florida School of Pharmacy, where he received his Bachelor of Science in Pharmacy (BSP) and Doctor of Pharmacy (PharmD), respectively. He also earned a Doctor of Philosophy (PhD) from the University of California, San Francisco.
After completing a residency in cardiology pharmacy, Mbi worked as a clinical pharmacist in a variety of practice settings before transitioning to hospital practice, then to community practice. He has served as a preceptor for student pharmacists at the School of Pharmacy since 1990, and is a two-time recipient of the School's Preceptor of the Year award, which recognizes his exemplary service to the Experiential Learning Program.
"Dr. Mbi takes the same personalized approach with his students that he does with his patients," said Eddington. "He works with students one-on-one to learn about the classes they are taking as well as their unique career goals, giving them opportunities to participate in hands-on techniques, direct involvement and interactions with patients, and other experiences assessing, evaluating, and providing clinical care for underserved patient populations. They acquire new skillsets that will serve them well in caring for their patients as practicing pharmacists."
In 1996, Mbi established Global Health Pharmacy to serve the medication-related needs of patients across Howard, Baltimore, and Anne Arundel Counties. An advanced community practice site, Global Health Pharmacy integrates long-term care services, group homes, nursing homes, and assisted living facilities to offer a wide range of services to patients, including one-on-one medication counseling, comprehensive medication reviews, immunizations, and diabetic and allergy services.
"During my time at Global Health Pharmacy, I saw firsthand how rewarding it is to be an independent pharmacist," said one fourth-year student pharmacist who completed a rotation with Mbi. "Independent pharmacists have the inimitable opportunity to be able to develop lasting personal relationships with their patients and customers."
Mbi has also received numerous awards for his service to the pharmacy profession, including the Excellence in Teaching Pharmacy Technicians Award from Anne Arundel Community College, a Maryland Governor's Citation for Community Service, a Baltimore County Police Citation for Community Service, and the 2016 National Master Preceptor Recognition Award from the American Association of Colleges of Pharmacy (AACP) – an honor for which he was nominated by the School of Pharmacy.
He is a member of several national and international organizations, including AACP and the American Society of Health-System Pharmacists.
"I feel privileged to have the great honor of being inducted into the Dean's Hall of Fame for Distinguished Community Pharmacists," says Mbi. "It is incredibly rewarding to have a career in which I am able to apply my clinical pharmacy knowledge – whether it is using evidence-based medicine to make recommendations during a comprehensive medication review, helping patients understand the nature of their health conditions and the importance of taking their medications correctly, or simply teaching them how to use a blood glucose meter to monitor their blood sugar – to help my patients live healthier lives. I dedicate this award to my students, both past and present, the communities I serve, and the patients who have trusted me and allowed me to make a positive difference in their lives through my practice."
The NCPA annual banquet recognizes the student chapter's yearly achievements. It is also the event at which new chapter officers are installed. "This outstanding group of students is the future of the profession, and a group of which we can be especially proud," said Eddington.
The mission of the NCPA student chapter is to promote independent pharmacy with the intent of increasing students' awareness of its advantages, encourage newly practicing pharmacists to pursue pharmacy ownership, and support independent pharmacy's already established positive image.
Related News Stories