SOP Alumnus, Independent Pharmacy Owner Inducted into Dean's Hall of Fame
Brian Hose honored for leadership, entrepreneurship, and passion for independent pharmacy.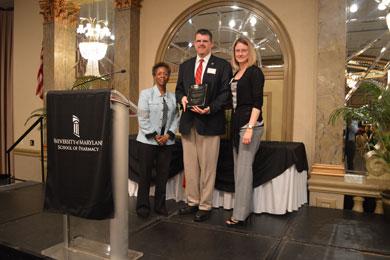 By Malissa Carroll
May 5, 2014
Brian Hose, PharmD '06, pharmacist and owner of Sharpsburg Pharmacy, was inducted into the Dean's Hall of Fame for Distinguished Community Pharmacists as part of the annual banquet hosted by the University of Maryland School of Pharmacy's National Community Pharmacists Association (NCPA) student chapter on April 24. Established in 2006, the Hall of Fame Award is presented each year by Natalie D. Eddington, PhD, FCP, FAAPS, dean and professor of the School, in recognition of a pharmacist's leadership, entrepreneurship, and passion for independent pharmacy.
Hose is the youngest community pharmacist to receive the award. "Many of the pharmacists previously inducted into the Dean's Hall of Fame were individuals who mentored me as I began my career in pharmacy. I feel honored to be recognized in the same category as them," he says.
As both a student and practicing pharmacist, Hose has been closely involved with NCPA. His involvement in the organization as a student at the School of Pharmacy led him to meet Neil Leikach, BSP '92, and Dixie Leikach, BSP '92. As owners of independent community pharmacies in both Catonsville and Finksburg, the Leikachs became mentors to Hose early in his career. "Neil and Dixie challenged me to stay at the top of my profession each day. I set my sights on one day owning a pharmacy just like them," he says.
Hose also met his mentors — pharmacist Gary Haas and his wife Sally — at a NCPA national meeting. The Haases owned two independent community pharmacies near Hose's childhood home in Hagerstown, Md. He expressed an interest in working with the couple, and was hired as a fulltime pharmacist immediately after he graduated.
In 2008, the Haases transitioned ownership of Sharpsburg Pharmacy to Hose, which he and his wife, Stacey, continue to manage today. "I could not do all of the work that I have done for the profession without the help of my wife," he candidly admits.
Though he notes that owning an independent pharmacy has often required long hours and a lot of hard work, Hose says that he enjoys having the opportunity to tailor his practice to his patients' needs.
Hose also serves as a preceptor for the School of Pharmacy, supervising students on rotations in his pharmacy. Recently, he partnered with the School and Whitesell Pharmacy in Frederick, Md., to bring a community pharmacy resident to Sharpsburg Pharmacy for two days each week.
"I would not be an independent pharmacy owner if it were not for the guidance and mentorship that I received from both Gary and Sally, as well as Neil and Dixie," says Hose. "My advice to current students – whether they want to pursue a career as an independent pharmacy owner or not – is get involved. The connections that I made at the School of Pharmacy through my leadership roles in student organizations, including NCPA, helped launch my career."
In addition to his service to his patients and to the School, Hose continues to advocate for pharmacy and patient care issues in the state of Maryland. He is a past chair of the Maryland Pharmacy Coalition and has served as a trustee, Legislative Committee chair, Personnel Committee chair, vice president, and president of the Maryland Pharmacists Association (MPhA). He currently chairs MPhA's Board of Tustees and is president of the School's Alumni Association.
"Community pharmacies, especially progressive, independent pharmacies like ours, continue to work hard to stay on the cutting-edge of patient care," says Hose. "I will continue doing all that I can to ensure that there are always opportunities available for driven students who are not afraid of hard work."
The NCPA annual banquet recognizes the NCPA student chapter's yearly achievements. It is also the event at which new chapter officers are installed.
"This outstanding group of students is the future of the profession, and based on what we've seen and heard here tonight, a group of which we can be especially proud," said Eddington.
The chapter's goal is to promote independent pharmacy with the intent of increasing students' awareness of its advantages, encourage newly practicing pharmacists to pursue pharmacy ownership, and support independent pharmacy's already established positive image.
Related News Stories