Longtime West Baltimore Pharmacist Inducted into Dean's Hall of Fame
Dwayne Weaver honored for commitment to patients and community during the civil unrest that struck Baltimore City last year.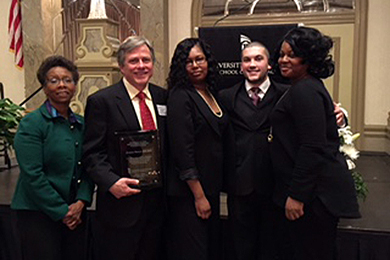 By Malissa Carroll
April 25, 2016
Dwayne Weaver, BSP, RPh, pharmacist and owner of Keystone Pharmacy in West Baltimore, was inducted into the Dean's Hall of Fame for Distinguished Community Pharmacists as part of the annual banquet hosted by the University of Maryland School of Pharmacy's National Community Pharmacists Association (NCPA) student chapter on April 9. Established in 2006, the Hall of Fame Award is presented each year by Natalie D. Eddington, PhD, FCP, FAAPS, dean and professor of the School, in recognition of a pharmacist's leadership, entrepreneurship, and passion for independent pharmacy.
"Independent pharmacy owners have an unparalleled understanding of the needs of the communities in which they serve," said Eddington. "As the owner of Keystone Pharmacy on North Avenue – a community pharmacy that has provided a number of vital services to the residents of West Baltimore for more than 30 years – Mr. Weaver's commitment to underserved communities, particularly in the wake of the civil unrest that affected the city last year, is truly inspiring. I am honored to present him with the 2016 Dean's Hall of Fame Award for Distinguished Community Pharmacists."
Born and raised near Pittsburgh, Pa., Weaver earned his Bachelor of Science in Pharmacy (BSP) from Ohio Northern University in 1982. Following his graduation, Weaver moved to Baltimore, where he accepted a position with Rite Aid.
"I worked at Rite Aid for three years before investing in the partnership that led to the establishment of Keystone Pharmacy," recalled Weaver. "While at Rite Aid, I managed the pharmacy as if it were my own, even waxing the floors when I was not busy counseling patients. I learned quickly that the harder I worked, the more fortunate I became. Was it always easy? No. Was it worth the challenges that I encountered? Absolutely."
In 1985, Weaver partnered to establish Keystone Pharmacy in West Baltimore, and later became the sole owner of the business. His fortunes were first tested in 1997, when an electrical fire destroyed the pharmacy's original location. Weaver relocated the pharmacy, and he and his staff continued their important work helping patients access lifesaving medications, counseling them on side effects and drug-drug interactions, and advocating for them with their physicians' offices and insurance providers.
However, his fortunes were tested again in 2015, when Keystone Pharmacy was devastated by the riots that spread across Baltimore City following the death of Freddie Gray. Doors and windows were smashed, prescription drugs were gone, chips and drinks were taken, and trash littered the floor. Although he could have relocated again, Weaver chose to stay in the community, working with his staff to clean and repair the damage.
"Independent pharmacies like Keystone Pharmacy provide a range of valuable services that help ensure the health and well-being of the residents in their neighborhoods," said Eddington. "It is the independent pharmacy owner who has an intimate knowledge of the community that he or she serves and is able to customize offerings to meet patients' unique needs. It is also the independent pharmacy owner who has a platform to evaluate innovation and creation in his or her health care setting. The focus on independent pharmacies and the services that they provide cannot be understated, and it is our responsibility as one of the top ten schools of pharmacy in the country to ensure that these businesses can continue serving the communities that desperately depend on them."
One week after the riots, Weaver's patients returned in droves, eager to see the staff with whom they had grown close and desperate for the medications that they had been without.
"It was the collective strength of the community that helped us pull through that difficult time," said Weaver. "After the unrest, many of my patients visited the store to see how they could help us rebuild. Those selfless acts of kindness removed any doubt that my staff and I had about reopening the store. They reminded me that pharmacists are truly the most accessible members of the health care team. We have the power and the tools necessary to impact lives through education, counseling, and advocacy."
He added, "I made the right decision to reopen Keystone Pharmacy and continue serving the patients who have depended on us for more than 30 years, and I can assure you that, as students, you are making the right decision to pursue a career in community pharmacy."
The NCPA annual banquet recognizes the NCPA student chapter's yearly achievements. It is also the event at which new chapter officers are installed.
"This outstanding group of students is the future of the profession, and based on what we have seen and heard tonight, a group of which we can be especially proud," said Eddington.
The chapter's goal is to promote independent pharmacy with the intent of increasing students' awareness of its advantages, encourage newly practicing pharmacists to pursue pharmacy ownership, and support independent pharmacy's already established positive image.
Related News Stories