Kensington Pharmacist Posthumously Inducted into Dean's Hall of Fame
School of Pharmacy alumnus and independent pharmacy owner Huseyin Tunc honored for his entrepreneurial spirit and dedication to helping patients.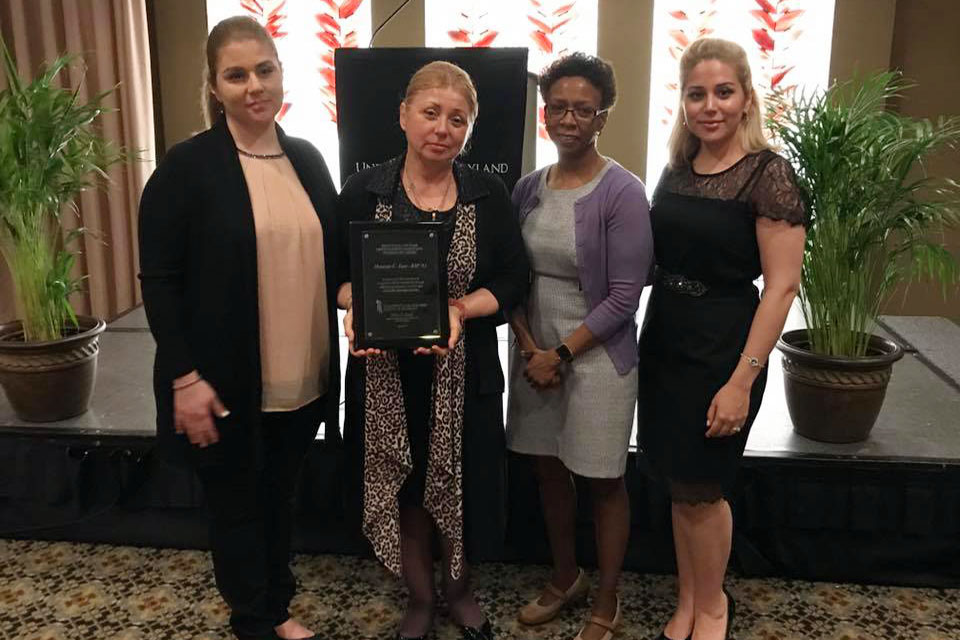 By Malissa Carroll
May 18, 2017
Huseyin Tunc, BSP '83, pharmacist and owner of Kensington Pharmacy in Kensington, Md., was posthumously inducted into the Dean's Hall of Fame for Distinguished Community Pharmacists as part of the annual banquet hosted by the University of Maryland School of Pharmacy's National Community Pharmacists Association (NCPA) student chapter on April 29. Established in 2006, the Hall of Fame Award is presented each year by Natalie D. Eddington, PhD, FCP, FAAPS, dean and professor of the School, in recognition of a pharmacist's leadership, entrepreneurship, and passion for independent pharmacy.
"Since opening its doors, Kensington Pharmacy has become a place where everyone – patients, pharmacists, technicians, staff, and their families – knows each other," said Eddington. "Mr. Tunc was a trustworthy and caring health care advocate and mentor. He greeted all patrons by their first names, provided mentorship to his employees, and personally delivered medications to patients at any time. With the support of his wife, he lived his dream of pharmacy ownership in the United States. I am honored to present his family with the 2017 Dean's Hall of Fame Award for Distinguished Community Pharmacists on his behalf."
A native of Turkey, Tunc graduated from the University of Istanbul Pharmacy School in 1975. He owned and operated a pharmacy in his hometown of Antalya, Turkey for four years before immigrating to the United States with his wife in 1979. After settling in Silver Spring, Md., Tunc enrolled in the School of Pharmacy, graduating with his Bachelor of Science in pharmacy in 1983. He worked in the inpatient pharmacy at Holy Cross Hospital in Silver Spring before joining a national supermarket chain as a community pharmacist, where he held positions of increasing responsibility for more than 20 years.
Although Tunc experienced tremendous success during his career with the supermarket chain, he remained committed to his entrepreneurial dream of once again owning and operating an independent pharmacy. He completed his Master of Business Administration (MBA) at the University of Phoenix and opened Kensington Pharmacy in 2005. His daughters Zeynep Tunc, PharmD, and Melike Tunc, PharmD – graduates of the School of Pharmacy's Classes of 2006 and 2008, respectively – later joined him in the family business.
"According to his family, Mr. Tunc was not only a devoted father and loving husband, but also a true entrepreneur," added Eddington. "HIs mission to provide the highest quality pharmacy health care to patients continues through the friendly, helpful service offered by his business; his store's clean and enjoyable atmosphere; the convenience and communication provided to patients; and staff members' pharmacy expertise. At Kensington Pharmacy, patients are truly treated like family."
Following a courageous battle with colon cancer, Tunc passed away in April 2016. His family has established the Huseyin C. Tunc Memorial Fund to preserve his legacy and help give others a chance to follow their dreams.
"From the bottom of my heart, thank you for tonight," said Pinar Tunc, who, along with her daughters, accepted the award on behalf of her husband. "Huseyin was an incredible husband and father, excellent pharmacist, and amazing human being. Although tomorrow marks the one-year anniversary of his passing, his light and his spirit are always with us. I encourage you to be kind to one another and help each other – both as students and as pharmacists after graduation – because you never know what tomorrow will bring."
The NCPA annual banquet recognizes the NCPA student chapter's yearly achievements. It is also the event at which new chapter officers are installed. "This outstanding group of students is the future of the profession, and a group of which we can be especially proud," said Eddington.
The chapter's goal is to promote independent pharmacy with the intent of increasing students' awareness of its advantages, encourage newly practicing pharmacists to pursue pharmacy ownership, and support independent pharmacy's already established positive image.
Related News Stories