Evening Reception Celebrates Leadership Giving at the School of Pharmacy
Members of the School's David Stewart Associates Society are recognized for their continued support of the School.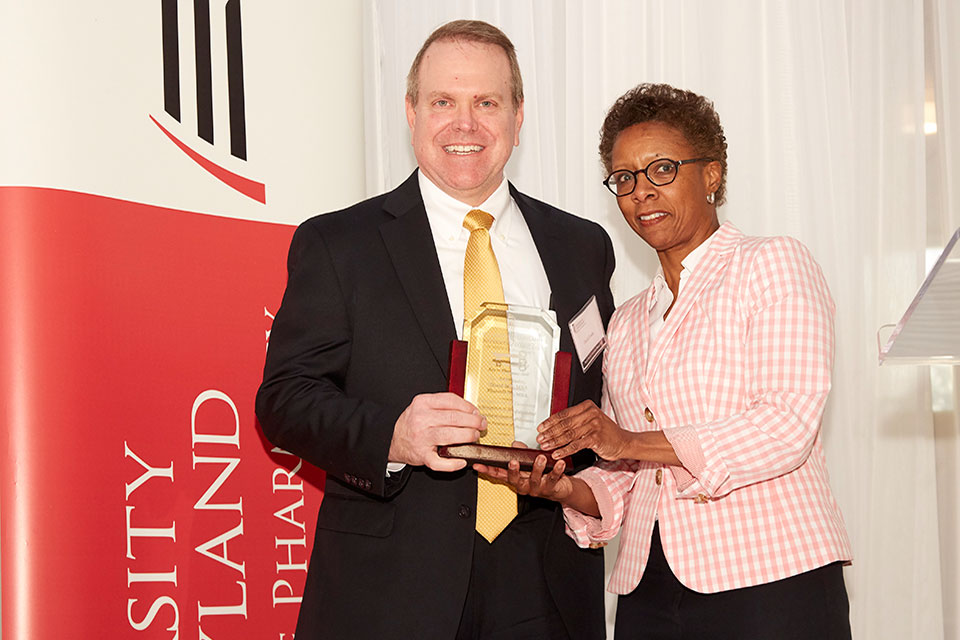 By Malissa Carroll
June 5, 2018
The University of Maryland School of Pharmacy hosted a special reception in April to celebrate the members of the David Stewart Associates (DSA) Society, its recognition society for leadership level giving by individuals.
"Each initiative that the School of Pharmacy embarks on is made possible through the financial generosity and support of our alumni and donors," said Natalie D. Eddington, PhD, FCP, FAAPS, dean and professor of the School. "Your donation is more than just a transaction – it is a transformational moment for our faculty, staff, and students. It allows us to pursue excellence in education, research, practice, pharmapreneurship, and community engagement without holding back. Your support sends a compelling message that you believe the School is a worthy investment, and we want you to know how very much we appreciate all you do to help make our School one of the top 10 schools of pharmacy in the country."
Established in the 1980s, the DSA Society is named for David Stewart, the nation's first professor of pharmacy and one of the School's founders. Members of this prestigious group recognize the importance of sustained, leadership giving to provide a solid base of private support and ensure the School's continued prominence in the pharmacy profession. These individuals make an annual gift of $1,000 or more.
More than half of the students attending the School of Pharmacy receive scholarship support thanks to the philanthropy of individuals like DSA Society members. During the reception, Elysia Burke, a first-year student pharmacist; Alecia Dent, a graduate student in the PhD in Pharmaceutical Sciences (PSC) program; and Charles Summerlin, a third-year student pharmacist, delivered heartfelt remarks about how support from the DSA Society has made it possible for them to pursue their academic and career aspirations.
"While I love working in the lab to advance my research, there are days that can be quite tough," said Dent, a recipient of the School's Pharmaceutical Sciences Scholarship. "When my experiments don't work or the data is not what I expected, it is the student experience here at the School of Pharmacy that helps keep me grounded. Because of the continued support of donors like you, I have had opportunities to get involved in student organizations, mentor students both inside and outside of the graduate program, as well as seek advice and mentoring from our nationally and internationally recognized faculty. Without your contributions, student life and the unique experiences that we have here at the School would not be the same."
"Although I have held two jobs throughout my time at the School of Pharmacy, I have been able to work far fewer hours and dedicate more time to leadership, research, and community involvement endeavors thanks to the support of donors like yourselves," added Summerlin, a recipient of the School's General Scholarship. "My involvement in these activities has helped me grow tremendously both personally and professionally, which has prepared me to be a better advocate for our profession as well as for my future patients. Your unwavering generosity has helped train the pioneers of pharmacy practice today and is propelling current student pharmacists like myself into becoming the strong practitioners of tomorrow."
The evening continued with the presentation of the Key to Pharmacy Hall. Awarded annually, it recognizes an individual who has significantly impacted the School through his or her advocacy efforts, and who has demonstrated commitment to assisting the School with advancing its mission to lead pharmacy education, scientific discovery, patient care, and community engagement across the state of Maryland and beyond.
This year's recipient was David M. Yoder, PharmD '98, MBA, executive director of integrated care management for the BlueCross BlueShield Association.
"Dr. Yoder has merged his expertise as a pharmacist and his acumen in business to create strong programs that address the health care needs of more than 5.3 million patients and their families," said Eddington. "He's had an extraordinary career and continues to be a great advocate of the School. It is an honor to present him with the 2018 Key to Pharmacy Hall."
Yoder received his Doctor of Pharmacy (PharmD) degree from the School of Pharmacy and his Master of Business Administration (MBA) from the University of Baltimore. He has more than 15 years of experience working primarily in health plan pharmacy venues at various health plans on the East Coast, with a particular interest in care management program design that incorporates all aspects of patient care, including pharmacist interventions and alternative provider arrangements. In his current role with the BlueCross BlueShield Association's Federal Employee Plan, he oversees the care management functions for all federal employee health plan members. His responsibilities include analytics, provider network relations, case and disease management, medical policy development, and oversight of pharmacy programs.
Daniel Mullins, PhD, professor and chair of the Department of Pharmaceutical Health Services Research (PHSR) at the School, said, "Dr. Yoder demonstrates the knowledge and skills that a pharmacist can bring to an interprofessional team to help improve the health of every American. I am not only proud of all that he has accomplished in his career, but also of his charitable spirit. He truly embodies the spirit of giving back after graduation to those students and trainees who want to pursue careers in managed care pharmacy. He opens doors for faculty and students who want to learn from him and his peers."
Yoder also directs the implementation of BlueCross BlueShield's patient-centered medical home initiatives, overseeing the rollout for federal employee plan members in all 38 BlueCross BlueShield plans.
"When Dr. Eddington informed me that I had been chosen to receive this year's Key to Pharmacy Hall, I was shocked," said Yoder. "I did not set out in my career to receive awards or to gain recognition. I just wanted to do a good job for my employer. Receiving the Key to Pharmacy Hall has been incredibly humbling, and I hope to continue my involvement with the School of Pharmacy for many years to come."
As the event concluded, Eddington reflected on the School's recent history and offered a glimpse into the exciting times that lay ahead.
"As an alumnus, faculty member, and dean, I have seen the School navigate both exciting and challenging times, but the past few years have been some of my favorites," she said. "Over the past 24 months, we marked the School of Pharmacy's 175th anniversary, achieved a top 10 ranking, and celebrated the many accomplishments of our alumni, faculty, staff, and students. We have ushered in a new era for the School – one that sets us apart from all other schools of pharmacy across the country – with the introduction of pharmapreneurship. These are extraordinary times, and I look forward to embracing and investing in more opportunities for the School of Pharmacy community to continue to grow."
If you or someone you know is interested in becoming a member of the DSA Society, please contact Greer Griffith, assistant director of alumni giving, at (410) 706-5893 or ggriffith@rx.umaryland.edu.
Related News Stories