School of Pharmacy Hosts Birthday Party to Celebrate 175th Anniversary
More than 100 faculty, staff, students, alumni, and guests gather in Pharmacy Hall to kick-off the School's anniversary with a grand birthday celebration.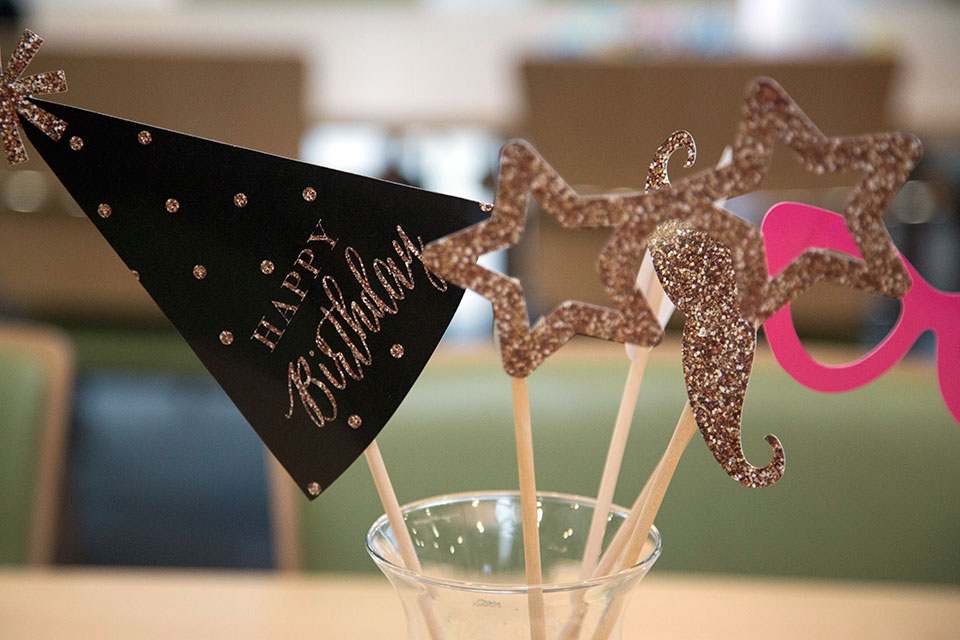 By Malissa Carroll
February 23, 2016
On Feb. 10, faculty, staff, students, and alumni from the University of Maryland School of Pharmacy joined guests from across the University of Maryland, Baltimore (UMB) to kick-off the School's 175th anniversary with a grand birthday celebration in Pharmacy Hall. The event not only offered an opportunity to reflect on the School's history, but also called on attendees to look beyond the School to see how the advances being achieved within its walls could make the greatest impact on the local community.
"This remarkable milestone in the School of Pharmacy's history could not have come at a more opportune time, as health care professionals and policymakers alike begin to recognize the essential role that pharmacists play in the nation's health care delivery system," said Jay A. Perman, MD, president of UMB. "With cutting-edge practice and research initiatives in the fields of drug discovery, drug development, and drug delivery, the School continues to make a real impact on both patients' lives and the pharmacy profession – a profession for which you as students are being expertly prepared, and a profession in which you as faculty and alumni currently serve. It is what the School has done for 175 extraordinary years, and what I hope it will continue to do for many more years."
Established in 1841, the School of Pharmacy was first known as the Maryland College of Pharmacy. It was chartered by the Maryland General Assembly in response to concerns from practicing apothecaries about the need for more educated and better trained pharmacists and pharmaceutical assistants to address the increasing number of medicines available to treat different illnesses. The School's first class included only six students, and was held in a single room at the corner of Gay and Baltimore Streets.
It is the fourth oldest school of pharmacy in the United States and now boasts more than 90 faculty, 300 staff, 700 students across both its Doctor of Pharmacy (PharmD) and graduate programs, and 5,500 living alumni.
"The one word that comes to mind when I think about the School on the occasion of its 175th anniversary is 'community,'" said Natalie D. Eddington, PhD '89, FCP, FAAPS, dean and professor of the School. "We are a strong, thriving community of scholars, practitioners, researchers, students, and staff. As we kick off the many celebrations that will mark this milestone year, my challenge to all of you is to think about the community beyond the walls of Pharmacy Hall. I want all of us to work together to focus on service during this 175th anniversary, and to build upon the great work that our faculty, staff, and students already do with many community groups."
Eddington spoke about the numerous programs in which faculty, staff, and students at the School have participated to help make a difference in the local community, from offering tutoring services for local middle and high school students to conducting research that leads to the development of new medications. She noted that faculty in the School's Department of Pharmacy Practice and Science (PPS) have partnered with more than 200 community pharmacies, hospitals, nursing homes, and other agencies to provide services to citizens and practitioners across the state of Maryland and beyond. In addition, she highlighted the University's Patient-Centered Involvement in Evaluating the Effectiveness of Treatments (PATIENTS) program led by C. Daniel Mullins, PhD, professor and chair of the Department of Pharmaceutical Health Services Research (PHSR) at the School, and its role in empowering patients to propose questions about their health care and participate in research studies designed to help answer those questions.
"Baltimore City is much different today than it was in 1841," said Eddington. "It is a vibrant, dynamic community, but it is also in need of our assistance. Many of our neighbors lack access to basic goods and services, as well as to health care. Faculty, staff, students, and alumni at the School have a multitude of expertise and the ability to help move our city forward. We have the manpower, the drive, and the heart to be more involved and to make more of a difference."
The celebration, which featured birthday cakes decorated with photos of the five different buildings in which the School has been housed over its history, concluded with remarks from Sharon Park, PharmD '04, president of the School's Alumni Association, and Brandon Biggs, a third-year student pharmacist and president of the School's Student Government Association, who addressed the School's alumni, encouraging them to continue their involvement with the School.
"Each of us should be proud to be part of the School's amazing 175-year legacy," said Park. "However, it is not only the number that is important, but also the excellence and dedication of the School's faculty, staff, students, and alumni that has persevered over all this time. As alumni, we have had very different dreams and pursued many different careers, but we have been bound by one truth, and that is that we matured as competent professionals because of the education that we received from the School."
"It is the sustained support from its dedicated faculty, staff, students, and alumni that ensure that the School of Pharmacy continues to lead pharmacy education, scientific discovery, patient care, and community engagement across the state of Maryland and beyond," added Biggs. "I feel fortunate to have had the opportunity hone my skills as a future practicing pharmacist here, and will forever think of this remarkable institution as my home. Thank you all for celebrating this important milestone with us."
Related News Stories