SOP Celebrates David Stewart Associates Society with Evening Reception
Members of the School's recognition society for leadership level giving are honored for their continued support of the School.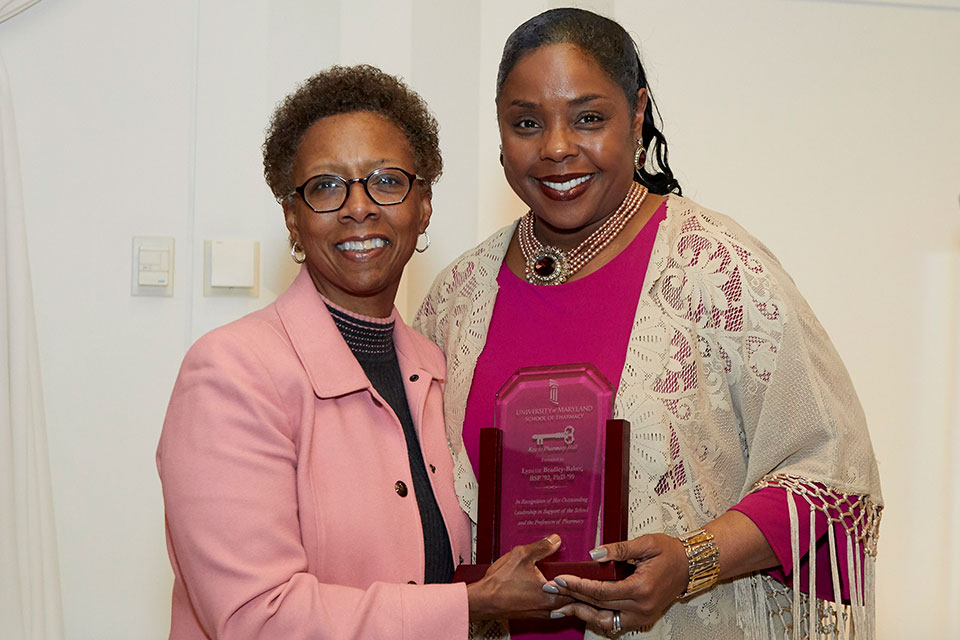 By Malissa Carroll
May 8, 2019
The University of Maryland School of Pharmacy hosted a special reception on April 16 to celebrate the members of the David Stewart Associates (DSA) Society, its recognition society for leadership level giving by individuals.
"It is an honor to have this opportunity to bring together a group of such distinguished alumni and friends to thank you for your charitable contributions to the School," said Natalie D. Eddington, PhD, FCP, FAAPS, dean and professor of the School. "As DSA Society members, you support the School in many tangible ways – through the giving of your time; scholarships, fellowships, and awards; by naming the School as a beneficiary in your will; with named spaces in Pharmacy Hall; and by designating funding for our greatest needs or for one of our departments or centers. The sustainability of our School relies on your generosity, and this evening is an opportunity for us to express how much we appreciate all you do to help make us one of the top 10 schools of pharmacy in the country."
Established in the 1980s, the DSA Society is named for David Stewart, the nation's first professor of pharmacy and one of the School of Pharmacy's founders. Members of this prestigious group recognize the importance of sustained, leadership giving to provide a solid base of private support and ensure the School's continued prominence in the pharmacy profession. These individuals make an annual gift to the School of $1,000 or more.
More than half of the students attending the School of Pharmacy receive scholarship support thanks to the philanthropy of individuals like DSA Society members. During the reception, Lafon Jones, a third-year student pharmacist and president of the School's Student Government Association, and Jacquelyn McRae, a doctoral candidate in the PhD in Pharmaceutical Health Services Research (PHSR) program, delivered heartfelt remarks that highlighted how support from the DSA Society has made it possible for them to pursue their academic and career aspirations.
"Throughout my time at the School of Pharmacy, I have been the recipient of many 'pay it forward' moments, and I have been overjoyed to see that it seems to be common practice among my future colleagues," said Jones, a recipient of the Beardsley Scholar Leader Scholarship. "Receiving financial aid from you – our donors – is a wonderful demonstration of this mentality, and truly demonstrates the investment this profession puts in me. I know that I have massive shoes to fill, but you motivate me even more to become the best pharmacist I can be. Thank you from the bottom of my heart for believing in me and my fellow students."
"The financial support available to graduate students through scholarships and fellowships is tremendously helpful in allowing students like myself to attend conferences and further our professional development," added McRae, a recipient of the Donald O. Fedder Memorial Fellowship. "The funding that I received allowed me to present my work at the 2018 American Public Health Association Annual Meeting, so I thank you on behalf of all graduate students at the School of Pharmacy. Your contributions are positively impacting students, and we truly appreciate your support."
The evening concluded with the presentation of the Key to Pharmacy Hall. Awarded annually, the Key to Pharmacy Hall recognizes individuals who have significantly impacted the School through their advocacy efforts, and who have demonstrated commitment to assisting the School with advancing its mission to lead pharmacy education, scientific discovery, patient care, and community engagement across the state of Maryland and beyond.
For the first time in the School's history, the Key to Pharmacy Hall was presented to two recipients: Frances Spaven, PhD '86, sole proprietor of FS BizWorks, and Lynette Bradley-Baker, BSP '92, PhD '99, senior vice president of public affairs and engagement for the American Association of Colleges of Pharmacy (AACP).
In recognizing Spaven, Eddington remarked, "Dr. Spaven not only gives her time and her talents to the School through her work with the Applied Pharmaceutics Lab and service to the newly formed Center for Women in Pharmapreneurism task force, but is also influential in the health care and pharmaceutical industries. I'm incredibly proud of her, her career, and very thankful that – even with all of her achievements – she continues to be a part of the School. I am honored to present her with the Key to Pharmacy Hall."
"The School of Pharmacy has been recognized for its expertise, influence, and impact for more than 175 years, so to receive an award from such a well-respected institution is truly an amazing honor," said Spaven, who was not able to attend the reception in-person, but filmed a brief video message that was played during the event. "Knowing that the School's mission strives to integrate learning and research with business and community first appealed to me as an undergraduate looking to apply for higher education, and still appeals to me today and keeps me involved with the School. As a doctoral graduate, an early founding executive at UPM Pharmaceuticals, and a member of the Center for Women in Pharmapreneurism task force, I don't think a day goes by where the School is not on my mind."
Introducing Bradley-Baker to the audience, Eddington continued, "I am incredibly honored to present the Key to Pharmacy Hall to Dr. Bradley-Baker for her extraordinary impact on academic pharmacy through her impeccable leadership at AACP – an impact that I have not only witnessed firsthand, but that I also have learned about from my fellow deans and department chairs at schools of pharmacy across the United States. Dr. Bradley-Baker has distinguished herself by her expertise, her superlative communication skills, and the incredible aura she projects in her interactions with others. I thank her for her contributions to the School, and congratulate her on this well-deserved award."
"Receiving the Key to Pharmacy Hall means the world to me," added Bradley-Baker. "It is a very humbling feeling that I still can't quite believe, but of which I am truly appreciative. I always credit much of the success that I have experienced in my career to my experiences at the School of Pharmacy, both as a student and a former faculty member. The School of Pharmacy is truly innovative in its approach to 'drive the needle forward' in emphasizing patient care, public health, and the importance of giving back to the community. Its commitment to advancing pharmacy education and the pharmacy profession is unmatched."
If you or someone you know is interested in becoming a member of the DSA Society, please contact Greer Griffith, MS, director of alumni relations and annual giving in the Office of Development and Alumni Affairs, at (410) 706-5893 or ggriffith@rx.umaryland.edu.

Related News Stories