David Stewart Associates Dinner Celebrates the School's Donors and Friends
Evening gala recognizes individuals who participate in leadership giving to the School.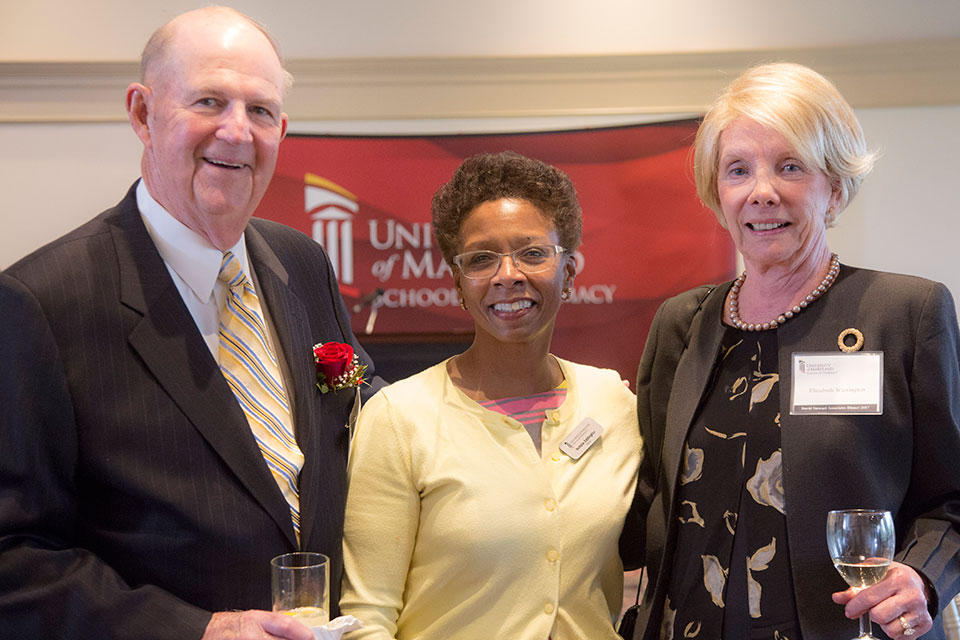 By Malissa Carroll
May 3, 2017
The University of Maryland School of Pharmacy hosted a special dinner on April 13 to celebrate the members of the David Stewart Associates (DSA) Society, its recognition society for leadership level giving by individuals.
"From fellowships and financial aid for students to support for faculty research and practice programs, your partnership as a donor in the David Stewart Associates Society empowers every aspect of education, practice, research, pharmapreneurship, and community service at the School of Pharmacy," said Natalie D. Eddington, PhD, FCP, FAAPS, dean and professor of the School. "The sustainability of the School of Pharmacy relies on your generosity, and we want you to know how much we appreciate all that you do to help make our School one of the top 10 schools of pharmacy in the country."
Established in the 1980s, the DSA Society is named for David Stewart, the nation's first professor of pharmacy and one of the School's founders. Members of this prestigious group recognize the importance of sustained, leadership giving to provide a solid base of private support and ensure the School's continued prominence in the pharmacy profession. These individuals make an annual gift of $1,000 or more to an unrestricted or restricted gift designation.
More than half of the students attending the School of Pharmacy receive scholarship support thanks to the philanthropy of individuals like DSA Society members. During the dinner, William Hedrich, a graduate student in the PhD in Pharmaceutical Sciences (PSC) program; Frederick Hindman, a fourth-year student pharmacist; Mena Gaballah, a third-year student pharmacist; and Alexis Ybanez, a first-year student pharmacist, delivered heartfelt remarks about how support from the DSA Society has made it possible for them to pursue their academic and career aspirations.
"The PhD in PSC program is not a program to which students apply to simply complete their studies – it is a program that wants the best and brightest students, and when it finds them, it does all that it can to make them feel welcome," said Hedrich, a recipient of the Pharmaceutical Sciences Fellowship. "I am honored to be recognized with this fellowship, and I thank the generous philanthropists in the DSA Society for investing in me as I continue my academic career."
"As members of the DSA Society, your support helps prepare students like me for success from the first day that we walk into Pharmacy Hall," added Hindman, the recipient of the Martin B. Mintz Scholarship, which is awarded to a third- or fourth-year student pharmacist who demonstrates superior academic achievement and a strong interest in independent pharmacy. "Without this scholarship, I could not have taken advantage of many opportunities, including pursuing a PharmD/MBA dual degree. Your generosity has opened doors for my future, and I thank you for your continued support."
The evening continued with the presentation of the Key to Pharmacy Hall. Awarded annually, the Key to Pharmacy Hall recognizes an individual who has significantly impacted the School through his or her advocacy efforts and who has demonstrated commitment to assisting the School with advancing its mission to lead pharmacy education, scientific discovery, patient care, and community engagement across the state of Maryland and beyond.
This year's recipient was Clayton (Clay) Warrington, BSP '58, retired chair of Dugan/Farley Communications and a former member of the School's Board of Visitors.
"Philanthropy has always been a large part of Clay's life," said Eddington. "During his six years of service on the School of Pharmacy's Board of Visitors, Clay was engaged in a wide range of fundraising efforts. His commitment to volunteerism and supporting the community is one of the many family traits that he shares with his wife, Liz. He understands how important financial support is to the School's continued growth and excellence. It is with tremendous pride that we present him with this year's Key to Pharmacy Hall in recognition of all that he has done for the pharmacy profession and the School."
Warrington received his Bachelor of Science in pharmacy from the School in 1958. After graduation, he served as a commissioned naval air officer, where the skipper of his squadron introduced him to the Navy Relief Fund – a charitable arm providing support for families in need in the naval community – and inspired what would became a lifelong interest in philanthropy. Following his service in the Navy, Warrington pursued careers in both medical sales and marketing and advertising. He retired from his position as chair of Dugan/Farley Communications after 34 years of dedicated service.
"It is an honor to be named this year's recipient of the Key to Pharmacy Hall and to join the distinguished group of men and women who have preceded me in this recognition," said Warrington. "For me, a legacy does not rest in a plaque or in the naming of a lecture hall. It is about the satisfaction that you feel knowing that you are contributing, through your time or financial commitment, to something that enabled you to have a rewarding and meaningful life. I attribute much of the success that I achieved in my career to my pharmacy education, and I am grateful that I have been blessed to give back to the School that provided me with that education."
To conclude the event, Eddington offered attendees a preview of a new initiative on which the School plans to embark in 2017 – pharmapreneurism. Exclusive to the School of Pharmacy, pharmapreneurism will serve as the umbrella under which the School will innovate in education, practice, research, and community engagement.
"It is hard to believe that 2017 could top 2016, when we celebrated the 175th anniversary of our founding in 1841 and our ranking by U.S. News & World Report as one of the top 10 schools of pharmacy in the country," said Eddington. "But, with the implementation of a new foundational concept known as 'pharmapreneurism,' we plan to achieve even more this year. Through pharmapreneurism, we will support leadership, initiative, and innovation in our faculty, staff, and students, and provide them with the tools and resources that they need to be critical thinkers who tackle the toughest problems currently impacting education, clinical care, and research."
If you or someone you know is interested in becoming a member of the DSA Society, please contact Greer Griffith, assistant director of alumni giving, at (410) 706-5893 or ggriffith@rx.umaryland.edu.
Related News Stories