UMSOP Named One of U.S. News & World Report's Top Schools of Pharmacy
Rankings released on March 16 position the School of Pharmacy in the top ten of the nation's more than 130 schools of pharmacy.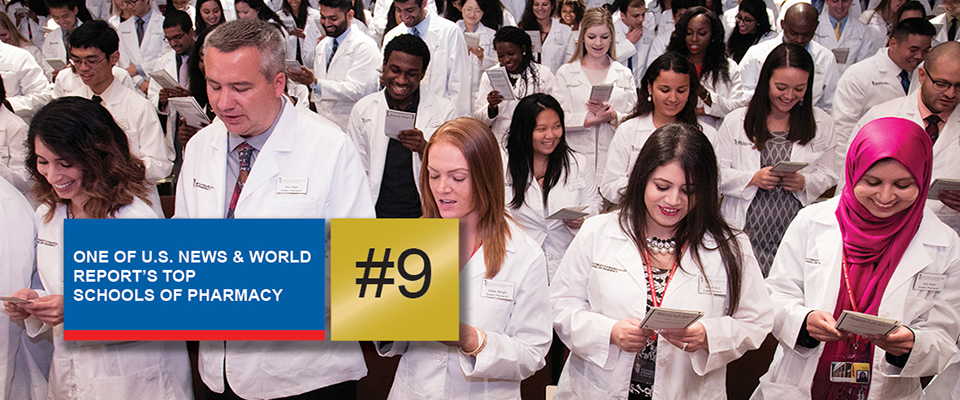 By Malissa Carroll
March 16, 2016
In rankings released for its 2017 Best Graduate Schools, U.S. News & World Report positions the University of Maryland School of Pharmacy ninth among the nation's more than 130 schools of pharmacy. Released March 16, this ranking marks an improvement for the School of Pharmacy, which was previously ranked 17th among schools of pharmacy in the United States.
"I am proud of the work that the faculty, staff, and students at the School of Pharmacy do every day as we seek to achieve our mission of leading pharmacy education, scientific discovery, patient care, and community engagement across the state of Maryland and beyond," says Natalie D. Eddington, PhD, FCP, FAAPS, dean and professor of the School. "As we celebrate the School's 175th anniversary this year, it gives me great pleasure to see that our efforts have been recognized by our peer schools and colleges of pharmacy across the country through the most recent pharmacy school rankings. Moving from 17th to ninth is no small achievement, and truly reflects the enormous growth that our School has undergone in the last several years."
U.S. News & World Report has published education rankings to help students and their families find the best school to meet their unique needs since 1983. Last updated in 2012, rankings for pharmacy schools are based exclusively on ratings from academic experts at colleges and schools of pharmacy across the United States. Deans, program directors, department chairs, and faculty members from more than 130 colleges and schools of pharmacy were surveyed for the most recent results.
"The role of pharmacy and the pharmacist in health care is evolving, and our enhanced positioning in the pharmacy school rankings from U.S. News & World Report showcases how we at the School of Pharmacy remain at the forefront of the evolution, anticipating the needs of the profession and developing academic, research, and practice programs that are innovative and proactive," says Eddington. "We must now reflect on the tremendous growth that has taken place across our School and move forward to continue our work to improve the health and well-being of society."
Established in 1841, the School of Pharmacy is the fourth oldest school of pharmacy in the United States. Its academic offering have expanded beyond its four-year Doctor of Pharmacy (PharmD) program to two Doctor of Philosophy (PhD) programs in pharmaceutical health services research (PHSR) and pharmaceutical sciences (PSC), three master's degree programs in PHSR, pharmacometrics, and regulatory science, and a more than a dozen post-graduate pharmacy residency and fellowship programs. It also home to a number of centers of programs that provide public education, conduct research, and combine clinical and academic endeavors to help strengthen the public health infrastructure and provide quality health care and training.
The complete U.S. News & World Report ranking list, as well as explanations of ranking methodologies can be found on the publication's website. However, staff at U.S. News & World Report emphasize that this information should only be used as a supplement for careful decision-making, not a substitute.
Related News Stories