David Stewart Associates Society Members Recognized for Philanthropy
Annual event honors donors amidst successful giving period for the School.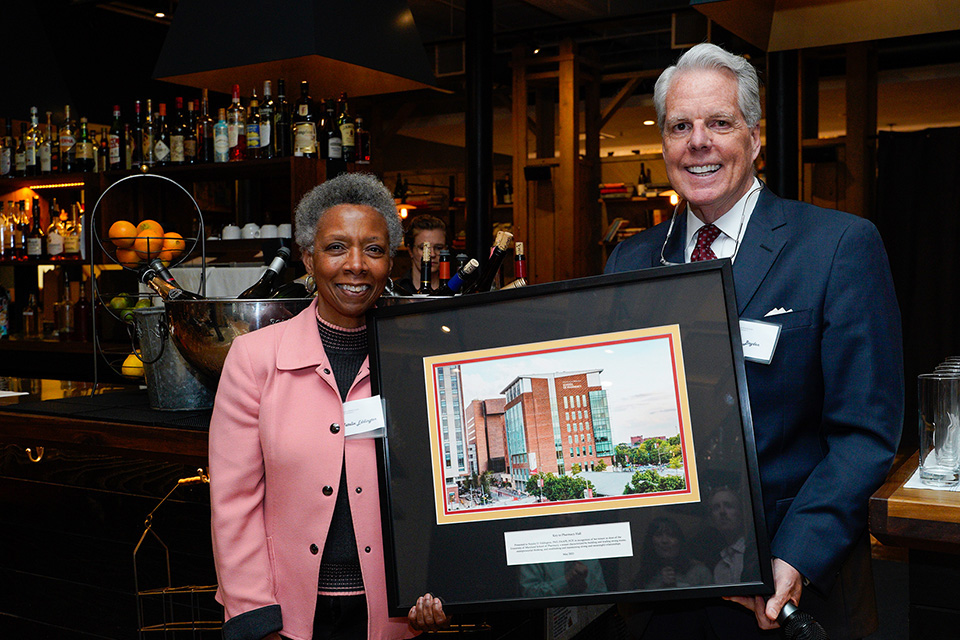 By Andrew Tie
May 12, 2023
The University of Maryland School of Pharmacy (UMSOP) hosted its annual event on May 2 for members of the David Stewart Associates (DSA) Society, the School's recognition society for leadership level giving by individuals.
The DSA was founded in the mid-1980s in honor of David Stewart, the nation's first professor of pharmacy and one of the School of Pharmacy's founders. Members of this prestigious group recognize the importance of sustained, leadership giving to provide a solid base of private support and ensure the School's continued prominence in the pharmacy profession. These individuals make an annual gift to the School of $1,000 or more.
More than half of the students attending the School of Pharmacy receive scholarship support thanks to the philanthropic contributions of individuals, including DSA Society members.
"The purpose of this evening is to thank all of you, our donors and supporters, who help keep the School of Pharmacy on its trajectory of greatness," said Ken Boyden, JD, EdD, associate dean for development and alumni affairs in remarks during the event. "Whether it is scholarships, endowed professorships, or gifts that allow our leadership team to address the highest priorities of the School, we are so grateful. Thank you for your ongoing support."
Eddington Receives Key to Pharmacy Hall
Every year, the Key to Pharmacy Hall is presented at the DSA event to one or more people who have significantly impacted the School through their advocacy efforts and who have demonstrated commitment to assisting the School with advancing its mission to globally engage and lead education, pharmacy practice, scientific research, and pharmapreneurial initiatives to collaboratively and equitably improve the health of society.
Boyden presented this year's award to Natalie D. Eddington, PhD, FCP, FAAPS, dean and professor of the School. Eddington, a 1989 graduate of the PhD in Pharmaceutical Sciences program at the School, is stepping down as dean on May 31 after 15 years in the position. She will return to the UMSOP faculty and lead the University of Maryland, Baltimore's new EMBRACE initiative.
"I'm very touched by this award and enjoy seeing so many folks here who have helped me both personally and professionally to move the School forward," Eddington said. "From my heart to each one of you, thank you so much."
UMSOP Community Continues Giving Tradition
The DSA Society event occurred as the School wrapped up another successful annual giving event. During the 30-day Giving Challenge held from April 10-May 8, more than 310 donors helped to "Level Up" the opportunities for students, faculty, and staff, raising more than $84,000.
"Our community has once again come together to provide resources that will benefit our current students and help us attract the next generation of pharmacists, scientists, and health professionals," said Greer Griffith, MS, executive director of development. "From the DSA Society to people making their first gifts to the School, we greatly appreciate everyone's contributions and care for the School's future. These annual contributions help us to sustain the School of Pharmacy year after year."
If you or someone you know is interested in becoming a member of the DSA Society, please contact Griffith at 410-706-5893 or ggriffith@rx.umaryland.edu.
Related News Stories