White Coat Ceremony Welcomes Class of 2018 to Pharmacy Profession
Time-honored ceremony emphasizes the importance of professionalism while celebrating the start of the Class's journey as student pharmacists.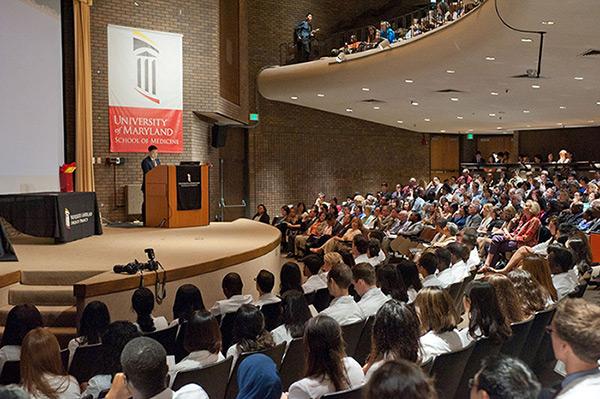 By Malissa Carroll
September 18, 2014
Sitting inside the Medical School Teaching Facility Auditorium at the University of Maryland, Baltimore on Sept. 12, Bashir Idris, MD, MPH, patiently waited to hear his name called. Having just donned a pharmacist's white coat for the first time, he and his nearly 160 first year classmates at the University of Maryland School of Pharmacy were excited to walk across the auditorium's stage and sign the Student Honor Code in front of the faculty, staff, alumni, family members, and friends who gathered to witness the School's annual White Coat Ceremony – a tradition that marks students' entry into the profession as student pharmacists.
"The white coat has long been the symbol of numerous health care professions," said Natalie D. Eddington, PhD, FCP, FAAPS, dean and professor of the School of Pharmacy, as she addressed the crowd. "It represents your past and current leadership endeavors and achievements, and your commitment to provide the best care to your future patients. Wear it with pride and remember your responsibility to provide honest and accurate information to those in your care."
For Idris – the youngest of 18 children from a disadvantaged family in Sudan – the white coat symbolizes much more than a health care profession. It represents a dream that he is finally able to realize after overcoming more than thirty years of seemingly insurmountable hardships and obstacles.
Living in an area where two physicians were responsible for the care of approximately four million people, Idris developed an interest in medications at an early age. "In my village, health care was often delivered by traditional healers, and I quickly learned that one of the biggest differences between these healers and physicians was access to medications," he recalls.
Though Idris earned the highest grades in his state and dreamed about becoming a pharmacist to better understand how medications affect the body, his family had other plans.
"My mother wanted me to become a physician," says Idris. "I saw the sacrifices that she had made to pay for my education. She worked two farms – one to feed our family and one to pay my expenses for school. I did not want to let her down, so I became a physician."
But, he adds, "I kept my passion for pharmacy."
The first member of his family to attend college, Idris received his medical degree from Khartoum University in 2003. When Darfur was overcome with war and genocide shortly after his graduation, he volunteered to serve with Doctors Without Borders to help the thousands who were displaced and injured during the conflict.
"I never thought about tomorrow," Idris recalls. "We were in the middle of the desert, in the middle of a war. There were rumors every hour that the militia was coming to burn our village and murder the residents. I refused to abandon my patients simply because I was afraid to die. Instead, I decided that if I was going to die, I wanted to die doing something useful for others. I continued working and treating patients the best that I could with our limited supplies."
His work came to an abrupt end when volunteers were forced to flee the country due to increasing political instability in the region. Idris immigrated to the United States as a refugee, enrolling at the Johns Hopkins University, where he received his Master in Public Health in 2012 before pursuing his childhood dream to become a pharmacist.
"The School of Pharmacy's commitment to engaging communities across the state of Maryland and beyond first attracted me to apply," says Idris. "Throughout my life, I have strived to be actively involved with the community and use the knowledge that I have to change people's lives for the better. And, while I know that pharmacy school will be academically challenging, I think it will be more challenging to translate the lessons that I learn here into real programs and initiatives that positively impact the community."
The theme for this year's White Coat Ceremony was professionalism, and Idris intently listened as Eddington continued her remarks to the class, highlighting the importance of this critical concept.
"Professionalism encompasses a variety of characteristics, including altruism, duty, honor, integrity, and respect," she says. "I emphasize this concept today because it is the cornerstone of who we are as pharmacists. Once you embrace professionalism, you truly become a student pharmacist."
Guest speaker Allen Tran, PharmD '11, clinical knowledge project manager at MedStar Health, continued the theme, sharing advice about professional and career development that he wished he had been given when he was a first-year student pharmacist at the School. He encouraged members of the Class of 2018 to embrace their roles as teachers, overcome both personal and professional challenges, take proactive measures to manage the unknown, and develop a support network.
"The School will give you the foundation that you need to succeed, but it is up to you to take the initiative and take advantage of all the opportunities that you will have to develop these skills," said Tran. "Pharmacy is a very progressive field. We need individuals who can pave the way, set an example, and shatter expectations for the profession. When you graduate in four years, you will possess a wide range of skills to do just that. Use them, apply them, and help move pharmacy forward."
After crossing the stage and signing the Student Honor Code, Idris and his classmates recited the School's Pledge of Professionalism, committing themselves to building and reinforcing a professional identity founded on integrity, ethical behavior, and honor.
"Although attending the School of Pharmacy allows me to pursue a dream that I have postponed for many years, I have come to realize that success in life does not always revolve around personal dreams," says Idris, who hopes to combine the disciplines of medicine, public health, and pharmacy to improve health care and pharmaceutical regulations in Sudan, once he is able to return. "Instead, success can best be measured by how helpful we are to others."
He adds, "As health care providers, we will be faced with difficult decisions every day. If we make those decisions based only on the benefits to us, we may make the wrong decision. Instead, our choices must be based on high moral and ethical standards, such as those to which we committed during the White Coat Ceremony. We must understand that our patients come first, and that we cannot turn our backs on them, especially in times of potentially devastating outbreaks or political instability. It is our duty to use the education and skills that we have to help improve the lives of others."
Related News Stories