White Coat Ceremony Welcomes Class of 2023 to Pharmacy Profession
Time-honored tradition emphasizes professionalism and marks students' entry into the profession as student pharmacists.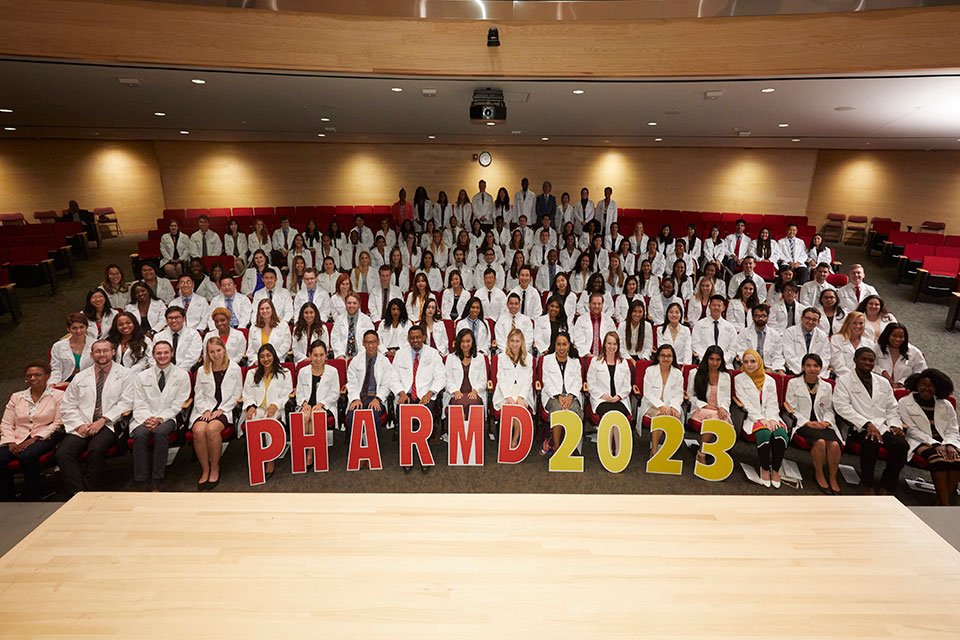 By Malissa Carroll
November 27, 2019
Family and friends joined faculty, staff, and alumni of the University of Maryland School of Pharmacy to watch as the more than 120 student members of the Doctor of Pharmacy (PharmD) Class of 2023 donned a pharmacist's white coat for the first time during the School's White Coat Ceremony in September.
A tradition in which schools of pharmacy across the country participate each year, the White Coat Ceremony celebrates the start of the Class's journey as student pharmacists.
"The White Coat Ceremony is an opportunity for faculty, staff, and alumni at the School to welcome and congratulate you – our new first-year students – on the journey that you are beginning, and to validate your presence among us as student pharmacists and future colleagues," said Natalie D. Eddington, PhD, FCP, FAAPS, dean and professor of the School of Pharmacy. "The white coat represents your past and current leadership endeavors and achievement, as well as your commitment to deliver the best care to your future patients. Wear it with pride and remember your responsibility to provide honest and accurate information to those in your care."
From the Hiking Trail to the Lecture Hall
Seated in the audience, first-year student pharmacist Kevin Do reflected on his journey to reach this special day.
Born and raised in Ellicott City, Md., Do is an avid hiker who has conquered challenging trails from Peru to Puerto Rico. While he knew that he wanted to pursue a career in the sciences, he was unsure which path might be best for him to travel. After completing his bachelor's degree in neurobiology and physiology at the University of Maryland, College Park in 2017, Do decided to take a break from formal education – but not from learning.
He spent time with his family – his grandfather had been diagnosed with liver cancer and would pass away later that year – and spoke with a cousin who had pursued a career in industrial pharmacy. That conversation gave him new insight into all of the possibilities that would open to him if he pursued a PharmD. He decided that pharmacy was the best trail to follow and applied to the School of Pharmacy, learning of his acceptance in the middle of a hike with his mother.
"We were taking a breather when I decided to check my email," recalls Do. "I shared the news with my mom, and we actually ran the rest of the hike because we were so excited."
Critical Lessons for Aspiring Health Care Professionals
The theme for this year's White Coat Ceremony was professionalism, and Do listened intently as Eddington continued her remarks, highlighting the importance of this crucial concept.
"Professionalism encompasses a variety of characteristics: altruism, duty, honor, integrity, and respect," emphasized Eddington. "It is the cornerstone of our profession. Once you embrace this concept, you truly become a student pharmacist."
Tecoya Farrakhan, PharmD '02, MBA, CHC, dispensary manager and clinical director for Curio Wellness, served as guest speaker for the event. Building on the theme of professionalism, Farrakhan shared important lessons learned from her own career with students, underscoring the need for future pharmacists to be able to balance skills with personality, communicate well with others, network at every opportunity, and be open to change.
"In 1998, I was seated where you are today," recalled Farrakhan. "I was nervous, eager, and excited. I wanted to know where this was going to lead. As you come into the PharmD program, come into it with an open mind, spirit, and heart. It takes a lot of self-trust and confidence to open yourself to the unknown, but when you do, you will learn that there are opportunities out there for you that you might have never previously considered."
A Bright Future Informed by Past Experiences
After crossing the stage to don their white coats, Do and his peers recited the School's Pledge of Professionalism, committing themselves to building and reinforcing a professional identity founded on integrity, ethical behavior, and honor.
"Receiving our white coats today is not only a rite of passage, but also a symbol of our commitment as student pharmacists to help our patients and communities, and make the world a better place," says Do. "Every time we put on our white coat, we have to remember that we are part of something bigger than ourselves."
And, while Do knows the next four years will challenge him in ways that he cannot fathom now, he rests assured that his time on the trails has prepared him well to overcome any obstacle he might encounter.
"Life has taught me a number of important lessons, but the one that I believe will serve me best in the classroom is: don't worry about what you can't change," says Do. "There will be times when I might not do as well on a certain exam or project as I might like, but I can't carry that disappointment with me. What I can do is continue to look ahead and focus on how I might do better on the next test or task that I encounter."

Related News Stories