White Coat Ceremony Welcomes Class of 2022 to Pharmacy Profession
Time-honored tradition emphasizes professionalism and marks students' entry into the profession as student pharmacists.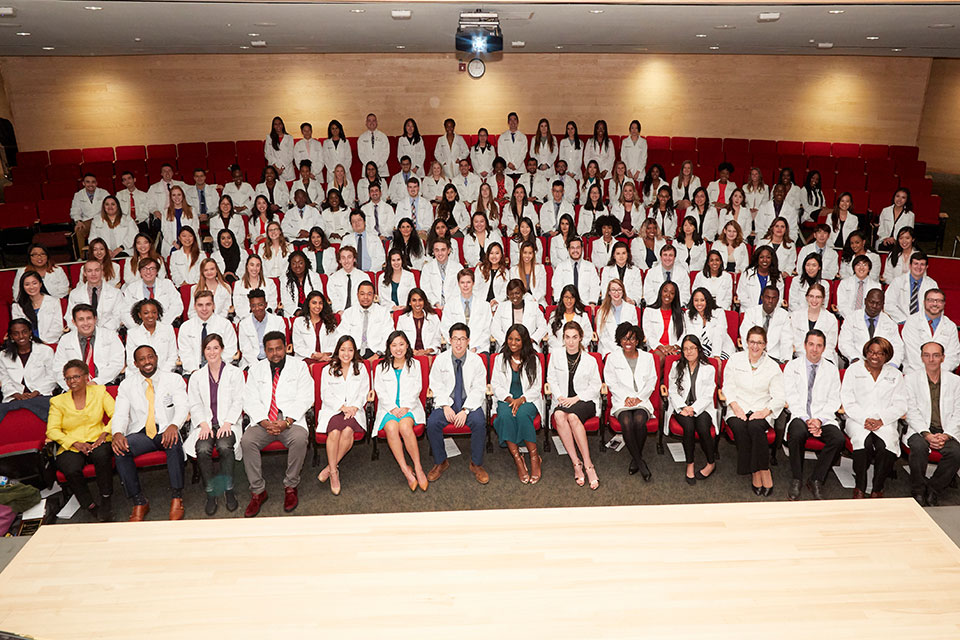 By Malissa Carroll
November 6, 2018
Family and friends joined faculty, staff, and alumni of the University of Maryland School of Pharmacy on Oct. 26 to watch as the 130 members of the Doctor of Pharmacy (PharmD) Class of 2022 donned a pharmacist's white coat for the first time during the School's White Coat Ceremony. A tradition in which schools of pharmacy across the country participate each year, the annual ceremony celebrates the start of the Class's journey as student pharmacists.
"The White Coat Ceremony is an opportunity for faculty, staff, and alumni at the School to welcome and congratulate you – our new first-year students – on the journey that you are beginning, and to validate your presence among us as student pharmacists and future colleagues," said Natalie D. Eddington, PhD, FCP, FAAPS, dean and professor of the School of Pharmacy. "The white coat represents your past and current leadership endeavors and achievements, as well as your commitment to deliver the best care to your future patients. Wear it with pride and remember your responsibility to provide honest and accurate information to those in your care."
Seated in the audience, first-year student pharmacist Arissa Falat reflected on her journey to reach this special day.
Born and raised in Columbia, Md., Falat discovered her passion for science at an early age. She knew that she wanted to pursue a career in health care, and took the first step towards achieving her goal by completing her Bachelor of Science in biochemistry and molecular biology at the University of Maryland, Baltimore County (UMBC). As an undergraduate, Falat proved herself a star pupil, graduating summa cum laude with a 4.0 GPA and earning numerous awards in recognition of her academic excellence, and demonstrated superior skill as a student researcher, conducting research in the lab of Katherine Seley-Radtke, PhD, professor in the Department of Chemistry and Biochemistry at UMBC, for which she received the UMBC Undergraduate Research Award for 2017-2018.
Yet, the demands of her undergraduate coursework, research, and extracurricular activities could not prevent her from achieving another feat of which most people can only dream – passing the highest level national tests in each of three different disciplines to become a U.S. Figure Skating triple gold medalist.
"I attribute much of my resilience and self-discipline to growing up as a figure skater," says Falat, who began skating at the age of four and has performed in more than 130 figure skating shows and countless other skating competitions. "For me, figure skating has always provided an essential balance between the rigors of a demanding academic schedule and the release of that mental tension. On the ice, my focus shifts between the physics of how to land a new jump and enjoying the short-lived feeling of defying gravity."
After investigating a number of careers in the health care field, Falat found it was pharmacy that perfectly combined her enthusiasm for science with her desire to make an impact on patients' lives. Equipped with that knowledge, she knew the next step she would need to take to achieve her goal: applying to the Doctor of Pharmacy (PharmD) program at the University of Maryland School of Pharmacy.
"With its reputation for academic excellence, cutting-edge research, and tremendous professional development opportunities, I knew that the School of Pharmacy would be the best place for me to continue my education," says Falat. "When I finally received my letter of acceptance, I was thrilled, because it represented a moment that I had been wishfully working towards for many years."
The theme for this year's White Coat Ceremony was professionalism, and Falat listened intently as Eddington continued her remarks, highlighting the importance of this critical concept.
"Professionalism encompasses a variety of characteristics – altruism, duty, honor, integrity, and respect," she said. "It is the cornerstone of who we are as pharmacists. Once you embrace this concept, you truly become a student pharmacist."
Brandon Keith, PharmD, '15, clinical coordinator pharmacist for solid organ transplant at Johns Hopkins Outpatient Pharmacy, served as guest speaker for the event. In addition to reflecting on his experience as a student pharmacist at the School, Keith offered four key pieces of advice to first-year students: be open, be mindful, be the best, and be present.
"Enjoy the journey," said Keith. "These are the years that you will fondly remember – I know I do. The years to form connections with your peers; to laugh so hard, you cry; and to actually cry when you take that first pharmacotherapy exam. But, know that all of the people around you will be going through that experience with you. Your peers will be here with you. Your mentors will be here to help support you. Everyone in this audience is wishing you the best along this journey, and will be here to help guide you along the way."
After crossing the stage to don their white coats, Falat and her peers recited the School's Pledge of Professionalism, committing themselves to building and reinforcing a professional identity founded on integrity, ethical behavior, and honor.
"Having spent time with my peers both inside and outside of the classroom, I have heard countless stories that exemplify each person's unique strengths," says Falat. "It is incredibly poignant that these differences have culminated in one beautiful, shared passion – a passion to serve others as practicing pharmacists. Receiving our white coats today not only symbolizes our dedication to practice pharmacy, but also our desire to continuously improve our profession for future generations."
And, while Falat knows the next four years will challenge her in ways that she cannot comprehend now, she rests assured that her training as a professional figure skater and coach has prepared her well to overcome any obstacle she might encounter. "Training for months and having a bad skate in a competition is tough, but years of picking myself up from the ice, sometimes hundreds of times a day, have taught me that blisters will heal and bruises will fade," she says.

Related News Stories