White Coat Ceremony Welcomes Class of 2021 to Pharmacy Profession
Time-honored tradition emphasizes the importance of professionalism and celebrates the start of the Class's journey as student pharmacists.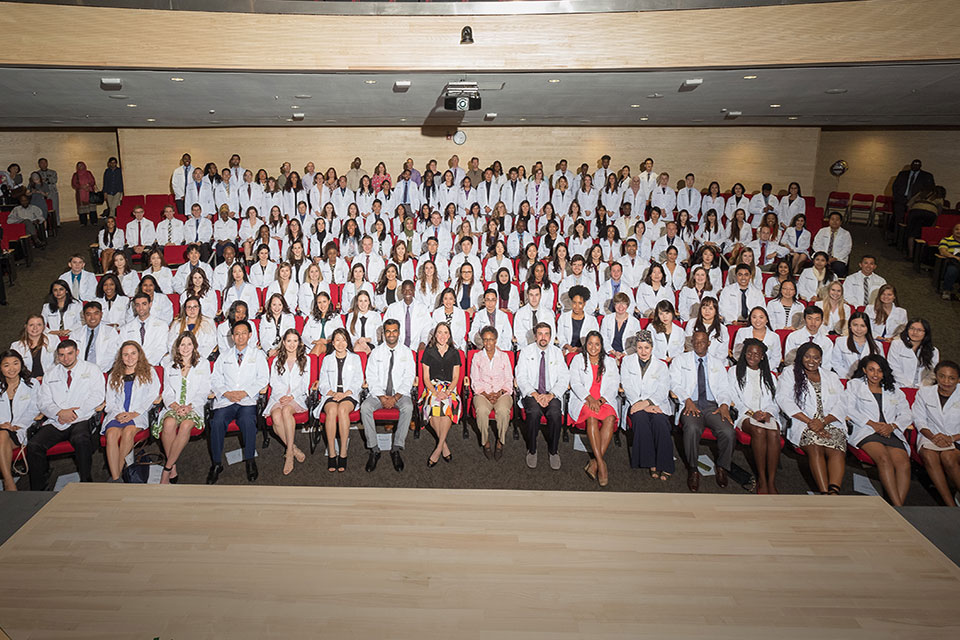 By Malissa Carroll
September 25, 2017
Family and friends joined faculty, staff, and alumni of the University of Maryland School of Pharmacy on Sept. 8 to watch as the more than 160 members of the Class of 2021 donned a pharmacist's white coat for the first time during the School's White Coat Ceremony. A tradition in which schools of pharmacy across the country participate each year, the ceremony marks students' entry into the profession as student pharmacists.
"The White Coat Ceremony is an opportunity for faculty, staff, and alumni at the School to welcome and congratulate you – our new first-year students – on the journey that you are beginning, and to validate your presence among us as student pharmacists and future colleagues," said Natalie D. Eddington, PhD, FCP, FAAPS, dean and professor of the School of Pharmacy. "The white coat represents your past and current leadership endeavors and achievements, as well as your commitment to deliver the best care to your future patients. Wear it with pride and remember your responsibility to provide honest and accurate information to those in your care."
Seated in the audience, Ricardo Gaitan, a first-year student at the School's Shady Grove campus in Rockville, Md., intently listened as Eddington addressed him and his classmates, envisioning the day when he would be able to put those words to practice.
The oldest of three children born to El Salvadoran immigrants, Gaitan grew up in Gaithersburg, Md. Because English was not his first language, he struggled throughout elementary and middle school to obtain proficiency in reading, writing, and math. With his parents often working more than 10 hours a day, six days a week to provide for their family, Gaitan knew that it was his responsibility to apply himself in the classroom to achieve academic success. He worked tirelessly completing the required assignments and developing good study habits that would help him advance in class. When Gaitan entered high school, he looked for additional opportunities to challenge himself, enrolling in all honors and advanced placement courses.
"I think a lot of the success that I have experienced in school can be attributed to the challenges that I had to overcome early on in my academic career," says Gaitan. "It is because of those experiences that I have become the very driven, self-motivated person that I am today."
While his parents expressed their desire for Gaitan to pursue a degree in engineering, he discovered early on that field was not for him. "From the time that I started college, I knew that I wanted to help others by pursuing a career in health care," he says.
In 2015, Gaitan received his bachelor's degree in biology and chemistry from Towson University. To gain a better understanding of what he could expect from a health care-related career, Gaitan spent time working as an ophthalmic technician and spoke with friends who had been accepted into pharmacy, medical, and physician assistant programs across the country. Those conversations opened his eyes to the wide range of career possibilities for individuals in the pharmacy profession.
"After speaking with friends and local pharmacists, I started researching pharmacy schools and found the University of Maryland School of Pharmacy," says Gaitan, who recently developed a keen interest in the fields of pharmacokinetics and pharmacodynamics, which examine the movement of drugs in the body. "Although I have only begun my journey and am still navigating my role as a member of the health care team, I cannot wait for the day when I will be able to interact with patients and make a difference in their lives through the medications that they take."
The theme for this year's White Coat Ceremony was professionalism, and Gaitan's attention remained on Eddington as she continued her remarks, highlighting the importance of this critical concept.
"Professionalism encompasses a variety of characteristics, including altruism, duty, honor, integrity, and respect," she said. "It is the cornerstone of who we are as pharmacists. Once you embrace professionalism, you truly become a student pharmacist."
Amita Shukla, MBA, chief executive officer of Vitamita, LLC, and pharmapreneur-in-residence for the School of Pharmacy, served as guest speaker for the event. She provided six simple words of advice to students – fail more, question answers, and trust truth.
"The capacity to lead change is not a gift endowed to a precious few," said Shukla. "In addition to mastering pharmacy, you are here to transform how you think – to fail more and to learn from it, to question answers in the pursuit of truth, and to trust truth whether in health or in your heart. With the white coat that you wear today, you are both taking on the mantle of your profession and inheriting the future of health care. The nation and the world will look to you and follow your lead. Your potential for impact is profound, and I hope you always remember that."
After crossing the stage to don their white coats, Gaitan and his peers recited the School's Pledge of Professionalism, committing themselves to building and reinforcing a professional identity founded on integrity, ethical behavior, and honor.
"While my white coat is certainly a symbol of all that I have achieved, it also represents the hard work that lies ahead over the next four years and beyond," says Gaitan. "I thank my parents for the sacrifices that they made to allow me to focus on my schoolwork and ensure that I could take advantage of opportunities that were not available to them growing up. It is because of their efforts that I feel ready to take on this tremendous responsibility."
Related News Stories