When It Rained, UMB Employee of the Month Cisneros Shined
Office manager rose to the challenge after severe storm flooded School of Pharmacy department's floor at the Saratoga Building.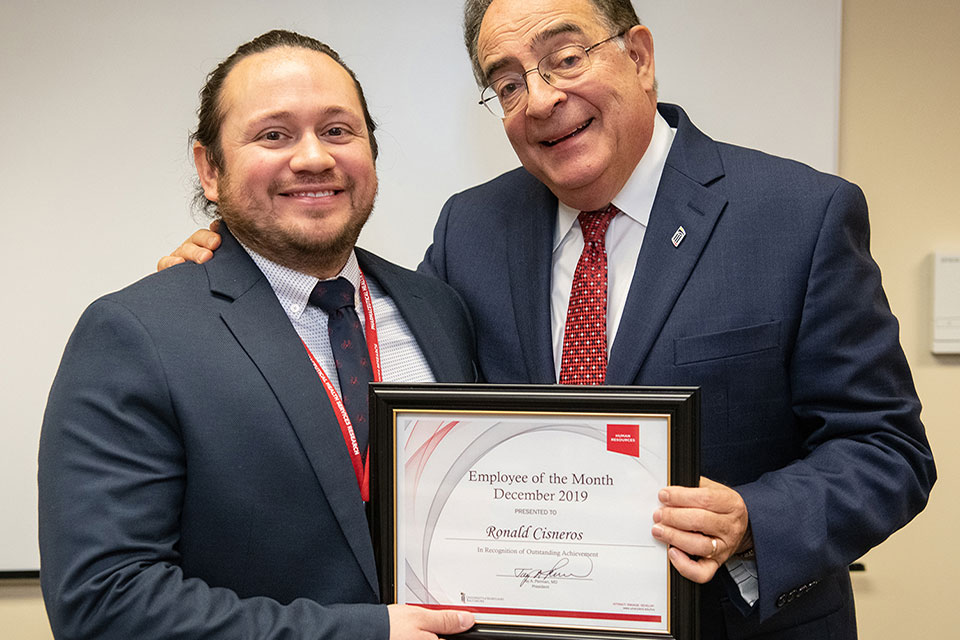 By Lou Cortina
December 13, 2019
Ronald Cisneros called it a "trial by fire," but "trial by flood" is more accurate.
On Aug. 6, a severe thunderstorm hit Baltimore with 70-mph winds and 5 inches of rain in a two-hour span. The University of Maryland, Baltimore's (UMB) Saratoga Building was hit hard, particularly the 12th floor, which houses the School of Pharmacy's Department of Pharmaceutical Health Services Research (PHSR).
Cisneros, on the job for a little more than two months as PHSR's office manager, suddenly faced a crisis after large amounts of water seeped into the floor and damaged many of the department's offices and classrooms.
"It basically flooded all of the faculty offices on the east wall," Cisneros says. "Half of the carpet was soaked, and bookcases that were up against the walls were affected, as were papers and desktops. I was pretty brand new to the University, and having to deal with that, it was a challenge, definitely a trial by fire."
Cisneros rose to the task, however, managing a process to make sure the faculty whose offices were affected had a place to work and a functioning computer. He also worked with UMB officials and others to assure faculty and staff members that their spaces were free from mold and other harmful materials. For these efforts and more, Cisneros was honored as UMB's December Employee of the Month.
University President Jay A. Perman, MD, surprised Cisneros with the award Dec. 9, interrupting a department meeting on the aforementioned 12th floor. Cisneros thought the meeting had been called to discuss a PhD student defending her dissertation, but Perman told him and his 20 colleagues the ceremony was all about him.
"We all remember that rainstorm, and I'm told that you really went above and beyond in dealing with the damage to the offices and getting people moved around," said Perman, who gave Cisneros a plaque, a letter of commendation, and news that an extra $250 would be in his next paycheck. "You really took the challenge to heart and made things easier on everyone else, and I applaud you for that."
C. Daniel Mullins, PhD, professor and chair of PHSR, echoed Perman's remarks in the award nomination, saying, "Keeping people informed and keeping morale up during the six weeks of disruption that followed the storm was a heroic effort, especially since Ron had joined the school fewer than three months before this occurred.
"As department chair, I have heard from every member of the PHSR faculty that Ron was an outstanding new hire and his commitment to customer service for both internal employees and the public was exemplary. One faculty member said Ron's attitude and approach to problems is exactly what you'd want in an office manager and that he clearly has a 'How can I help?' mentality."
Cisneros is no stranger to customer service, having worked in retail previously, including nearly nine years at The North Face stores before joining UMB. He describes his duties as "essentially responding to needs. If there's a printer out or there's software that needs to be acquired or some sort of technology isn't working, that falls on me. If anything goes wrong, I'm all over it because I need to assure that the office functions properly."
Cisneros, who attended George Mason University in Northern Virginia and has a bachelor's degree in biology, also enjoys that his job is in a new setting: academia.
"What I've liked the most is meeting a type of people that I'd never really met before in my life," Cisneros says. "I came from retail and an outdoors setting — people who are interested in climbing and snowboarding, things like that — and now I'm in this arena with high-degree people and doctors. It's kind of inspiring me to think about going back to school and maybe getting an advanced degree."
As for the UMB award, Cisneros says it was nice to be singled out for praise, and he plans to put the $250 toward a snowboarding trip to Canada in February.
"I'm glad that my new co-workers appreciate that I am trying to do a good job," he says. "That's really great to know."
Related News Stories