Pharmaceutical Health Services Research's Besser Named UMB Employee of the Month
Business services specialist honored for supporting the PHSR graduate program and its admissions process during the pandemic.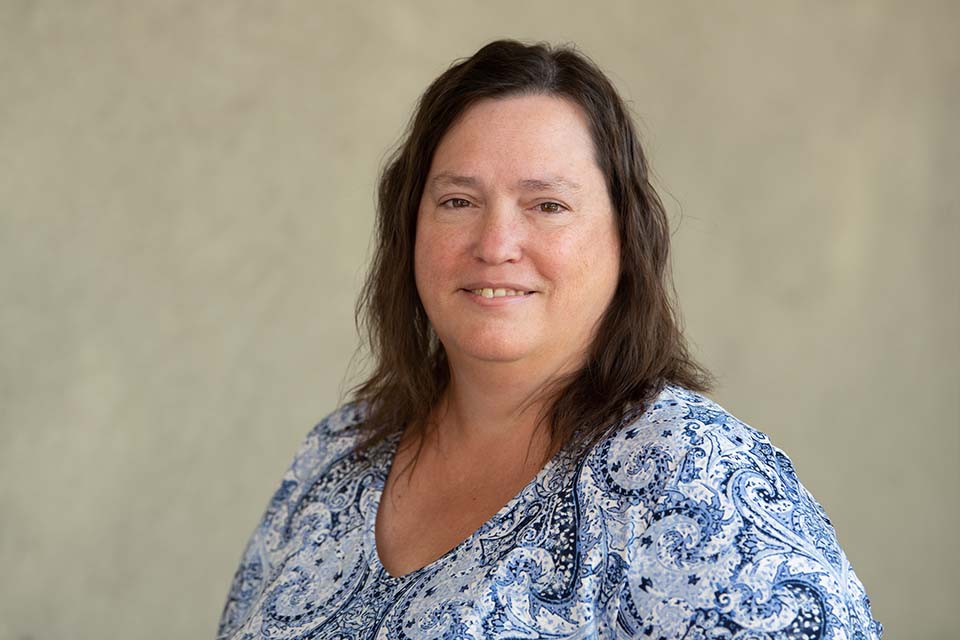 By Jen Badie
September 28, 2021
Relentless. Detail-oriented. Reliable. Meticulous.
These are just some of the adjectives that colleagues used to describe Michelle Besser when the business services specialist in the Department of Pharmaceutical Health Services Research (PHSR) at the University of Maryland School of Pharmacy (UMSOP) was surprised with the news that she was named the University of Maryland, Baltimore's (UMB) September Employee of the Month.
UMB President Bruce E. Jarrell, MD, FACS, offered his congratulations and thanks along with two dozen of Besser's co-workers during a videoconference Sept. 15.
Besser was honored for her work supporting PHSR's graduate program as well as her duties in procurement and administration. And she did this after starting her job just two short weeks before the COVID-19 pandemic forced her to begin teleworking in March 2020.
"Michelle gladly took ownership of the massive undertaking of supporting the grad program, which included a new admissions applications and review process — learning, designing, and partnering with several other colleagues and departments," her supervisor, Ronald S. Cisneros, office manager in PHSR, wrote in the nomination. "All the while, Michelle continued to execute the regular duties of her role without missing a beat, hitting deadlines and providing efficient and reliable service in procurement and administration. Relentless some would call her. And she did it and continues to do it all with a smile on her face. Michelle truly has been a rock star."
Besser supported the graduate program throughout the admissions process. She downloaded applications to Image Now so the admissions committee members could review them. She worked with the Qualtrics system, which allows faculty to answer questions to judge the applications. And she set up PHSR's first all-virtual interview day for 30 prospective students.
"We did interviews with breakout rooms in Zoom, funneling them back and forth through different sessions. We rotated them every half-hour so they could get to meet and be interviewed by multiple members of the faculty," Besser said. "It was the first time we took the interview day virtual, so we had to plan: 'How do we want to do this?'"
Fadia Shaya, PhD, MPH, a professor in PHSR who chaired the admissions committee, thanked Besser for being a "star" during the admissions process, which she called flawless.
"We had a record number of challenges. And yet, the outcome was stellar really in big part thanks to Michelle. She had to quickly learn how to use Zoom and all its different aspects," Shaya said. "I will always remember how quickly she adapted to that and how seamlessly and effortlessly she made it seem to all of us, with a wonderful outcome of eight new PhD students coming into the department this fall and five master's students. This is in large part thanks to Michelle's efforts."
Besser's other duties include purchasing, ordering supplies, and working with the TANGO transaction system, which provides study participants with electronic gift cards.
She said her favorite part of her job is helping the nearly 100 staff, faculty, and grad students whom she and Kasarah Johnson, business services specialist, support.
"I'm here to make their jobs easier, to do what I can to help them get through their workday," she said.
Two weeks before the department returned to campus over the summer, she and Johnson came to the office a few days a week to make sure PHSR's administrative needs would be met. She updated office nameplates and mailboxes and put up welcome signs.
"We wanted to make sure everything was in place as people came back," Besser said. "Then we were able to just greet them and see what they needed. We helped them settle in and made them feel at home."
C. Daniel Mullins, PhD, professor and chair of PHSR, praised those efforts.
"You made this such a warm and welcoming place for people to come back to," he said. "I think many people were scared and nervous about coming back to campus, and it's folks like yourself who made that transition for people easier."
Besser, who will receive a plaque, a letter of commendation, and an extra $250 in her next paycheck, said she was overwhelmed by the award and thankful for the support from Cisneros, Mullins, and her colleagues.
"This department has just been so fabulous to work with over the last year and a half, and every single person has been so friendly, warm, and welcoming," she said. "Even coming back from the pandemic, it's just been a great energy here across the department every day, seeing new students and new faces and some of the old faces, too. Everyone works together with such a team spirit."
Related News Stories