PHSR Research Coordinator Named University's Newest Employee of the Month
Michele Suit honored for exceptional leadership skills during a time of transition in the School's Department of Pharmaceutical Health Services Research.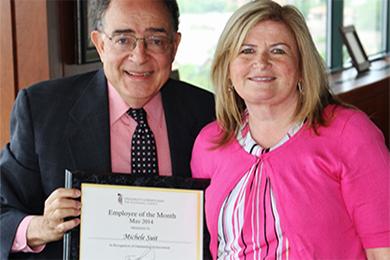 By Malissa Carroll
May 27, 2014
On May 19, Jay A. Perman, MD, president of the University of Maryland, Baltimore (UMB) invited members of the Department of Pharmaceutical Health Services Research (PHSR) at the University of Maryland School of Pharmacy into his office to present Michele Suit, the department's research coordinator, with the University's Employee of the Month Award.
The award, which is presented each month to an employee from one of UMB's six professional schools or graduate school, recognizes an employee's performance above and beyond job expectations, innovative problem solving skills, excellence as a team player, and ability to serve as a role model for advancing the goals and mission of the University.
"I feel truly honored to be named the University's Employee of the Month," says Suit. "I have been fortunate to work with such an amazing team in PHSR."
Suit was nominated for the award by C. Daniel Mullins, PhD, professor and interim chair of PHSR, and Diane Kaufman, former administrative director for PHSR, for her exceptional leadership skills during a time of transition in the department.
"Michele was the motivating force that kept faculty engaged in the continued development and implementation of new research proposals at a time when the department was struggling to fill two key administrative positions," says Mullins. "She took on new responsibilities associated with those two positions, which were very different from her regular duties. Her flexibility and dedication were vital to the department's operational success."
A "jack-of-all-trades" in PHSR, Suit spends most of her time coordinating faculty members' pre-award research. However, as a result of the department's administrative vacancies, she recently assumed responsibility for a number of tasks associated with its business office, including assisting with payroll and post-award research coordination. She also oversees faculty effort reporting, reconciles accounts, and manages monthly billing for the department's Pharmaceutical Research Computing center. "I worked with Michele for most of her 30 years at UMB. She is extremely bright and a very dedicated employee," says Kaufman.
Suit also assumed many roles previously held by her former supervisor, leading the department's administrative team in redefining its workflow to ensure the business office continued to meet operational directives and needs. Her new workflow was not only innovative, but also leveraged the strengths of all of her team members.
"Michele is able to see the 'big picture,'" adds Kaufman. "She noticed the needs of faculty and staff across the department and stepped up to fill the gap. She ensured that PHSR remained a solid, well-respected, and productive department during a time of transition and rallied the remaining members of its administrative team into a cohesive working unit. Her performance has exceeded the duties of her position, as well as everyone's expectations."
Grateful for the recognition, Suit candidly admits that she could not have achieved this honor alone. "I feel blessed to have learned so much from my former colleague and mentor, Diane, as well as many others, during my time at the University. My tremendous team, including Dr. Mullins, Diane, William Cooper, Laverne McCoy, Kiana Harvey, and Colleen Day, are part of the reason that I am able to accept this award today," says Suit.
Related News Stories