SOP's Milani Named University's October Employee of the Month
Director of the School's Pharmaceutical Research Computing (PRC) center honored for her "can-do" attitude and efforts to streamline center processes.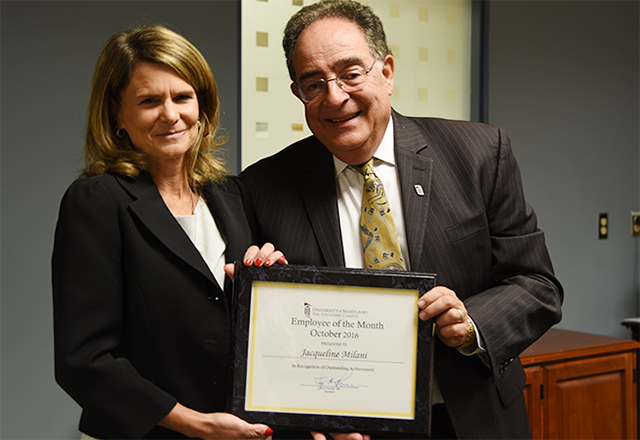 By Sarah Reback
October 18, 2016
Jacqueline Milani, MS, MBA, CPP, director of Pharmaceutical Research Computing (PRC) in the School of Pharmacy, thought she was attending a meeting about a new project on Oct. 5. Instead, President Jay A. Perman, MD, walked into the Saratoga Building conference room and surprised her with a special honor: UMB's Employee of the Month Award.
Perman gave Milani a framed certificate and thanked her for being a great leader and being a wonderful team member — one of the qualities that earned her the award. "The word team is very important to me," Perman said. "It's what I want to see throughout the University. People who work to create a feeling of team are very important to me."
Milani, who also received $250 as the Employee of the Month for October, is described by Eberechukwu Onukwugha, MS, PhD, associate professor in the Department of Pharmaceutical Health Services Research (PHSR) and executive director of PRC, as an accountable employee. "When one intermediate project deliverable was projected to be delayed, she provided early feedback to the client, allowing them sufficient time to adjust to the updated timeline. She is solution-oriented and this attitude is critical."
Ideal Manager
In addition, Milani is described as the ideal manager: caring, driven, respectful, a cheerleader and staff advocate, and committed to excellence. While she never runs out of ideas, she is open to suggestions and contributions from others and happily welcomes idea from the staff.
As director, Milani has impacted PRC from soup to nuts in less than one year. The computing center provides world-class support for impactful, inspired health services research at the school, University, and Veterans Affairs Medical Center and beyond. She has streamlined the process for how project estimates were tracked to how PRC closes out funded projects.
'Can-Do' Attitude
"Those who know Jacqueline will agree that she gets things done. She brings a refreshing energy, excitement, and eternally optimistic 'can-do' attitude to all aspects of her work," Onukwugha said.
Grateful for her award and for her teammates, Milani said, "Thank you so much. I honestly don't know what to say or how to react. This group makes it easy to work together as a team. Their commitment overflows."
Related News Stories