UMSOP Faculty Recognized by Maryland Pharmacists Association for Service and Contributions
Deanna Tran named vice president/president-elect; two other faculty members recognized with awards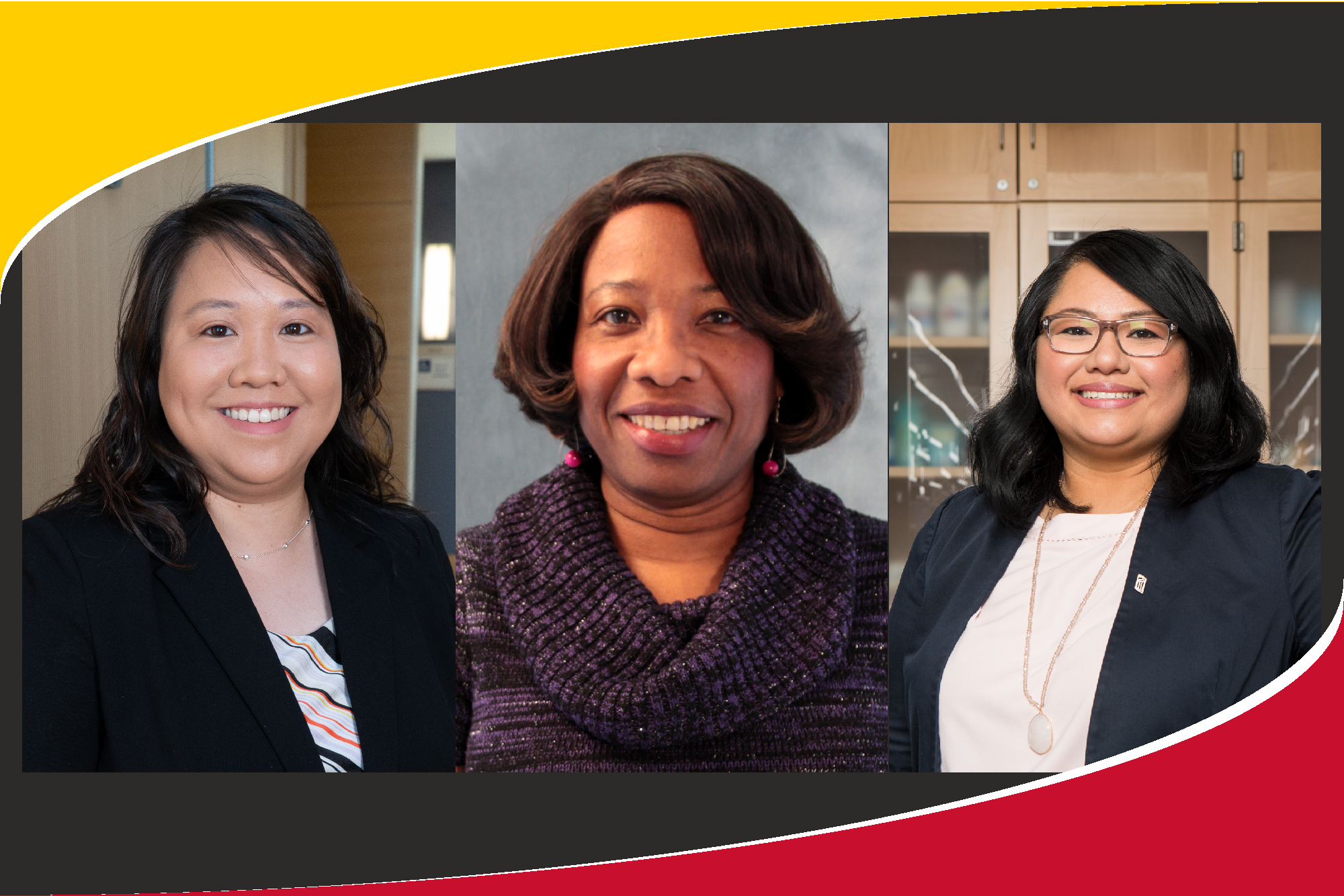 By Jen Badie
August 23, 2021
Deanna Tran, PharmD, BCACP, an associate professor in the Department of Pharmacy Practice and Science (PPS) at the University of Maryland School of Pharmacy (UMSOP), has been named vice president and president-elect of the Maryland Pharmacists Association (MPhA).
Tran's term as vice president began in June 2021 and will last a year. She will then become president of the 1,200-member group, which she joined when she was a first-year student at UMSOP. She called MPhA "one of my pharmacy homes."
"I've gained so many role models and have been able to learn so much about pharmacy and how to advocate for the profession through the association," she said. "It means a lot to be able to have the opportunity to serve in this leadership role and be able to help guide the association."
The mission of MPhA, which is the only statewide professional society representing all practicing pharmacists, is "to strengthen the profession of pharmacy, advocate for all Maryland pharmacists, and promote excellence in pharmacy practice."
Tran said the past year and the COVID-19 pandemic influenced her as she was running for MPhA leadership. She emphasized the need for communicating important information in a timely way.
"COVID has changed pharmacy overall in so many ways. This past year when I ran for office, I thought about, 'What are some of the needs of pharmacists and our MPhA members?'" she said. "And one of the things I touched upon in my election statement was having a better way to communicate within our membership about time-sensitive issues."
Tran, who helped to train pharmacists and students with dosing and administering COVID-19 vaccines at the University of Maryland, Baltimore's SMC Campus Center clinic this year, said that because of COVID-19, pharmacists' scope of practice has expanded.
"It now includes COVID-19 immunizations, diagnostic testing, and pediatric vaccines," she said. "I plan on advocating on behalf of MPhA pharmacists to continue to provide these services even after the pandemic."
Tran earned her PharmD from UMSOP in 2011 and has been on faculty at the School since 2012. Her clinical expertise is in family medicine, community pharmacy practice, and immunizations.
Two UMSOP faculty members also were honored with MPhA Excellence in Pharmacy Awards, which were given out via Zoom during the group's annual conference in June.
Charmaine Rochester-Eyeguokan, PharmD, CDE, BCACP, professor in PPS and associate director of clinical programs for the UMSOP's Center for Innovative Pharmacy Solutions, received the Bowl of Hygeia Award. It is given out by participating pharmacy associations in all 50 states and Washington, D.C., recognizing pharmacists with outstanding records of civic leadership in their communities. In addition to service through pharmacy associations, recipients devote their time, talent, and resources to a variety of causes and community service.
In receiving the honor, Rochester-Eyeguokan was praised for her "pages of community service leadership activities that span the globe."
She served as director of the local Woman's Missionary Union for seven years, leading a team of volunteers from Baltimore who serve not only in Maryland, but also nationally and internationally. Over the past few years, she has been actively involved with raising funds to help Nigerians with free eye screenings, cataract surgeries to restore eyesight to thousands, clean water, medical care, and educational scholarships. She also works with soup kitchens in the Washington area.
In accepting the award, she thanked her mentors as well as "the faculty, staff, and students who have worked alongside me and encouraged me through all of my community activities," adding that she wants to reduce health disparities in vulnerable populations nationally and internationally.
She said in an interview, "I find joy in giving back to those who cannot return the favor. My goal is to always serve my community with every opportunity and continue to learn and grow within my career."
Cherokee Layson-Wolf, PharmD, BCACP, FAPhA, associate professor in PPS and associate dean of student affairs, received the Seidman Distinguished Achievement Award, which recognizes an individual who has made major contributions to MPhA, organized pharmacy, and the profession of pharmacy.
Layson-Wolf, a former president of MPhA and member for more than 20 years, was praised for her many accolades, honors, and positions with governor-appointed advisory groups and committees. In addition, she was recognized for "her sustained commitment to be the immunization expert to help others adopt quality standards and advanced public health initiatives as immunizing pharmacists."
She thanked her immunization training partners and UMSOP leadership for allowing her to be involved in the advocacy of pharmacy-provided immunizations.
"I have been so grateful to the University of Maryland School of Pharmacy so that we can really push these vaccination efforts forward, and also want to thank my family for allowing me time away from home, to be able to advocate for these efforts such as going to Annapolis to advocate, the numerous weekend trainings that we provided to pharmacists and pharmacy students, and also providing weekly shifts at the COVID clinic," she said.
"I am so proud of all the pharmacists, pharmacy students, interns, and technicians who have really stepped up to complete their trainings, not only during COVID but also before, so that we can be best prepared for this moment in time. I know that we can take these efforts that we have made during the pandemic even further to help improve patient care. It will take all of us out there to help keep that momentum going."
Related News Stories