Symposium Highlights Value of Mass Spectrometry in Biophysics
Presentations delivered by renowned researchers showcased insights that can be garnered from mass spectrometry-based biophysical approaches.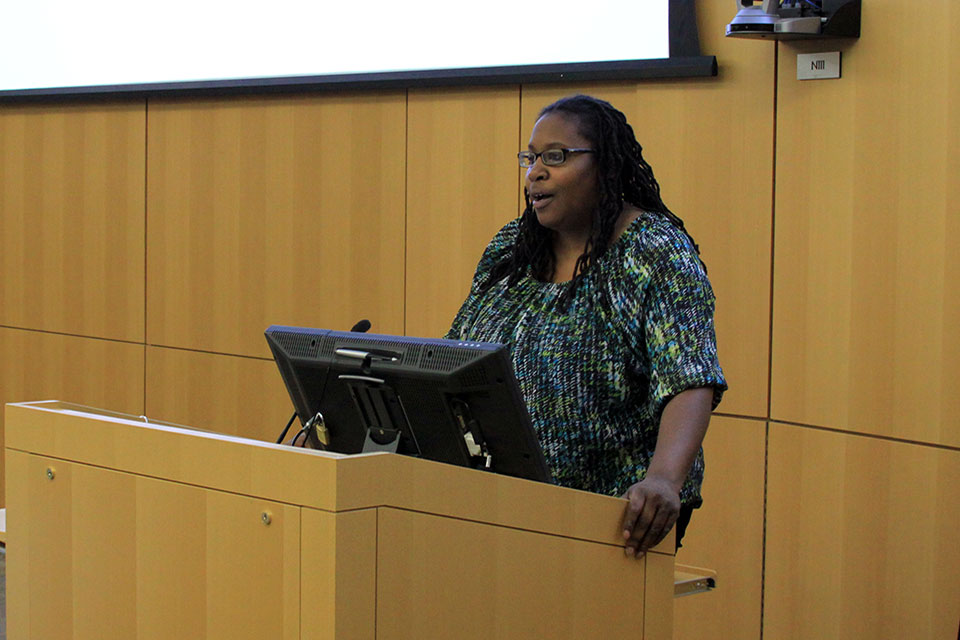 By Malissa Carroll
April 3, 2018
To help celebrate Biophysics Week, which was internationally observed from March 12-16, the Mass Spectrometry Center at the University of Maryland School of Pharmacy hosted a day-long symposium on March 13, focused on the increasing demand and utility of mass spectrometry in structural biology and biophysical research. Titled "Mass Spectrometry: An Expanding Tool for the Biophysicist," the symposium attracted dozens of researchers from across the nation and featured presentations delivered by several leading experts in mass spectrometry-based biophysical studies.
"Mass spectrometry methods have been successfully applied to many areas of research — from drug discovery and quality control to diagnosis and imaging," said Natalie D. Eddington, PhD, FCP, FAAPS, dean and professor of the School, who offered opening remarks for the symposium. "Increasingly, these methods are also proving to be invaluable for biophysical research. The collective expertise of the faculty and staff in the Mass Spectrometry Center at the School of Pharmacy, coupled with the Center's collaborations with leading experts in the field, uniquely positions us to host this symposium highlighting the role that mass spectrometry can play in structural studies."
Biophysical research represents a bridge between biology and physics. Researchers in this field study life at every level – from atoms and molecules to cells, organisms, and environments – to help uncover how complex biological systems work. Mass spectrometry is an analytical technique that helps researchers measure the mass of different molecules within a specified sample, allowing them to identify any unknown compounds and better understand the structure and chemical properties of any molecules that appear in their sample. Recently, mass spectrometry-based methods such as footprinting, hydrogen/deuterium exchange (HDX-MS), native spray, ion mobility-mass spectrometry (IM-MS), and chemical crosslinking have proven highly valuable in the detailed structural and biophysical characterization of proteins.
To kick off the symposium, Brandon Ruotolo, PhD, associate professor of analytical chemistry and chemical biology at the University of Michigan, delivered a presentation titled, "New Gas-phase Tools for the Simultaneous Determination of Protein Complex Structure, Stability, and Sequence." His presentation outlined key challenges that researchers have faced in their efforts to characterize proteoforms – specific molecular forms of a protein product that arise from specific genes – and showcased his team's work to overcome those challenges.
"Understanding the complete proteoform space and how it all links together is truly a next generation challenge for the field of proteomics," said Ruotolo. "Being able to extract from our analyses some sense of actionable intelligence that we can use to understand a certain disease, for example, is one of our main goals. However, converting this information directly into that intelligence is very challenging. Fortunately, it is a challenge that mass spectrometry is uniquely positioned to help us overcome."
A number of faculty, staff, and graduate students from the Department of Pharmaceutical Sciences (PSC) at the School of Pharmacy delivered presentations during the symposium, including Lisa Jones, PhD, assistant professor in PSC; Patrick Wintrode, PhD, associate professor in PSC; Daniel Deredge, PhD, postdoctoral fellow in PSC; and Emily Hart and Wenjing Li, students in the PhD in PSC program.
Jones, who worked with Deredge to organize the event, delivered a presentation titled "Extension of Hydroxyl Radical-Based Footprinting Coupled with Mass Spectrometry for In Cell and In Vivo Protein Analysis," in which she spotlighted her group's work using an emerging analytical technique known as fast photochemical oxidation of proteins (FPOP). FPOP is a hydroxyl radical protein footprinting method used to study protein structure and interactions. Researchers can apply this technique to identify protein-protein and protein-ligand interaction sites, identify regions of proteins that undergo conformation changes during ligand binding, and to perform epitope mapping.
"The chemistry behind hydroxyl radical protein footprinting is well known; as a result, we can anticipate all of the different modifications that can happen throughout the process," said Jones. "It's also an irreversible method, which is very nice because it allows you as a researcher to do a lot of post-labeling purification if you need to without the risk of losing your protein label."
Also speaking during the symposium were Lisa Jenkins, PhD, staff scientist from the Laboratory of Cell Biology in the Center for Cancer Research at the National Cancer Institute; and Asish Chakraborty, PhD, senior business development manager for pharmaceutical business operations at the Waters Corporation. The Waters Corporation served as one of the sponsors for the symposium, with Chakraborty discussing HDX-MS and its numerous applications to the field of biophysical research.
The School's Mass Spectrometry Center is a partner in the Waters Corporation Centers of Innovation Program, which recognizes analytical scientists facilitating breakthroughs in health and life science research, food safety, environmental protection, sports medicine, and many other areas.
To conclude the symposium, Michael Gross, PhD, professor in the Department of Chemistry at Washington University School of Medicine in St. Louis, Mo., delivered his highly anticipated presentation titled, "Biochemical Problem Solving by MS-Based Structural Proteomics." Gross has 50 years of experience working independently in mass spectrometry, with his research focusing primarily on the development of mass spectrometry in biophysics, specifically to probe protein-ligand interaction interfaces, affinities, and folding/unfolding. Among a long list of significant scientific contributions, his group is credited with developing FPOP as well as another method for the determination of protein-ligand interactions by titration and HD exchange (PLIMSTEX).
"Approximately 15 years ago, I began working with this idea that mass spectrometry-based HDX footprinting and ion mobility could be used to gain new insights about higher order protein structure," said Gross. "Now, others are beginning to see the same opportunity that I saw — if you use chemistry to footprint a protein, whether it be HDX or FPOP, you can take advantage of all of the strategies that have been traditionally used to elucidate primary structure proteomics to gain new knowledge about proteins' secondary and tertiary structure."
Established by the Biophysical Society, Biophysics Week first launched in 2016 to help celebrate and raise awareness about the field of biophysics. The symposium hosted by the School of Pharmacy's Mass Spectrometry Center was one of dozens of events that took place across countries around the world to help promote and expand the understanding of biophysics and related applications.
Related News Stories