PSC Researcher Awarded Biophysical Society's Junior Faculty Award
Dr. Lisa Jones honored for her research and recent achievements focused on cutting-edge investigations of biomolecular processes in living organisms.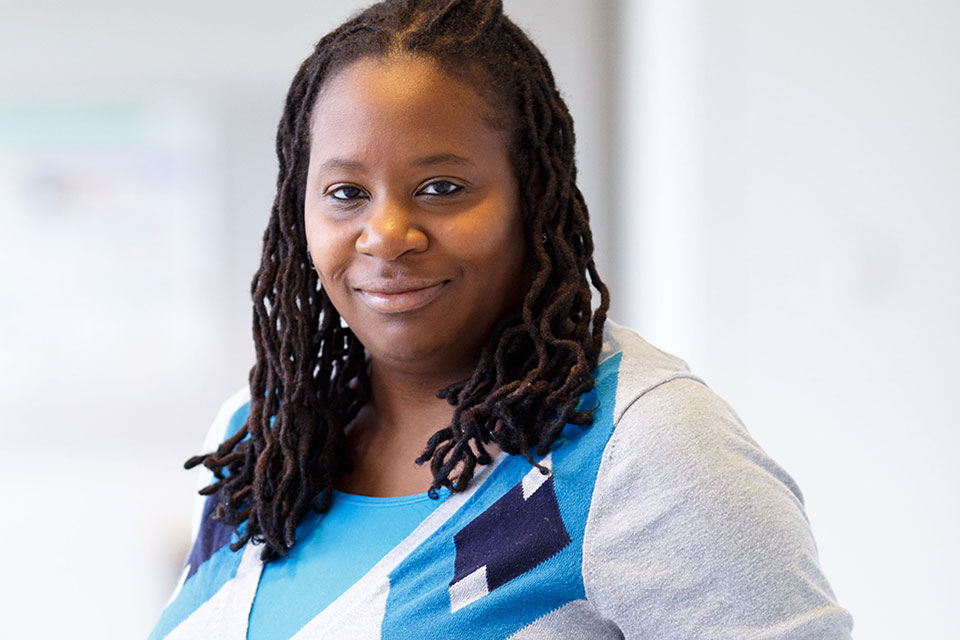 By Malissa Carroll
March 6, 2019
Lisa Jones, PhD, assistant professor in the Department of Pharmaceutical Sciences (PSC) at the University of Maryland School of Pharmacy, has been named the recipient of the Biophysical Society's 2019 Junior Faculty Award. Presented by the organization's Biopolymers In Vivo Subgroup, the Junior Faculty Award aims to boost the visibility of a beginning faculty member whose research and recent achievements focus on cutting-edge investigations of biomolecular processes in living organisms.
"We were thrilled to learn that Dr. Jones was awarded this year's Junior Faculty Award from the Biophysical Society," says Paul Shapiro, PhD, professor and chair of PSC. "Dr. Jones is an outstanding faculty member who has developed an extraordinary research program in the three years since she joined our faculty. She is pioneering new ways through which we can look at proteins inside of the cell – inside of a living organism – to help better understand how those proteins might be involved in disease. The ideas and programs that she is working to implement will impact and benefit our department for many years to come. We could not be prouder to celebrate this latest achievement with her."
Jones received her doctorate in chemistry from Georgia State University. She served as an assistant professor at Indiana University-Purdue University Indianapolis (IUPUI) for four years before joining the faculty at the School of Pharmacy in 2016, where her research focuses on the use of protein footprinting methods, coupled with mass spectrometry, to study protein interactions in biological processes. One protein footprinting method in which Jones specializes is fast photochemical oxidation of proteins (FPOP). She and her research team use this emerging technique to identify protein interactions and conformational change of various protein systems.
Jones has been a member of the Biophysical Society since 2013.
"It was incredibly exciting to learn that I had been selected to receive this year's Junior Faculty Award," says Jones. "There are so many talented researchers who apply for this award each year, so to be chosen to receive this honor reinforces to me that the research I am conducting truly is at the cutting-edge of my field."
Established in 1958, the Biophysical Society leads the development and dissemination of knowledge in biophysics through its numerous educational programs, including its meetings, publications, and committee outreach activities. Its Biopolymers In Vivo Subgroup focuses on the study of biological molecules in the cell or cell-like environment. The subgroup presents the Junior Faculty Award each year to bring attention to young faculty who have just begun their careers in this field and are working on groundbreaking research in this area.
Jones received her award at the Biopolymers In Vivo Subgroup Symposium in Baltimore on March 2, where she also presented a lecture titled "Protein Footprinting Coupled with Mass Spectrometry for In-Cell Protein Analysis."
"It was an honor to receive this year's Junior Faculty Award, but I would be remiss if I did not express my sincerest gratitude to the Department of Pharmaceutical Sciences for all of the support they have provided as I have worked to advance my career and my research at the School of Pharmacy," says Jones. "The support of my peers has been instrumental in inspiring me to continue to push my research forward. Without their encouragement, I would not be where I am today."

Related News Stories