Local Technology, Global Impact
Dr. Maureen Kane's leadership of the Mass Spectrometry Center make her a UMB Champion of Excellence.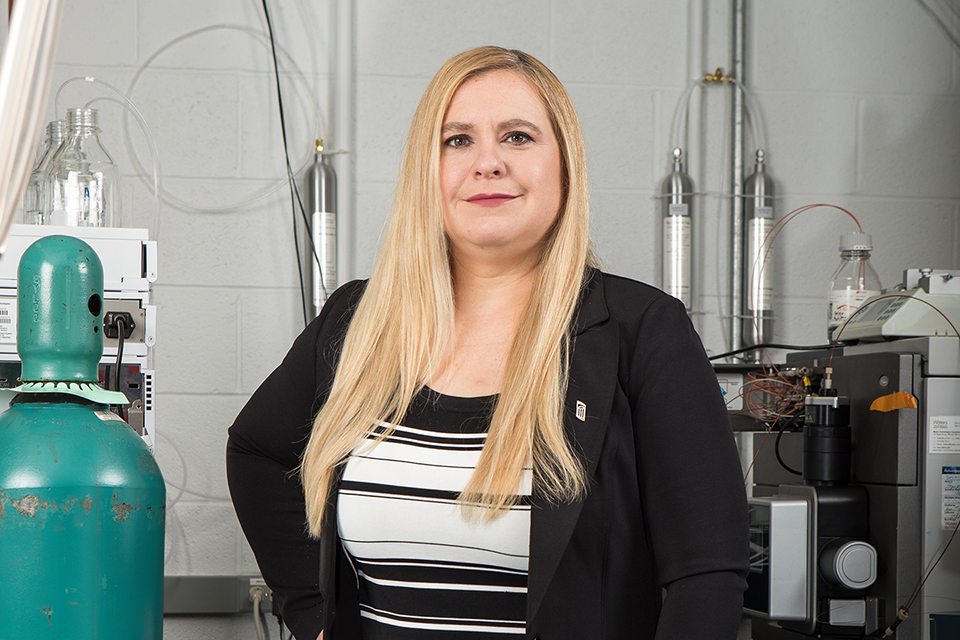 By Chris Zang
October 1, 2018
For Maureen A. Kane, PhD, investigating biomedical questions is like solving a puzzle, and finding the new or undiscovered answers is the most interesting part.
Kane works as an associate professor in the Department of Pharmaceutical Sciences at the University of Maryland School of Pharmacy and as the executive director of its Mass Spectrometry Center. Formally trained as an analytical chemist, Kane saw the opportunity to use advanced measurement tools to fill in the gaps of biological knowledge.
For her, mass spectrometry is the tool of choice. Mass spectrometry, in its simplest terms, involves measuring the masses of ions in a sample to answer diverse biological and chemical questions.
Kane's vision was to not only enable her own work but to accelerate the scientific discovery of collaborators and colleagues across other schools at the University of Maryland, Baltimore (UMB), and beyond.
To these ends, in 2010 Kane led the effort to create the Mass Spectrometry Center to empower biological discovery and drug development through cutting-edge technologies in mass spectrometry. These efforts have not gone unnoticed.
The Mass Spectrometry Center and Kane are recognized as partners with the Waters Centers of Innovation Program, which honors analytical scientists for facilitating breakthroughs in health and life science research. The School of Pharmacy was the first institution to earn the honor from Waters Corp. Recognition for Kane individually followed soon after.
As executive director of the center, Kane oversees staff and students while also running her own lab, The Kane Lab, where she spends most of her time researching metabolites — small molecules that carry out various biological jobs in the body. Broadly, her efforts are to understand how metabolites function and play a role in disease when regulated by various proteins or disrupted.
Understanding the fundamentals allows her to then come up with ways to prevent or better treat certain diseases.
"Our major goals are toward identifying new therapeutic targets or informing the mechanisms of current drug targets to better understand how these metabolites function," she says. "That's the big picture of why we do what we do."
Kane is particularly interested in a class of bioactive lipids called retinoids. These molecules, derived from vitamin A, are essential for a number of biological processes including development, nervous system function, reproduction, and immune response. Kane's rigorous analytical approach has opened new doors for understanding retinoid biology.
"Our measurement methods using mass spectrometry have allowed us to very precisely measure molecules that are present in very small amounts," she says. "Some of these molecules have very potent biological effects that are not fully understood yet. Knowing how much of a molecule is present and how the levels of a molecule are changed by a disease or a new therapeutic is a critical piece of the puzzle."
Some of Kane's recent retinoid studies led her to a group of researchers at Emory University working on therapeutics for HIV. Their findings showed that non-human primates treated with an antibody-based therapeutic achieved sustained remission without the need for continued drug treatment. The Kane Lab showed retinoid metabolites were some of the first molecules to respond to the antibody-based therapy. They're now studying how the retinoid metabolites involved have played a role in the viral remission.
If successful, their work could result in new treatment regimens that do not involve daily drug dosing for the rest of a patient's life.
Additionally, Kane has worked with a team at Harvard University regarding how retinoid metabolites may lessen the chronic inflammation and immune activation in patients with HIV.
"Answering the questions that may help humanity at some point in time … that's another reason why my job is exciting, because you do feel like you are contributing to help people," she says.
Kane points out that collaboration is key in today's research — the most impactful discoveries are not made alone.
"Working as part of various scientific teams, I have seen the synergy that can result from experts in diverse areas commingling ideas and approaches. This intellectual integration is truly exciting and productive."
She adds: "I've been extremely fortunate thus far in my career at UMB in the School of Pharmacy that this collaborative environment has been valued and encouraged."
In this context, the Mass Spectrometry Center truly embodies "team science" where resources not only help faculty and students of the School of Pharmacy, but also contribute to many other research projects across UMB.
"We've contributed to research grants that have brought well over $100 million in research funding to UMB. Some of our efforts are small portions of a research project and some are large, crucial contributions to the work. Our impact is wide-reaching," she says.
Using the technical and biological expertise of those in the School of Pharmacy, researchers like Kane work with other schools at UMB to collaborate and elevate their projects. Kane has fostered the Mass Spectrometry Center's philosophy to integrate their experts into collaborative teams where there can be a meaningful exchange of expertise.
"Working on projects with your colleagues is very exciting. There are a lot of open doors for collaboration at UMB. Joining forces in a substantive way has elevated the work of everyone involved," she says.
Take the Medical Countermeasures Against Radiological Threat (MCART) Consortium, for example. Here, Kane has worked with colleagues in the School of Medicine to develop animal models for drug development of therapeutics intended to treat injuries resulting from radiation exposure.
Outside of her work at UMB, Kane also is involved in the American Chemical Society's Women Chemists Committee. The panel advocates for women in the chemical sciences to positively impact society and the profession. She hopes the next generation of scientists will include more women excited about unraveling how things work.
"I hope to pass on an enthusiasm for completing pieces of the puzzle to all of my trainees at UMB," she says. "I'm very grateful for the excellent mentors I've had throughout my career who not only stressed the importance of the small details, but encouraged me to think big."
Related News Stories