PSC Department Named Partner in Waters Centers of Innovation Program
Designation honors the School of Pharmacy's commitment to advancing science through its Mass Spectrometry Facility.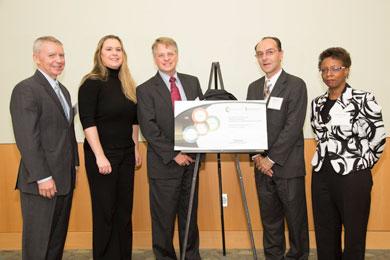 By Karen Robinson
October 14, 2013
The University of Maryland School of Pharmacy has become the first school of pharmacy to be named a partner in Waters Corporation's Centers of Innovation Program, a designation that honors the School's commitment to advancing science through its new Mass Spectrometry Facility. The Waters Corporation of Milford, Mass., a leading developer and manufacturer of liquid chromatography (LC) and mass spectrometry (MS) instrumentation, began its Centers of Innovation Program in 2010 to recognize accomplished scientists and their institutions for cutting edge research in many fields, including biomedical. The School of Pharmacy and Waters celebrated the designation at a scientific symposium held Oct. 10 in Pharmacy Hall.
Waters specifically chose the School of Pharmacy's Department of Pharmaceutical Sciences for the Centers of Innovation designation, making it the first institution, instead of an individual, to earn the honor. Waters offers its Centers of Innovation benefits such as discounts, special pricing, input into next-generation analytical tools, access to the very latest in technology and collaborative scientific assistance.
When the University of Maryland, Baltimore was building the new Pharmacy Hall Addition – which opened in 2010 – Dean Natalie D. Eddington, PhD, FAAPS, FCP, recognized the opportunity to add a mass spectrometry core facility to the campus.
"Without access to an adequate mass spec facility, faculty from many of the schools at the University have had to use other facilities in the Baltimore area and those located in other cities, making it difficult, if not impossible, to leverage interdisciplinary teams and training opportunities for our faculty, students, and fellows," Eddington told the audience as she opened the scientific symposium that morning. "Our vision for the Mass Spec Facility is to offer researchers from the School of Pharmacy and the surrounding research community the opportunity to perform a wide range of sophisticated experiments. Our hope is that this first of its kind partnership with Waters will foster the development of new techniques to further the capabilities of mass spectrometry and Waters technology in solving biomedical problems."
The Mass Spectrometry Facility at the School of Pharmacy offers researchers from the School, from the other UMB schools, and from the surrounding research community the opportunity to perform a wide range of experiments requiring mass spectral data. Mass spectrometry has evolved to become an indispensable laboratory tool of researchers for ascertaining the concentrations and structures of individual biomolecules (e.g. proteins, peptides, monoclonal antibodies, metabolites, lipids) from living organisms. It is a technique, often used in combination with liquid chromatography that is found in one form or another in virtually every industrial pharmaceutical and life science laboratory. It provides state-of-the-art expertise, methodology, and instrumentation to researchers and collaborates with faculty, staff, and students on a variety of research projects. The experience of the facility's faculty and staff spans a broad range of topics, including chemical and pharmaceutical biology, infectious and metabolic disease, translational and regulatory sciences, and bioinformatics and technology development.
"The School of Pharmacy's Mass Spectrometry Facility will also benefit the schools of Medicine and Dentistry and those outside the School as much as it will benefit the School of Pharmacy," UMB President Jay A. Perman, MD, told the group assembled to open the scientific symposium. "What is important about it is that the work that is going to be done will shorten the time it takes to translate research findings into what we're all after," including new diagnostics, therapeutics and other developments that directly impact patients.
Several Waters executives also addressed the symposium audience. "Customers are the most important part of our business," said Mark Groudas, vice president of the Americas for Waters. "They can lead us to new heights if we listen to them and partner with them."
"The School of Pharmacy has a reputation and a portfolio of individual goals and strategies that fits into a partnership strategy that we would like to be a part of," said Waters Centers of Innovation Program Director John C. Gebler, PhD. "We look forward to the future."
The day-long scientific symposium opened with lectures from David Goodlett, PhD, professor and Isaac E. Emerson Chair of Pharmaceutical Sciences and director of the Mass Spectrometry Facility at the School of Pharmacy, followed by Maureen Kane, PhD, assistant professor of pharmaceutical sciences and co-director of the Mass Spectrometry Facility. Other speakers included Arthur Moseley, PhD, associate research professor at Duke University and director of Duke's Proteomics Core Facility – also a partner in the Waters Centers of Innovation Program. Ron Heeren, PhD, professor of the FOM Institute AMOLF in Amsterdam, also spoke as did Patrick Wintrode, PhD, associate professor of pharmaceutical sciences at the School of Pharmacy. Joseph Loo, PhD, a professor of chemistry and biochemistry from the University of California, Los Angeles, closed out the afternoon.
Related News Stories