SOP's Annual Research Day Showcases Students and Trainees' Work
Day-long event featured the School's annual Andrew G. DuMez Memorial Lecture and offered opportunities for participants to network with potential collaborators.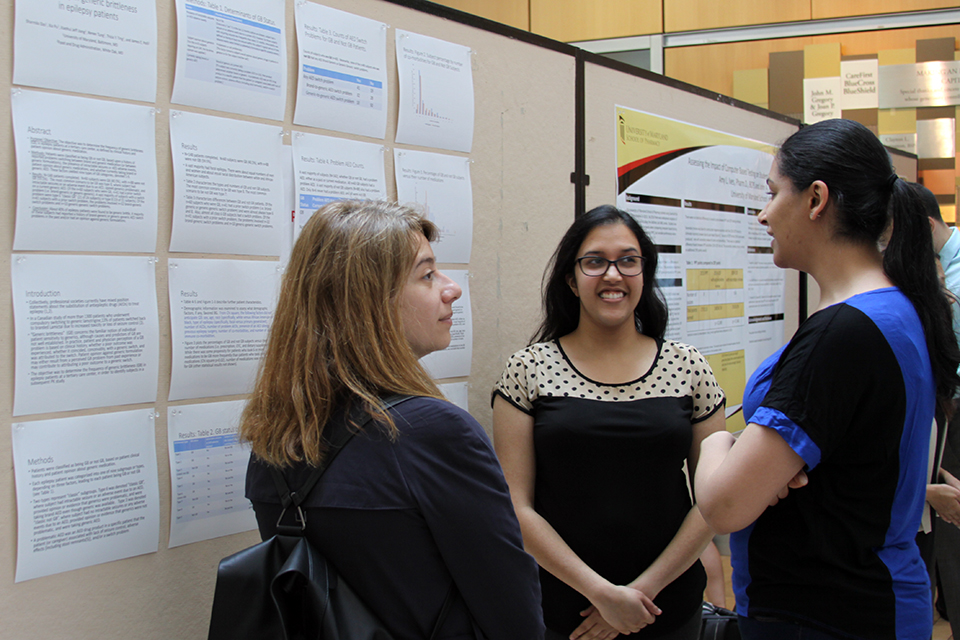 By Malissa Carroll
April 26, 2017
Dozens of faculty, staff, and students at the University of Maryland School of Pharmacy convened in Pharmacy Hall on April 12 to attend the School's annual Research Day. Designed to highlight the latest research from the School's students and trainees, this year's event featured the presentation of the School's annual Andrew G. DuMez Memorial Lecture and offered opportunities for participants to both exhibit their current work and network with potential collaborators.
"Research Day is a truly remarkable event that allows us to showcase and celebrate the breadth and depth of research being conducted by students and trainees at the School of Pharmacy," said Natalie D. Eddington, PhD, FCP, FAAPS, dean and professor of the School, as she opened the event. "In addition to offering us an opportunity to learn more about the diverse research taking place at our School, Research Day provides an opportunity for students, residents, and postdoctoral fellows to gain insight and feedback about their work, with the hope of stimulating new collaborations across the wide range of disciplines at the School."
To kick off the day, Michael J. Tarlov, PhD, chief of the Biomolecular Measurement Division at the National Institute of Standards and Technology (NIST), delivered the School's annual Andrew G. DuMez Memorial Lecture. Titled "The Role of Measurements and Standards in the Development and Manufacturing of Biopharmaceuticals," the lecture focused on the development and manufacturing of protein therapeutics – also known as biologics. Tarlov highlighted several biologics-related projects in which his team is currently involved and spoke about the institute's participation in the recently established National Institute for Innovation in Manufacturing Biopharmaceuticals (NIIMBL).
The University of Maryland, including the School of Pharmacy, is also a member of NIIMBL, which aims to bring safe drugs to market faster and develop workforce training.
"The future of biologics is incredibly exciting," said Tarlov. "With the launch of NIIMBL, there are truly endless opportunities for collaboration across academia, government, and industry as we work to address some very interesting challenges in the development and manufacturing of biologics. The School of Pharmacy and NIST could be excellent collaborators in this area, and I look forward to opportunities to work together with your researchers in the field."
Following the lecture, nearly 80 student pharmacists, pharmacy residents, graduate students, and postdoctoral fellows participated in a poster session during which faculty, staff, and students had an opportunity to network and learn more about the cutting-edge research being conducted by up-and-coming researchers across the School. Awards were presented the following students and trainees whose posters received the most positive feedback from faculty outside of their department:
"In addition to highlighting the outstanding work of our students and trainees, Research Day offers a valuable opportunity for faculty, staff, and students from across all departments to aid in the professional development of these young researchers," says Bruce Yu, PhD, professor in PSC and organizer of this year's event. "Students and trainees can reflect on the thoughtful feedback that they receive during this event, and use those suggestions to make their presentations even stronger at regional, national, and international meetings and conferences. It is truly a beneficial event for all who participate."
At the conclusion of the poster session, attendees were invited to listen as six promising researchers from across the Departments of Pharmaceutical Health Services Research, Pharmacy Practice and Science, and Pharmaceutical Sciences delivered brief presentations about their current projects. Topics of the presentations ranged from advancing treatments for diseases such as non-Hodgkin's lymphoma and iron-deficiency anemia, examining a potential tool to improve medication adherence among pediatric patients and the pharmacist's role in facilitating inpatient to home hospice transitions of care, understanding treatment selections for patients with rheumatoid arthritis, as well as the ethical issues related to informed consent in randomized controlled trials for antibiotic medications.
"With approximately 50 percent of pediatric patients not taking their medications as prescribed, the need to improve medication adherence among children and adolescents cannot be understated," said Grace Wo, a second-year student pharmacist. "The RemindeRx bracelet that I designed combines positive reinforcement and patient engagement to encourage medication adherence in pediatric patients. Together with my team, we examined parents' opinions and beliefs about the effectiveness of the RemindeRx bracelet. It was an honor to be selected to present our research."
Related News Stories