SOP Hosts Representatives from the Saudi Arabian Cultural Mission
Representatives meet with faculty and students to learn more about the School's top ranked academic programs and opportunities for future education and research collaborations.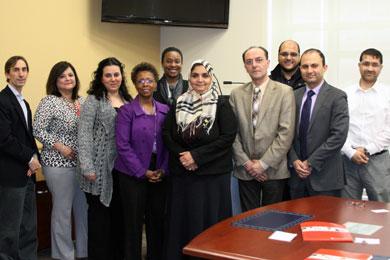 By Malissa Carroll
April 3, 2014
On March 28, faculty from the Departments of Pharmaceutical Health Services Research (PHSR), Pharmacy Practice and Science (PPS), and Pharmaceutical Sciences (PSC) at the University of Maryland School of Pharmacy met with representatives from the Saudi Arabian Cultural Mission (SACM) to discuss the School's internationally renowned academic programs and explore the potential for future education and research collaborations between the two institutions.
"The University of Maryland School of Pharmacy leads pharmacy education, scientific discovery, patient care, and community engagement in the state of Maryland and beyond," said Natalie D. Eddington, PhD, FCP, FAAPS, dean and professor of the School of Pharmacy, who greeted the representatives upon their arrival. "Our School offers a wide range of academic programs that provide strong foundations in pharmacy, while developing scholars in basic and applied research. We are thrilled to have the opportunity to meet with you to demonstrate how our programs can provide SACM students with the knowledge and skills they need to pursue successful careers in academia, government, and the pharmaceutical industry."
Organized by Hazem Hassan, PhD, RPh, research assistant professor in PSC, the meeting was attended by Eddington; Andrew Coop, PhD, professor and chair of PSC; Sarah Michel, PhD, associate professor and director of the PSC PhD program; Magaly Rodriguez de Bittner, PharmD, BCPS, CDE, FAPhA, professor and chair of PPS; C. Daniel Mullins, PhD, professor and interim chair of PHSR; and Ebere Onukwugha, MS, PhD, assistant professor and director of the PHSR PhD program.
"The School of Pharmacy strives to cultivate relationships with international organizations such as SACM, which allow it to introduce its cutting-edge education, practice, and research programs to new student populations," says Hassan. "These partnerships not only help the School gain an international reputation and grow its academic programs, but also give those organizations with which we partner an avenue to obtain the best education possible for their students."
He adds, "In addition, because SACM is responsible for implementing Saudi Arabia's national education and training policies, this partnership will allow us to share our expertise with all of the colleges and universities across Saudi Arabia."
To help faculty better understand the organization's current needs, Samar Alsaggaf, PhD, director of medical and health sciences programs at SACM, kicked off the meeting with a brief overview of SACM. She discussed the curriculum followed by schools of pharmacy in Saudi Arabia as well as the application process that students must complete to study abroad.
"SACM strives to provide its students with high quality educational experiences at the best academic institutions in the United States," said Alsaggaf. "My office is committed to supporting students who want to pursue an education in health sciences. We have an excellent relationship with the University of Maryland, Baltimore (UMB) in many different fields, but are particularly interested in learning more about opportunities available for our students to pursue residencies as well as master's and doctorate degrees in pharmacy-related fields. We know that there are a lot of opportunities available here. Our goal is to send the message and let our students know that these opportunities exist."
Emphasizing the School's mentor-driven approach to graduate education and the high job placement rate achieved by its graduates, Coop and Mullins shared information about their departments' respective graduate programs, including the type of coursework that students can expect and the different tracks they can pursue.
"The goal of the PHSR PhD program is to train strong researchers with the skills to address a wide range of pharmacy-related problems," said Mullins. "The program is tailored to meet the needs of the individual student, and students often have jobs in academia, government, or industry as soon as they graduate."
"Students in the PSC PhD program are trained in a highly collaborative atmosphere, where they gain the knowledge and skills required to identify new therapeutic entities as well as optimize existing drug therapies," added Coop, who also discussed the partnership between UMB, the University of Maryland, College Park, and the Food and Drug Administration that led to the launch of the Center of Excellence in Regulatory Science and Innovation and the School's new MS in Regulatory Science program. "Because we understand that students grow at different rates, our dedicated faculty work very closely with them to ensure their success in the program."
Speaking about the numerous residency and fellowship programs available at the School through a collaboration with the University of Maryland Medical Center, Rodriguez de Bittner said, "Our programs offer innovative educational, research, and practice settings in which pharmacy residents and fellows can gain the knowledge and skills they need to become successful practicing pharmacists and obtain competitive positions in their respective specialties. Our program directors are leaders in pharmacy and dedicated to improving the quality of education all residents and fellows receive."
She also spoke about the opportunity for students to engage in innovative interdisciplinary experiences in education, practice, and research. "Approximately five faculty members in PPS serve as instructors in the PSC PhD program, where they are actively engaged in a wide range of practice-based research activities. As a result of their added expertise, the program is able to encompass the full spectrum of drug development and delivery," she said.
Two individuals currently participating in SACM-sponsored programs at the School also attended the meeting. Mohammad Al-Jawadi, a graduate student in the PHSR PhD program, and Maan Khayat, PhD, a postdoctoral fellow in Hassan's laboratory, shared their experiences with the group.
"I'm very excited that there will be increased interaction between Saudi Arabia and the School of Pharmacy," said Khayat. "I have learned so much since joining Dr. Hassan's lab last year. It has been a great opportunity for me to represent my country, and I look forward to sharing my knowledge with my colleagues when I return to Saudi Arabia. This is a partnership that I truly feel will benefit both parties."
Related News Stories