SOP's Annual Research Day Highlights Students and Trainees' Work
Forum provides opportunity to share current research and network with potential collaborators.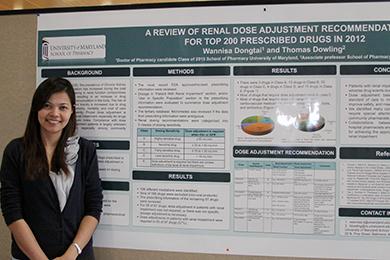 By Malissa Carroll
April 11, 2014
A palpable energy filled the University of Maryland School of Pharmacy on April 4, as student pharmacists, pharmacy residents, graduate students, and postdoctoral fellows gathered to showcase their latest research at the School's annual Research Day.
"The goal of Research Day is to highlight the breadth and depth of research being conducted among students and trainees at the School of Pharmacy," says Peter Swaan, PhD, associate dean for research and graduate studies and professor in the Department of Pharmaceutical Sciences (PSC) at the School. "This exciting event gives faculty, students, residents, and postdocs an opportunity to share their research with each other and learn more about the research being conducted in other departments. We also hope that this venue will stimulate new collaborations across the School and within its wide range of disciplines."
One student participating in the day's activities was Alex Park, a third-year student pharmacist in the School's Doctor of Pharmacy (PharmD) program. Park presented a project on which he worked with Susan dosReis, BSPharm, PhD, associate professor in the Department of Pharmaceutical Health Services Research (PHSR), to examine how caregivers' preferences might be used to optimize treatment regimens for children with attention deficit hyperactivity disorder (ADHD).
According to the National Institute of Mental Health, ADHD is one of the most common childhood brain disorders. The disorder encompasses a wide range of symptoms, including difficulty maintaining focus and paying attention, difficulty controlling behavior, and hyperactivity. These symptoms often make it difficult for children to succeed in school and get along with others.
"We surveyed 80 caregivers of children with ADHD in the state of Maryland to determine which treatments and outcomes were most important to them," says Park. "Some of our findings met our expectations; however, we also encountered a number of surprises. One of the surprising observations from this survey was that caregivers do not seem to have a preference regarding the location at which their child receives his or her treatment, whether in a clinic, at school, or at home."
Park noted that a portion of the survey also questioned caregivers' personal beliefs about ADHD. "Currently, there is a lack of literature to help health care providers identify the best treatment options for children with ADHD. In the future, if we discover a correlation between caregivers' beliefs and preferred treatment options, we can use that information to help providers more easily identify which treatments might work best for a patient's unique situation."
Also attending Research Day was Ming-Hui Tai, a graduate student in the PHSR PhD Program, who showcased a study that she conducted under dosReis' mentorship analyzing persistent antipsychotic treatment among children in foster care and its impact on hospital, outpatient, and emergency department visits.
"Recently, we have noticed a trend in the use of antipsychotic medications among children who are placed in foster care," says Tai. "Through this study, we hope to better understand the prevalence of these medications in this population and the outcomes children experience while taking these drugs."
Antipsychotic medications such as Abilify, Clozapine, and Zyprexa, are primarily used to manage symptoms associated with psychosis, including delusions and hallucinations. Although often prescribed for individuals diagnosed with serious mental health disorders, such as schizophrenia and bipolar disorders, these medications are increasingly being used to treat non-psychotic disorders.
"We want to improve the way that children in foster care are using these medications," adds Tai, whose study also sought to identify the types of mental health services children in foster care received and compare the mental health services outcomes among persistent and non-persistent antipsychotic users. "We identified 511 children in foster care who were prescribed at least one antipsychotic medication within the past two years. In the general public, less than five percent of children are prescribed antipsychotic medications. However, in our sample, 20 percent of the children had been prescribed at least one antipsychotic drug."
Presenting research that aimed to identify substrate selective p38 MAP kinase inhibitors to reduce inflammation associated with sepsis, Amanda Brophy, a graduate student in the PSC PhD Program, explained how she worked with Paul Shapiro, PhD, associate professor in PSC; Alexander MacKerell, PhD, professor in PSC and director of the School's Computer-Aid Drug Design Center; and Jeffrey Hasday, MD, professor of medicine at the University of Maryland School of Medicine, to identify unique compounds that could bind to and inhibit a protein known as p38, which serves as a primary regulator of inflammation associated with sepsis.
"Dr. MacKerell's team presented us with 20 compounds that could potentially bind to the p38 protein," says Brophy. "We analyzed those compounds and found one that showed the greatest binding potential. In addition to binding to the protein, the compound also inhibited inflammation when Dr. Hasday's team tested it in an animal model of sepsis. This was an excellent find, and may lead to new targeted approaches to reduce inflammatory responses and tissue injury."
Although her data illustrates the compound's potential effectiveness in preventing inflammation associated with sepsis, Brophy notes that additional research is needed to better understand how the compound works to achieve this result.
The School of Pharmacy's Research Day followed the annual Graduate Research Conference hosted by the University of Maryland, Baltimore (UMB) on March 24, where several graduate students from the School's PHSR PhD Program and PSC PhD Program took home awards in recognition of their innovative research.
Shamia Faison, a graduate student in the PSC PhD Program, received the conference's coveted Graduate Translational Research Award for her project titled, "Development of l-THP as a Drug Addiction Treatment," which she completed under the mentorship of Jia Bei Wang, PhD, professor in PSC. The award recognizes her project's practical applications and potential benefit to public health.
"I felt very honored to receive this prestigious award," says Faison. "There is a plethora of groundbreaking applied research currently being conducted across our University. I was truly grateful to have my work recognized among all of the applications submitted for this award."
PHSR graduate students Abdalla Aly and Bilal Khokhar were also recognized for the research they presented at the conference. Aly received the award for Best Oral Presentation in the conference's first session for his project titled, "Who Benefits Most from Androgen Deprivation Therapy Among Elderly Metastatic Prostate Cancer Patients?" In the conference's second session, Khokhar was honored with the award for Best Poster for his project titled, "The Risk of Stroke Among Elderly Antidepressant Users with Incident Depression Following Traumatic Brain Injury."
Both Aly and Khokhar received the Gerontology and Geriatrics Education and Research (GGEAR) Program Award presented at the conference.
Related News Stories