Shark Tank Competition Celebrates Pharmapreneurial Innovation at the School
Three winning teams awarded $50,000 to help support pioneering projects in each of the School's departments.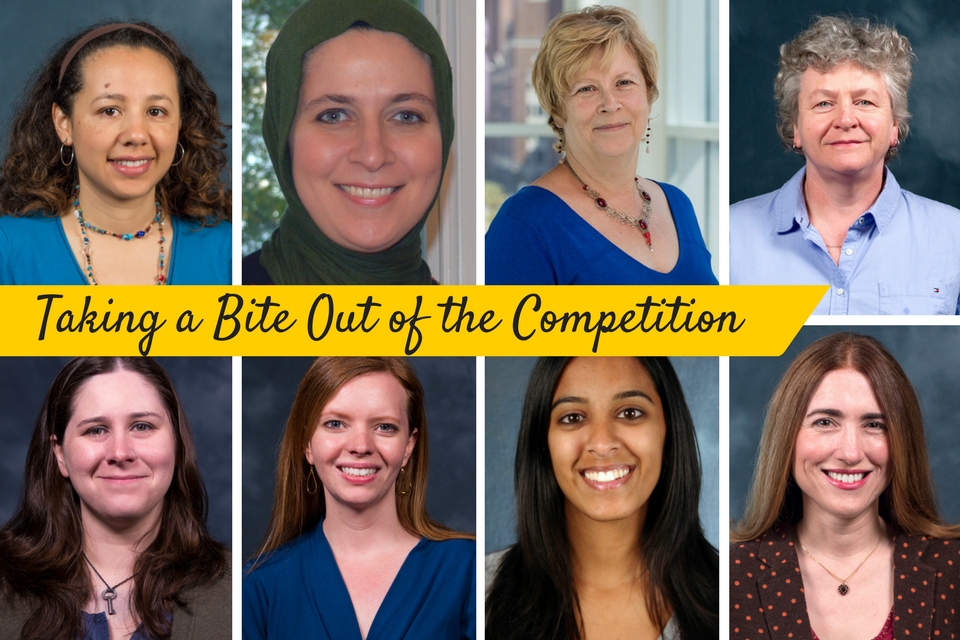 By Malissa Carroll
July 21, 2017
The University of Maryland School of Pharmacy hosted a Shark Tank-style competition on June 15 to showcase the pharmapreneurial talent of faculty across its Departments of Pharmaceutical Health Services Research (PHSR), Pharmacy Practice and Science (PPS), and Pharmaceutical Sciences (PSC). The competition celebrated the School's recently launched pharmapreneurism initiative, which describes its commitment to supporting and best positioning faculty, staff, and students to achieve their career aspirations and address the nation's health care, research, policy, and societal needs, and awarded $50,000 to three winning teams – one team from each department – to help support their pioneering projects.
"Pharmapreneurism provides the School of Pharmacy with a mechanism through which we can capitalize on our entrepreneurial spirit to improve pharmaceutical research, practice, and education in the state of Maryland, the nation, and the world," says Natalie D. Eddington, PhD, FCP, FAAPS, dean and professor of the School. "I was awestruck by the amount of time, thought, and dedication that our faculty members put into their presentations for this Shark Tank-style competition. The innovative thinking demonstrated by our winning teams will undoubtedly drive additional pharmapreneurial endeavors across the School and help position us as the premier entrepreneurial pharmacy school in the nation."
Wendy Camelo Castillo, MD, MSc, PhD, assistant professor in PHSR; Danya Qato, PharmD, MPH, PhD, assistant professor in PHSR; and Linda Simoni-Wastila, BSPharm, MSPH, PhD, the Parke-Davis Chair in Geriatric Pharmacotherapy and professor in PHSR, were the first to take a bite out of the competition with their proposal for a project that would link two national health and pharmaceutical claims datasets – Medicare and Medicaid – to help researchers better understand the course of pharmaceutical access, health care utilization patterns, and health outcomes among people with disabilities.
Their ultimate goal is to use the data to establish a multidisciplinary, patient-centered research collaborative within PHSR to identify disparities in access to and quality of care in patients with disabilities and design novel approaches to overcome those disparities.
"We are thrilled to have been selected as the winning team for our department in the School's Shark Tank competition," says Simoni-Wastila. "Our project truly embraces the spirit of pharmapreneurism and situates us to take the lead in informing policies and programs that support the hypervulnerable population of patients with disabilities. The unique linkage of Medicare and Medicaid datasets on the national scale will allow us to map the tremendous, yet neglected needs of this population and empower us to advocate for unified efforts to bridge the gaps in their care. We will establish the School of Pharmacy as a trailblazer in disabilities research."
Kimberly Claeys, PharmD, BCPS, assistant professor in PPS; Emily Heil, PharmD, BCPS AQ-ID, AAHIVP, assistant professor in PPS; and Neha Sheth Pandit, PharmD, BCPS, AAHIVP, associate professor and vice chair for research and scholarship in PPS, also made a splash during the competition with their proposal to develop novel, engaging training tools for students studying the spectrum of antimicrobial activity and antimicrobial stewardship using an interactive app-based platform.
Antimicrobials include any substance that kills or stops the growth of microorganisms, but causes little or no damage to the host.
In their presentation, the team noted that although digital learning tools are currently in-demand, no such tools specific to the spectrum of antimicrobial activity exist. They suggested that once these tools are developed, they could be used as educational supplements at schools of pharmacy, medicine, and nursing nationwide, with the ultimate goal of increasing student knowledge.
"All of the proposals presented at the Shark Tank competition were phenomenal, so it is truly an honor to be named the winning team for our department," says Claeys. "With bacteria continuing to develop resistance to even the strongest antibiotics available, antimicrobial stewardship is urgently needed to help guide appropriate antimicrobial use and prescribing in all health care settings. By developing a visual-based, interactive tool to serve students across all health professions who are studying the antimicrobial spectrum, we hope to position the School of Pharmacy as an innovator in the development of app-based learning tools."
Lastly, Angela Wilks, PhD, and Sarah Michel, PhD, professors in PSC, proved they did not have to fish for compliments with their proposal to establish a new research center at the School of Pharmacy focused on metalloprotein (proteins that require a metal ion) and metallotherapeutics research. Aptly named the Metallotherapeutics Research Center (METRC), the center would aim to improve human health and welfare locally, nationally, and internationally by identifying new metalloprotein drug targets, developing new metal therapeutics, and improving current metal-based medications.
Presenting their proposal to the audience, Wilks and Michel noted that, although metalloproteins have been implicated in a number of diseases, including cardiovascular disease, diabetes, and cancer, their function and role in these illnesses remains largely unknown. METRC brings together the expertise of numerous faculty members from PSC to not only develop new metallotherapeutics, but also to train future scientists to meet the needs of industry and government agencies in this critical field.
"Having this opportunity to share an idea that has been on our minds for some time, and to discover that others find it just as exciting as we do was tremendously gratifying," says Wilks. "Oftentimes, expertise in metalloproteins and metallotherapeutics is siloed in traditional chemistry and biochemistry departments, where there is no access to pharmacologists, toxicologists, and pharmaceutical scientists. By disrupting this discipline-centric approach to academic departments and centers, METRC not only addresses a gap in the area of drug development and regulatory sciences, but will also position the School of Pharmacy as a nationally and internationally recognized leader in research on metals in medicine and the environment."
Each winning team received $50,000 to help fund its proposed pharmapreneurial project. Other faculty members who participated in the competition included Susan dosReis, BSPharm, PhD, professor in PHSR; Ebere Onukwugha, MS, PhD, associate professor in PHSR; Magaly Rodriguez de Bittner, PharmD, BCPS, FAPhA, professor in PPS; Vijay Ivaturi, MS, PhD, assistant professor in PPS; Joey Mattingly, PharmD, MBA, assistant professor in PPS; Brent Reed, PharmD, BCPS-AQ Cardiology, FAHA, associate professor in PPS; Bruce Yu, PhD, professor in PSC; and James Polli, PhD, the Shangraw/Noxell Endowed Chair in Industrial Pharmacy and Pharmaceutics in PSC.
Related News Stories