School Names Three New Academic Program Directors
The PhD and MS in PSC and PhD in PHSR programs have changed leadership.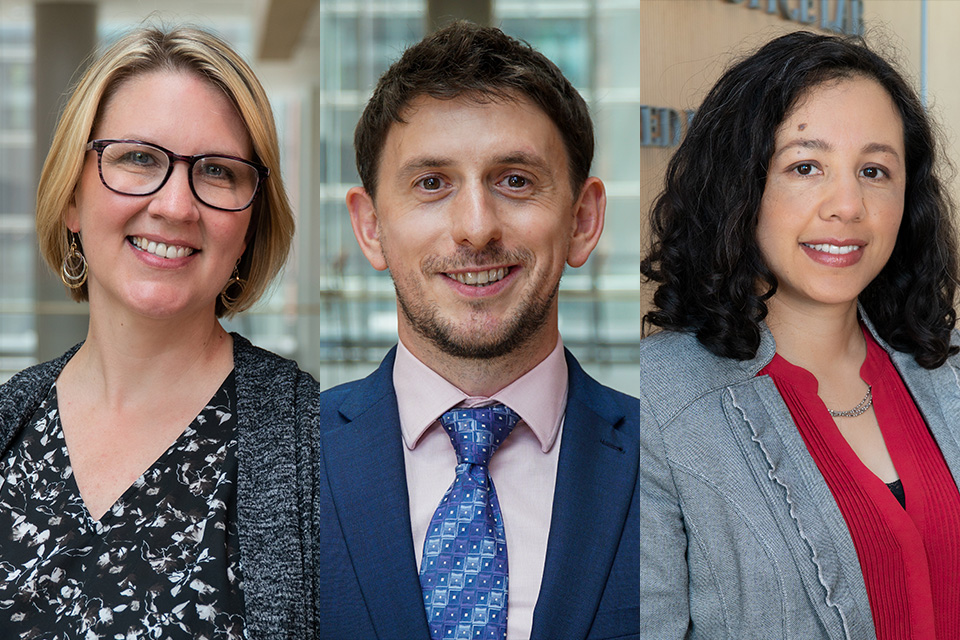 By Andrew Tie
October 23, 2023
The University of Maryland School of Pharmacy has named new directors of three of its graduate programs. As of this fall, the PhD and MS in Pharmaceutical Sciences (PSC) programs each are under new leadership, in addition to the Pharmaceutical Health Services Research (PHSR) graduate program.
PhD in PSC: Amanda Oglesby, PhD, associate professor in the Department of PSC
MS in PSC: Steven Fletcher, PhD, associate professor of PSC
PhD in PHSR: Wendy Camelo Castillo, MD, PhD, MSc, assistant professor in the Department of Practice, Sciences, and Health Outcomes Research (P-SHOR)
"Drs. Oglesby, Fletcher, and Camelo Castillo are all accomplished scholars, and as they assume their new leadership positions, I know our graduate students will be in great hands," said Sarah L.J. Michel, PhD, dean of the School and professor of PSC. "They each have stellar visions in how to lead their academic programs to new heights in the coming years."
Amanda Oglesby, PhD in PSC Graduate Program Director
The PhD in PSC program trains students in a highly collaborative atmosphere and prepares graduates with the knowledge and skills required for discovering novel biological pathways in human health and disease as well as for the development and delivery of medications for safe and effective therapy.
The program has also recently focused on recruiting and supporting students from underrepresented backgrounds with the Initiative for Maximizing Student Development (IMSD) program funded by the National Institutes of Health.
Oglesby, who holds a secondary appointment as an associate professor of microbiology and immunology at the University of Maryland School of Medicine, joined the PSC faculty in 2012. She previously completed her PhD at the University of Texas at Austin and a postdoctoral fellowship at the University of Colorado School of Medicine. Her research is focused on the role of iron in bacterial pathogenesis.
"This is such an exciting time for our School and its graduate programs," Oglesby said. "I hope to continue the growth and success of the PhD program, including the new diversity initiatives such as the T32 IMSD program for students from underrepresented groups."
Steven Fletcher, MS in PSC Graduate Program Director
The MS in PSC program welcomed 39 new students in the fall, which is its largest cohort since the program's inception in 2019. The program was created to address a need to prepare the next generation of scientists for the biopharmaceutical industry.
Completion of a biopharmaceutical research internship and capstone project are unique hallmarks of the program.
Fletcher joined the PSC faculty in 2009 after two postdoctoral positions at the University of Toronto and Yale University. He previously completed his PhD in organic and medical chemistry at Imperial College London, after his undergraduate training at the University of Cambridge. His research lab is interested in the rational design of drugs towards new treatments for cancer and inflammation. In addition to the discovery of traditional small-molecules, his research also includes harnessing covalent chemistries to accomplish sustained inhibitions of target proteins, as well as leveraging proteolysis-targeting chimera and molecular glue technologies to achieve the targeted degradation of disease-causing proteins.
"In just a few years the program has skyrocketed in size," Fletcher said. "This tremendous growth has also led to an expansion of student support services that benefit all graduate students at the school. Along with instructor Dr. Scott Riley, we hope to further build the program, particularly by expanding the co-op industrial partnerships that are such an integral part of our program."
Wendy Camelo Castillo – PHSR Graduate Program Director
The PHSR graduate program addresses the demand for individuals skilled in evaluating pharmaceutical services and interventions. Students in the PHSR program gain the theory, practical experience, and decision-making skills needed to improve prescription drug use and health among diverse populations and become experts in a wide-range of pharmacy-related areas.
Camelo Castillo joined the P-SHOR faculty in 2017 after completing a postdoctoral fellowship at UMSOP in patient-centered outcomes and comparative effectiveness research. She trained as a physician at the Universidad Nacional de Colombia, where she also obtained an MSc in physiology. She went on to complete a PhD in epidemiology at the University of North Carolina at Chapel Hill, focusing on pharmacoepidemiology.
"Our program has a longstanding history of leading the field of pharmaceutical health services research and preparing the next generation of researchers," said Camelo Castillo. "I look forward to supporting the whole graduate student experience, which includes their academic achievements, as well as their personal and professional development. I plan to promote excellence in learning and our program's impact by seeking opportunities to innovate with our trainees, faculty, staff, and internal and external partners."
Related News Stories