School of Pharmacy Sees Unparalleled Growth in Research Funding
New grants and contracts from a multitude of non-profit and government organizations, as well as the private sector, help the School of Pharmacy achieve the highest funding increase among all professional and graduate schools at the University of Maryland, Baltimore.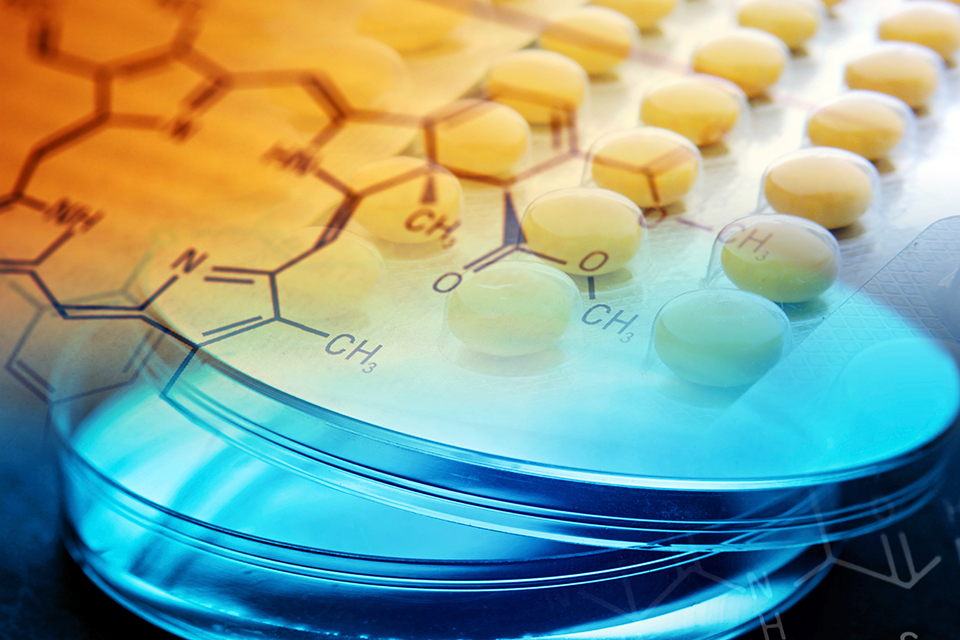 By Malissa Carroll
December 7, 2015
The University of Maryland School of Pharmacy has achieved the highest increase in research funding among all of the professional and graduate schools at the University of Maryland, Baltimore (UMB) for the second consecutive year. Despite significant budget cuts across many federal organizations on which the School often relies for support, funding for the School's pharmaceutical sciences, health services, and practice-based and translational research initiatives increased by 11 percent during the most recent fiscal year – from approximately $24 million in fiscal year 2014 to more than $27 million in fiscal year 2015.
"The consistent increase in grants and contracts to support research at the School is a testament to our faculty members' commitment to advancing scientific knowledge across the spectrum of drug discovery, health services, and practice-based and translational research," says Natalie D. Eddington, PhD, FCP, FAAPS, dean and professor of the School. "Their continued pursuit of funding in the face of substantial financial obstacles at the federal level has helped the School continue to grow and expand its research enterprise, demonstrating the high level of excellence in both our basic and clinical research programs."
Since budget sequestration in 2013, research funding from federal government agencies such as the National Institutes of Health (NIH) – the leading supporter of biomedical research in the world, and a major source of research funding for the School of Pharmacy – has declined for colleges and universities across the country. To continue supporting their research, faculty members at the School have sought and received funding from a diverse array of non-traditional sources that share their commitment to improving the health and well-being of individuals and society, helping the School maintain the highest growth in research funding among all of the professional and graduate schools at UMB for two consecutive years, with a 17 percent increase from FY2013 to FY2014 and an 11 percent increase from FY2014 to FY2015.
One area of research that has expanded significantly at the School as a result of increased funding from numerous non-profit and government organizations is comparative effectiveness research and patient-centered outcomes research (CER-PCOR). In 2013, C. Daniel Mullins, PhD, professor and chair of the Department of Pharmaceutical Health Services Research (PHSR), received a five-year, $5 million grant from the Agency for Healthcare Research & Quality (AHRQ) to establish the ground-breaking Patient-Centered Involvement in Evaluating the Effectiveness of Treatments (PATIENTS) program at the School. Eleanor Perfetto, PhD, MS, professor in PHSR, also received a major grant from the Pharmaceutical Research and Manufacturers of America (PhRMA) Foundation to establish the Patient-Centered Research for Outcomes, Effectiveness, and Measurement (PROEM) Center of Excellence in Comparative Effectiveness and Patient-Centered Outcomes Research Training in 2015.
"Our faculty understand that when patients are engaged in the research design process, the results that emerge from that research are more meaningful to them, and we want to encourage researchers across the University and beyond to embrace the value and central role that patients and other stakeholders can and should play in research – not only as participants, but also as co-developers of that research," says Mullins, whose PATIENTS program empowers patients to propose questions about their health care concerns and actively participate in studies to answer them. "Thanks to support from organizations such as AHRQ, the PhRMA Foundation, and the Patient-Centered Outcomes Research Institute (PCORI), the School of Pharmacy has established several pioneering programs in CER-PCOR that have helped to position us as a recognized leader in the field."
The School also continues to receive support from numerous contracts awarded through the longstanding partnership between its Mental Health Program and the Maryland Department of Health and Mental Hygiene. Directed by Raymond Love, PharmD, BCPP, FASHP, professor in the Department of Pharmacy Practice and Science (PPS), the Mental Health Program works to improve medication use and safety for patients who are served by Maryland Behavioral Health Administration facilities or Maryland Medicaid. The program coordinates the Behavioral Health Administration Statewide Pharmacy and Therapeutics Committee and participates in the planning of mental health pharmacy services and systems at various levels of the state government.
"The partnership between the School's Mental Health Program and the Maryland Department of Health and Mental Hygiene has led to a number of innovations in clinical pharmacy services, dose optimization, statewide data tracking, central formulary management, drug use analysis, and prior authorization," says Love. "These initiatives have not only benefitted thousands of patients, but have also generated substantial savings for the state of Maryland each year."
Contracts awarded to faculty at the School of Pharmacy from the Food and Drug Administration (FDA) have also increased. Sarah Michel, PhD, associate professor in the Department of Pharmaceutical Sciences (PSC), was named principal investigator on a three-year, $1.5 million contract from the FDA earlier this year to study differences between brand-name and generic iron medications prescribed to kidney disease patients who suffer from anemia. Jim Polli, PhD, the Shangraw/Noxell Endowed Chair in Industrial Pharmacy and Pharmaceutics in PSC, recently collaborated with Tricia Ting, MD, associate professor of neurology at the University of Maryland School of Medicine, on another contract from the FDA that found no significant differences in the bioequivalence of generic lamotrigine versus brand-name Lamictal in patients with epilepsy. Their findings were published in Epilepsia, the official journal of the International League Against Epilepsy.
"Our faculty members' ability to support their research through a diverse mix of funding from non-profit and government organizations, as well as the private sector, at a time when many colleges and universities across the nation are struggling to keep their research programs afloat underscores the quality of the research being conducted at the School," says Peter Swaan, PhD, associate dean for research and graduate studies and professor in PSC. "It establishes the School as a research powerhouse and helps bring attention to the cutting-edge work being conducted by our faculty, further increasing the potential for them to receive additional funding to advance their research and establish new collaborations with researchers from other schools."
Related News Stories