School of Pharmacy Honors PhD and MS Class of 2022 Graduates
In person and virtual ceremonies celebrate pharmaceutical health services research, pharmaceutical sciences, regulatory science, and pharmacometrics graduates.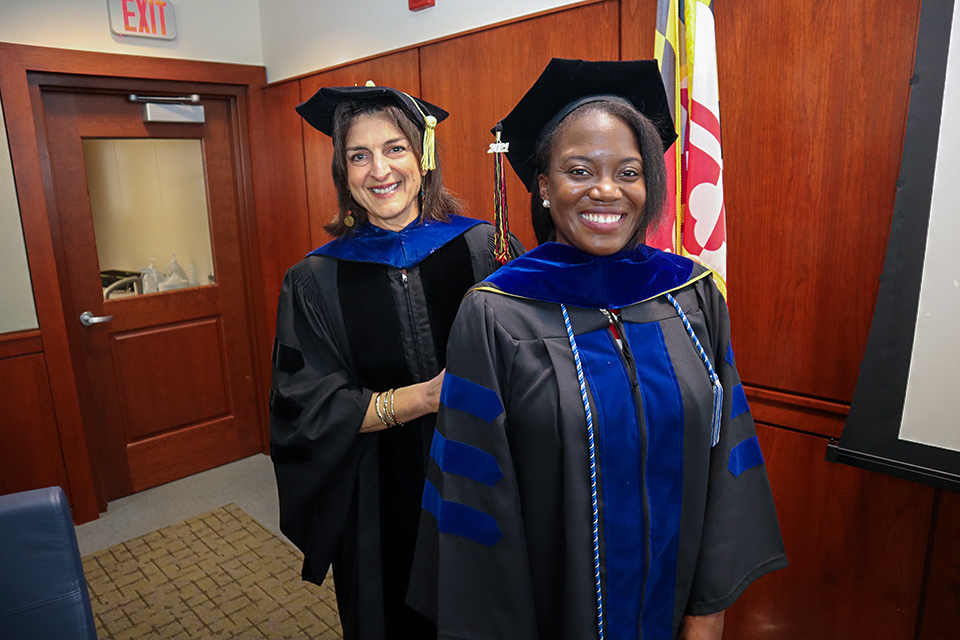 By Andrew Tie
May 23, 2022
After enjoying the campus-wide University of Maryland, Baltimore commencement the morning of May 19, the University of Maryland School of Pharmacy (UMSOP) hosted several graduation events for individual programs that afternoon. Following the UMSOP events, the Graduate School Hooding Ceremony took place at the MSTF Auditorium.
Pharmaceutical Health Services Research (PHSR) Welcomes Back Recent Grads
The Department of Pharmaceutical Health Services Research celebrated its PhD and MS graduates at an event in the President's Boardroom in the Saratoga Building. The department invited graduates from the Classes of 2020 and 2021 to participate, as students in those years had virtual graduation ceremonies.
In addition to the seven PhD students in the Class of 2022, PHSR recognized seven PhD students and 2 MS students from previous classes. Alumni came from as far away as California, and family members flew in from as far as India to finally celebrate in person.
"It is no small feat to complete an MS and a PhD in this department," said Danya Qato, PhD, PharmD, MPH, assistant professor and graduate program director in PHSR. "It requires steadfastness, commitment to curiosity and knowledge production, and generosity of spirit—all attributes shared by our graduates today."
Chengchen Zhang, PhD '22, said she's grown professionally and personally at UMSOP in the last five years.
"It's a huge excitement for me today, not only because this is a milestone for my life, but I'm able to see people from PHSR, which reminds me of all the happy times we spent together," Zhang said.
Pharmaceutical Sciences (PSC) Honors Resilience of Students
In Pharmacy Hall, the Department of Pharmaceutical Sciences celebrated its PhD and MS graduates with a ceremony of its own. PSC recognized 12 PhD and 13 MS students who finished their degrees between and inclusive of the Summer 2021 and Summer 2022 terms.
Sarah Michel, PhD, professor of PSC and associate dean for graduate programs at the School of Pharmacy, said the pandemic created a huge obstacle and disruption in the PhD students' studies and progress toward a degree.
"You and the rest of the School were sent home," Michel said. "But while you were at home, some of you wrote review articles, others figured out new ways to analyze data or came up with new experiments so that when the laboratories reopened, you were full steam ahead making research progress.
"Now you're here receiving your PhD degrees, the highest degrees conferred. You should be so proud of your accomplishments. We are."
Peter Swaan, PhD, professor and chair of PSC and associate dean for research and advanced graduate studies, said when he became department chair in March 2020, his first task was to close laboratories. The department reopened them as soon as permitted to keep the students on track.
"Perseverance and resilience are some of the key words on job applications that you can write for your future because you've done it," Swaan said. "As Dr. Michel has said, it's an enormous feat."
Regulatory Science Grads Ready for New Opportunities
Following the PSC event, the MS and Graduate Certificate in Regulatory Science program held a ceremony for its 35 master's and five certificate graduates.
"There is a vital need for qualified regulatory scientists with the knowledge and skills to develop new tools, standards, and approaches to assess the safety, efficacy, quality, and performance of new drug products and medical devices," said Natalie D. Eddington, PhD, FCP, FAAPS, dean and professor of the School of Pharmacy. "Graduates, you have been well-trained for a wide range of opportunities in drug and biologics research and development."
Varsha Pradhan, PhD, MS '22, a pharmacy educator in India, spent her two years in the program waking up at 1:30 or 2:00 a.m. for lectures on Eastern Time. Despite the challenges of learning in a different time zone, Pradhan said she was determined to complete a degree at UMSOP.
"It's one of the best teaching institutes," Pradhan said. "I'm very thankful to the University of Maryland for the flexibility to help me complete this course. This program was very well-rounded, and I know that I can contribute back home in India."
Darlene Egbunine, PharmD '22, MS '22, completed a dual PharmD/MS in Regulatory Science. She plans to go into regulatory affairs as a pharmacist.
"It was a little bit challenging, especially when I had multiple assignments due the same weekend," said Egbunine about the dual degree track. "Overall, it was a great experience. I would do it all over again. I don't think I would have fully understood regulatory science and the different aspects of industry if I had not done this master's course and only went the PharmD route."
MS in Pharmacometrics Celebrates Graduation and Milestone Anniversary
The MS in Pharmacometrics, which is a 100% online program, held its graduation virtually on May 21, to recognize its 20 graduating students.
"Our MS in Pharmacometrics graduates have been well-trained for a wide range of opportunities in interpreting pharmacometric analyses, with the ultimate goal of influencing key drug development, regulatory, and therapeutic decisions," Dean Eddington said. "With this degree, they are uniquely equipped to interact with interdisciplinary teams more effectively as well as conduct independent research."
2022 also marks the 10-year anniversary of the program, which was the first MS in Pharmacometrics in the country.
"Our mission has been to equip more scientists with pharmacometrics knowledge and skills to disrupt drug development," said Joga Gobburu, PhD, MBA, program director of the MS in Pharmacometrics and a professor in the Department of Pharmacy Practice and Science. "There were no pharmacometrics training programs focused on decision-making and enabling scientists currently in pharma companies or regulatory agencies to increase their arsenal. Our pharmacometrics degree program fills these gaps. I have always believed clinical pharmacologists and pharmacometricians should aspire to become R&D heads. We are able to draw scientists with diverse backgrounds into pharmacometrics. The 10-year celebration of our MS in Pharmacometrics program makes me believe we are closer to making that belief a reality."
On May 18, the MS in Medical Cannabis Science and Therapeutics program hosted its graduation at the Universities at Shady Grove.
Related News Stories