PhD Student Wins ACS Medicinal Chemistry Pre-doctoral Fellowship
Graduate student in the Department of Pharmaceutical Sciences is the first University System of Maryland student to earn prestigious fellowship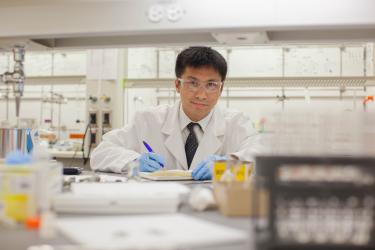 By Ed Fishel
July 31, 2012
A native of Catonsville, Maryland who studies at the University of Maryland School of Pharmacy is one of only four national winners of a 2012-2013 American Chemical Society (ACS) Medicinal Chemistry Pre-Doctoral Fellowship and the first from the University of Maryland to win.
Jeremy (Jerry) L. Yap, a PhD candidate working with Steven Fletcher, PhD, in the Department of Pharmaceutical Sciences (PSC) in the University of Maryland School of Pharmacy, did his undergraduate studies at the University of Maryland, Baltimore County.
Yap's research focuses on the design and synthesis of small-molecule inhibitors (drugs) of oncogenic protein–protein interactions. The c-Myc protein, which becomes functional only upon binding its obligate protein partner Max, is a transcription factor that is over-expressed in various cancers, directly contributing to tumor development and progression. As an intrinsically disordered protein with no obvious binding sites, the rational design of c-Myc inhibitors is non-trivial, and, unsurprisingly, there are no specific "c-Myc drugs" available in the clinic. Starting from the previously identified lead compound 10074-G5, a moderate c-Myc inhibitor whose optimization is hampered by its limited solubility, Yap has developed the analog JY-3-094, which has improved physicochemical properties and is around five times as potent as the lead. The stage is now set for optimization of the new lead compound JY-3-094.
Fletcher, an assistant professor in the School of Pharmacy, states that "Potent (nanomolar) inhibition of c-Myc with small-molecules remains an elusive goal, but with Jerry's low micromolar inhibitor, that goal is now well within our reach. The development of potent c-Myc inhibitors has the potential to lead to a brand new class of urgently-needed anti-cancer drugs. Along with Jerry's small-molecule approach to inhibiting c-Myc, we have a few more tricks up our sleeves!"
The fellowship provides Yap a full, year-long stipend to continue this research.
"The ACS has given out fellowships since 1991, and there has not been a single one awarded to a University System of Maryland student until this year," says Patrick M. Woster, PhD, chair of the ACS Division of Medicinal Chemistry. "Jeremy is the first from Maryland to be so honored. Jeremy's award should be extra satisfying because we were only able to offer four fellowships this year instead of our usual seven. Kudos to him!"
"Jerry works especially hard and is most deserving of this highly prestigious award. It is always a great feeling when hard work and commitment pay off in this fashion. I am absolutely thrilled for him. This has an extra special meaning to me, as Jerry is my first graduate student," says Fletcher. "Of course, this is great news for our lab, too, as this award spreads the word of the exciting research that we're doing at the University of Maryland School of Pharmacy, and it strengthens the relationship between the University of Maryland and the ACS."
"The receipt of this prestigious ACS Medicinal Chemistry Fellowship is an honor that Mr. Yap fully deserves, and underscores the outstanding research both our faculty and graduate students are conducting," says Andrew Coop, PhD, professor and chair of PSC. "Everyone in our department and at the School is celebrating this achievement with him."
"This is as an excellent example of how important collaboration is in any professional setting," says Yap. "The ACS Medicinal Chemistry Fellowship is the result of the joint efforts of my mentor, Dr. Fletcher, highly efficient University staff, and a dedicated faculty both on and off campus. All their efforts and support have allowed me the chance to apply for such a generous opportunity. Success in any field is never entirely the result of just one person's effort, but through extensive collaboration and teamwork."
"Through this fellowship, there are many opportunities that will undoubtedly be available to me in the future. This is a very unexpected award, and I am very grateful for whatever doors it may open in my future career."
Yap has been invited by the ACS to speak at their national meeting in August 2013 about his research and the results that the fellowship funded.
Related News Stories