Online Orientation Activities Prepare Students for Virtual Fall Semester
Presentations from School leadership and program faculty help set expectations for Doctor of Pharmacy (PharmD) and graduate students during this unprecedented time.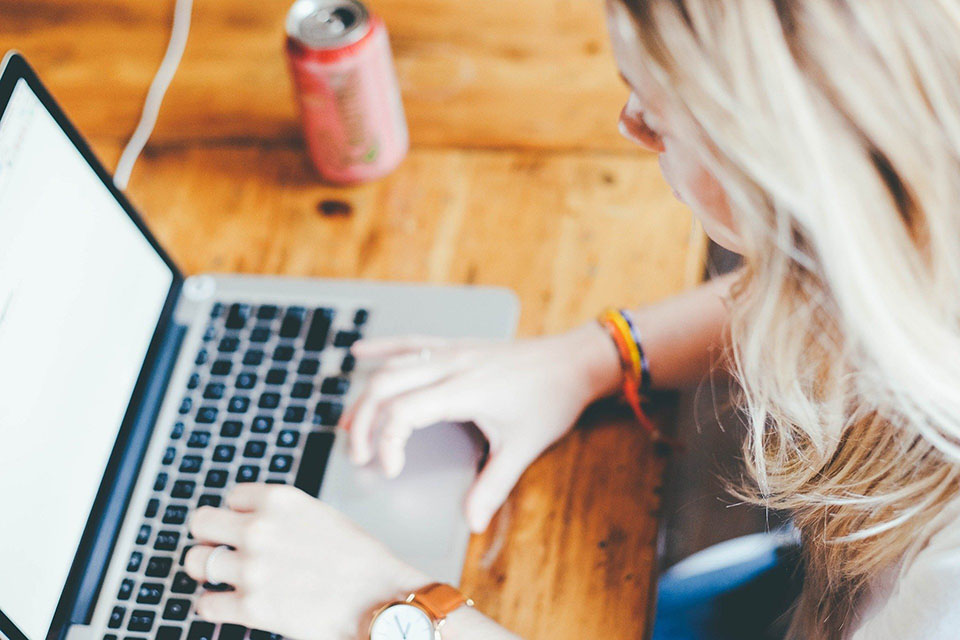 By Malissa Carroll
September 4, 2020
The COVID-19 pandemic has significantly altered how people commemorate many milestones in their lives, including annual "back to school" celebrations. The University of Maryland School of Pharmacy hosts new student orientation each year for all incoming students in its Doctor of Pharmacy (PharmD), PhD in Pharmaceutical Health Services Research (PHSR), MS in PHSR, PhD in Pharmaceutical Sciences (PSC), and MS in PSC programs. This year, these traditionally in-person, interactive activities were transformed into a series of web-based presentations to help safeguard the health of faculty and students alike as the School embarks on its first-ever virtual fall semester.
"The health and safety of our faculty, staff, and students is our top priority at the School of Pharmacy," says Natalie D. Eddington, PhD, FCP, FAAPS, dean and professor of the School. "New student orientation is a pivotal experience for our incoming students. The information shared with them during this time is critical in setting them up for success in their first semester. While the global COVID-19 pandemic prevented us from gathering in Pharmacy Hall to greet our new students in-person, I am confident that our online orientation activities imparted valuable insights that will help students make the most of their virtual academic experience this fall."
New student orientation activities for the 106 students in the PharmD program kicked-off on Aug. 18, and featured a virtual welcome from Eddington, a special message from Sandeep Devabhakthuni, PharmD, BCCP, associate professor in the Department of Pharmacy Practice and Science (PPS) and advisor for the PharmD Class of 2024, and informative presentations from Andrew Coop, PhD, professor of PSC and associate dean for academic affairs; Cherokee Layson-Wolf, PharmD, CGP, BCACP, FAPhA, associate professor of PPS and associate dean for student affairs; and other program faculty.
"It's an exciting time as you prepare to embark on your first year as a student at the School of Pharmacy, and I am proud to be part of this experience with you," said Devabhakthuni. "Our curriculum will challenge you to ensure that you are well-prepared for any path that you choose to pursue in the profession. It's going to be a learning experience, and the next four years will likely be the most challenging, yet rewarding years of your life. This experience will be a memorable one, because it will push your professional development to the next level."
The PhD in PSC and MS in PSC programs also hosted a series of virtual events for their 31 incoming students to help familiarize them with the programs' faculty as well as the research being conducted across the department. Peter Swaan, PhD, professor and chair of PSC and associate dean for research and advanced graduate studies; Sarah Michel, PhD, professor of PSC and associate dean for graduate programs; Hongbing Wang, PhD, professor and program chair for experimental and translational therapeutics in PSC; and Angela Wilks, PhD, professor and program chair for chemical and biological discovery in PSC, offered welcoming remarks to students as orientation activities commenced on Aug. 27.
"Graduate programs such as the PhD in PSC and MS in PSC, which require students to conduct hands-on research in a lab, have been uniquely impacted by the global COVID-19 pandemic," says Michel. "Protecting the health and safety of our students is our number one priority, but we still wanted to offer some online orientation activities that would showcase the immense breadth and depth of the research being conducted in our department. Our faculty delivered stellar presentations that not only engaged our incoming students in the research, but also gave them some insight into the types of projects on which they might work in the future, once it is safe for them to return to campus in-person."
Danya Qato, PharmD, MPH, PhD, assistant professor and graduate program director for PHSR, organized a virtual "touch-base" session for both incoming and current students in the PhD in PHSR and MS in PHSR programs on Aug. 12. This unofficial welcome event preceded formal orientation activities for the programs, which were held during the programs' first seminar on Aug. 31, and offered incoming students an opportunity to introduce themselves and have questions about the upcoming virtual fall semester answered by the department's administrative support team.
"The purpose of our first touch-base session was to assuage any concerns our students might have as they prepared to enter the new academic year in this uncertain time," says Qato. "Ultimately, my goal is to host early and frequent touch-base sessions with our students in an effort to provide a forum for them to share concerns, connect with one another, and share good news and celebrate in a spirit of community. For example, during our first touch-base session, we learned that one of our doctoral students, Kayleigh Majercak, just received her Scuba Schools International (SSI) open water diver certification!"
The School of Pharmacy's virtual fall semester officially began on Aug. 24.
Related News Stories