Grad Gathering Offers Students Opportunity to Network, Learn from Alumni
Day-long event provides glimpses into potential careers for students and allows alumni to reconnect with faculty and one another.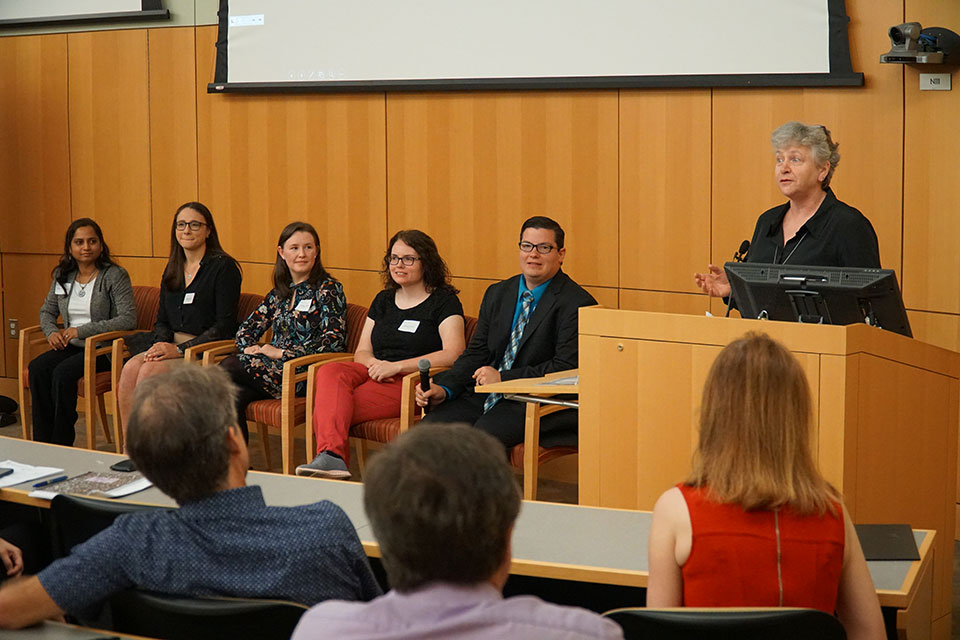 By Malissa Carroll
December 19, 2019
Nearly 200 alumni, graduate students, postdoctoral fellows, and faculty came together for the third biennial Pharmaceutical Sciences and Regulatory Science Grad Gathering held at the University of Maryland School of Pharmacy in September. Hosted by the PhD in Pharmaceutical Sciences (PSC), MS in PSC, and MS in Regulatory Science programs, the day-long event featured a wide range of activities designed to foster networking and professional development among all attendees.
"Since the inaugural Pharmaceutical Sciences and Regulatory Science Grad Gathering was held in 2015, this get-together has become one of our department's most successful professional development events," said Sarah Michel, PhD, professor in PSC and associate dean for graduate programs at the School of Pharmacy, in her opening remarks to the audience. "We thank everyone for attending, especially our alumni, who have taken the time to come back to the School to share their wisdom and insight with our current students and postdoctoral fellows. With all of the activities that we have planned for this year, today promises to be a great learning experience for everyone."
Opening Doors with a Pharmaceutical Sciences Degree
Following remarks from Michel and Paul Shapiro, PhD, professor and chair of PSC, alumni with careers in academia, government, industry, and a selection of non-traditional fields participated in four separate panel discussions attended by current students. They spoke about their experience as graduate students at the School of Pharmacy and how their time at the School helped to prepare them for their careers. They also answered questions and offered advice to students who were unsure which path might be the right one for them.
"It's great to have this opportunity to give back to students who are still trying to find their way into the profession, and to share some experiences about the unique pathways that can lead them there," said Alexander Gaffney, senior manager at the Health Research Institute with PricewaterhouseCoopers and current student in the MS in Regulatory Science program at the School. "I think it is important for students to understand that there are not just one or two pathways to success in this industry. It's also very refreshing to be able to interact with others who share my passion for the pursuit of pharmaceutical sciences."
Blaze Your Own Trail as a Pharmapreneur
The keynote speaker for the event was Ritu Lal, PhD '96, MS, chief executive officer and co-founder of Gen1e Lifesciences, Inc. During her more than 20 years of experience working at biotechnology and pharmaceutical companies across the United States, Lal has filed more than 15 investigational new drug applications with the U.S. Food and Drug Administration (FDA) in the disease areas of neurology, inflammation, virology, pain, and oncology, with two of those compounds receiving new drug application approvals.
She established Gen1e Lifesciences, Inc., nearly two years ago to help accelerate cures for inflammatory and age-related diseases, and is currently working with a team of researchers from the Schools of Pharmacy and Medicine – including Shapiro; Alexander MacKerell, PhD, the Grollman-Flick Professor of Pharmaceutical Sciences and director of the Computer-Aided Drug Design Center at the School of Pharmacy; Steven Fletcher, PhD, associate professor in PSC; and Jeffrey D. Hasday, MD, the Dr. Herbert Berger Professor in Medicine at the School of Medicine – to conduct studies into the safety and efficacy of a new anti-inflammatory compound. During her presentation, she spoke about her background, experience in the industry, and lessons she has learned from her own career trajectory.
"There are so many diseases that need treatments, and it can be incredibly difficult to get new medications into the hands of patients," said Lal. "But, all of us have the power to change that. Being a pharmapreneur requires a lot of different skills, but I strongly encourage you to do it and see what happens. Be comfortable being uncomfortable, and never forget that you are a scientist first and foremost. Use that as your strength as you venture into the world of business."
A research poster session held in conjunction with a networking reception for all attendees concluded the day and offered current students the opportunity to interact one-on-one with alumni.
"The Pharmaceutical Sciences and Regulatory Science Grad Gathering is the pinnacle professional development event that I have attended," said Ramon Martinez, a PhD candidate in the PSC graduate program. "It has provided me with so many networking opportunities. When I first attended this event as a first-year graduate student, I had no idea where I wanted my career to take me. Speaking with our alumni at these gathering over the past few years has helped me narrow down the possibilities and focus on those areas that I believe will not only bring me the most professional success, but also the most personal satisfaction."

Related News Stories