Beloved Professor and Mentor Set to Retire from School of Pharmacy
Reception honors the legacy of Fred Abramson, BSP '56, RPh, who will retire on January 1, 2013 after 30 years of service to the School.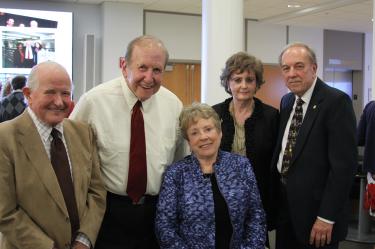 By Malissa Carroll
November 8, 2012
On Friday, October 19, the University of Maryland School of Pharmacy held a reception to honor the retirement of Fred Abramson, BSP '56, RPh, assistant professor of pharmacy practice and science, and his many years of service to the School and the pharmacy profession.
Abramson began his academic career in 1982, when he joined the University of Maryland School of Pharmacy after a successful career as an independent community pharmacist in Baltimore. Since joining the faculty 30 years ago, Abramson has taught more than 4,000 first-, second-, third-, and fourth-year pharmacy students the intricacies of pharmacy practice.
"As a teacher who is dedicated to his students' professional growth, watching them move on to successful careers is what Fred likes best," remarked Natalie D. Eddington, PhD, FAAPS, FCP, dean and professor of the School. "Students, in turn, have benefitted from Fred's extensive knowledge and basked in his admiration and his esteem. Each and every student is special to Fred, and I know that he is very special to all of them."
During the reception, several colleagues and friends delivered heartfelt congratulations and remarks about their special relationships with the esteemed professor.
"Since my early days as a student, and later as a faculty member, I have shared a very special bond with Fred," said Magaly Rodriguez de Bittner, PharmD, BCPS, CDE, professor and chair of the Department of Pharmacy Practice and Science at the School. "I have had the honor to work with Fred for many courses and committees, and have learned to appreciate his devotion not only to community pharmacy, but to his students and his School."
As a faculty member, Abramson has made significant contributions to the School. He raised funds to establish and equip the original pharmacy practice lab, now affectionately known as the "Fred Lab," which opened in 2001 and featured sophisticated dispensing systems and software. He was also instrumental in moving the lab to the new Pharmacy Hall in 2010.
"Never did I imagine that, when I walked into the Fred Lab for the first time, I would eventually be able to share the lab with him," said Cherokee Layson-Wolf, PharmD, associate professor of pharmacy practice and science and assistant dean for experiential learning and one of Abramson's former students. "It's an honor, and I believe that I have been one of the luckiest faculty members to have that privilege."
Other speakers at the event included Nicole Brandt, PharmD '97, BCPP, CGP, FASCP, associate professor of pharmacy practice and science; Robert Beardsley, PhD, professor of pharmaceutical health services research; Teresa Chang, student pharmacist and president of the student chapter of the National Community Pharmacists Association (NCPA); Jim Bresette, PharmD '97, co-honorary president of the Alumni Association; Angelo Voxakis, BSP '71.
In addition to teaching, Abramson has devoted time to many pharmacy professional associations, including the Maryland Pharmacists Association (MPhA), the National Community Pharmacists Association (NCPA), the American Association of Colleges of Pharmacy (AACP), and the Maryland Alumni Association. He also served as class advisor for the School's student chapters of NCPA and Phi Lambda Sigma (PLS), and was presented with a number of awards during his time at the School of Pharmacy, including Faculty Member of the Year, Preceptor of the Year, Best Class Advisor, Teacher of the Year, PLS National Advisor of the Year, the Maryland Pharmacists Association (MPhA) Seidman Distinguished Achievement Award, and the first Mentor of the Year award.
At the reception held in Abramson' honor, faculty, staff, and students presented him with a number of gifts, including a framed portrait and rocking chair emblazoned with the School's logo. A plaque featuring "Fred's Top 10 Sayings" will also be on display inside the pharmacy practice lab to motivate and encourage future generations of pharmacy students.
Related News Stories