UMSOP Community Celebrates Cynthia Boyle's Career
Beloved professor and alumnus retired on July 1.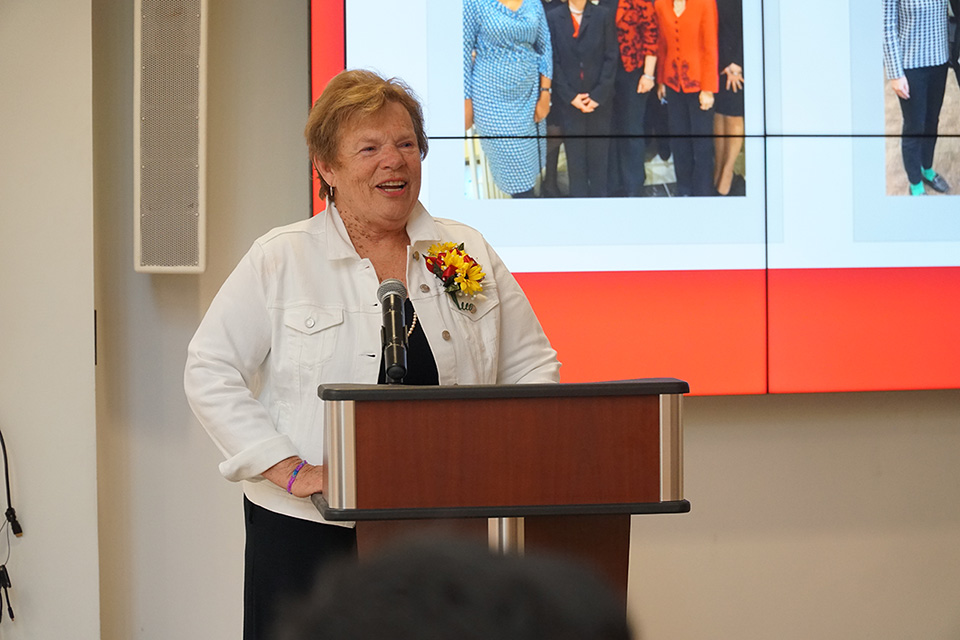 By Andrew Tie
July 18, 2022
Throughout Cynthia Boyle's long and distinguished career as a pharmacist and professor, she has focused on serving others and the profession.
Boyle, PharmD, FAPhA, FNAP, FASCP, who retired from the University of Maryland School of Pharmacy (UMSOP) on July 1 as a professor in the Department of Pharmacy Practice and Science (PPS), spent nearly three decades as a community and hospital pharmacist and then another two in academia. During that time, she left an indelible mark on the careers of co-workers, students, and professional organizations.
Friends, family, and colleagues gathered in June for a celebration of Boyle's career. Colleagues lauded her tremendous service to UMSOP and the pharmacy profession, as well as her kindness and character.
"Cynthia's 40-page CV is a master class on having a distinguished and impactful career in pharmacy practice, academia, advocacy, and service," said Natalie D. Eddington, PhD, FCP, FAAPS, dean and professor of the School. "Cynthia, over your collective 17 years of service (at UMSOP) you have made a lasting impact on our students and demonstrated extraordinary dedication to teaching and scholarship. Your retirement is an opportunity for all of us to reflect on your influence and impact, the awards and accolades you've earned, your leadership, and expertise."
A Distinguished Pharmaceutical and Educational Career
Boyle received her bachelor's degree in pharmacy from the University of Oklahoma and then practiced in community, health system, and consultant pharmacy settings. She then came to UMSOP as a student, earning a Doctor of Pharmacy (PharmD) degree in 1996 and joining the faculty as an assistant professor and assistant director of experiential learning (ELP) in 1999. Over the years, Boyle became executive director of ELP, earned promotions to full professor, and served as director of continuation studies.
In 2011, Boyle moved to the University of Maryland Eastern Shore School of Pharmacy and Health Professions as a professor and department chair. She served as interim dean for a year.
In 2017, Boyle returned to UMSOP. Throughout the two stretches at UMSOP, Boyle has precepted students, taught electives such as legislative experience, and been course manager or teacher in the Abilities Labs series, leadership and advocacy, and communications strategies. At UMSOP, Boyle created the Academy of Preceptors, an annual live seminar to involve the pharmacy professionals who teach student pharmacists on rotations in UMSOP activities.
Boyle has also been a frequent author of publications in academic journals and presented at local, state, and national conferences and workshops. She has been deeply involved with numerous organizations, including the Maryland Pharmacists Association, the American Pharmacists Association, and the American Association of Colleges of Pharmacy (AACP), where she is a former president. Boyle has won numerous awards, including AACP's Chalmers Distinguished Pharmacy Educator Award, which she will receive at the association's annual meeting in late July.
Boyle also has a love for the history of pharmacy and is currently serving as vice president of the American Institute of the History of Pharmacy's board of directors.
With her accomplishments as a pharmacist, educator, and decorated resume, UMB has granted Boyle professor emeritus status. She is the 23rd UMSOP faculty member with this high distinction and the fourth UMSOP professor emeritus this year.
"In my remarks, I cited a story from the Baltimore Banner," said Boyle. "A teacher described the challenges of teaching during the pandemic and mentioned she placed a note on her computer that said 'Connection before Content.' I think that's a really important value lesson. People can't learn unless they feel a connection, either to you or the content. I support that approach for pharmacy education as well."
A Cherished Colleague and Teacher
Tributes from colleagues and former students who attended the celebration focused on their appreciation of Boyle's positivity, kindness, and warm personality.
"It's been an honor, Cynthia, to work with you," said Jill Morgan, PharmD, BCPS, BCPPS, professor and chair of PPS. "You are a wonderful example of someone who's served the profession locally and nationally. Your impact is very broad reaching. You will be remembered for all the work you've done, all the dedication you have put in to growing people, and I want to thank you for the dedication to growing the profession and School."
Additionally, Raymond Love, PharmD, BCPP, FASHP, a professor of PPS and Boyle's husband, shared his unique perspective as a cheerleader for Boyle and professional colleague. After many years of mentoring, networking, teaching, writing, serving on committees, and much more, he said Boyle can finally slow down and enjoy retirement.
"My wife is loving, elegant, smart, persistent, generous, loyal, honest to a fault, tactful, diligent, and extremely hard working," said Love. "CB, congratulations on a well-deserved retirement. I couldn't be prouder of you and your accomplishments. I love you very much and look forward to all our new adventures together."
Related News Stories