School of Pharmacy Mourns Passing of Beloved Alumnus, Former Faculty Member
Alfred (Fred) Abramson, BSP '56, passed away on March 2.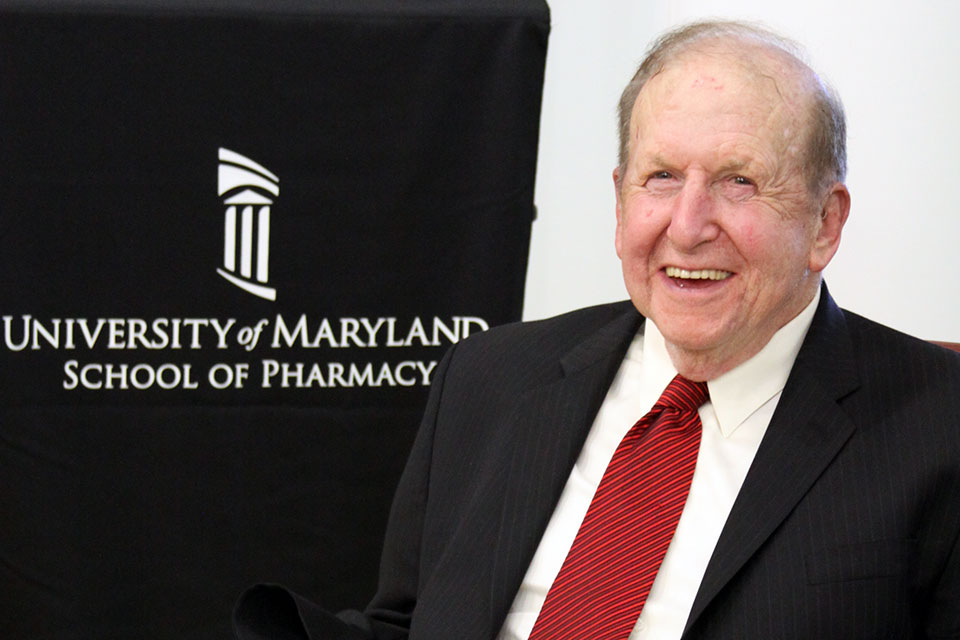 By Malissa Carroll
March 4, 2019
Alfred (Fred) Abramson, BSP '56, beloved alumnus and former faculty member at the University of Maryland School of Pharmacy, passed away on March 2. A dedicated teacher and experienced community pharmacist, Abramson taught more than 4,000 student pharmacists in his 30-year career as an assistant professor at the School.
"We are eternally grateful for Fred's service and dedication not only to the School of Pharmacy community, but also to the pharmacy profession itself," says Natalie D. Eddington, PhD, FCP, FAAPS, dean and professor of the School. "His memory will live on not only through his renowned 'Rules for Success,' but through his family and friends, and the thousands of students, alumni, faculty, and staff who had the honor of knowing him. Each person Fred interacted with was special to him, and he was special to all of us."
Abramson began his academic career in 1982, joining the faculty at the School of Pharmacy after a successful career as an independent community pharmacist in Baltimore. As an assistant professor in the Department of Pharmacy Practice and Science (PPS), Abramson made significant contributions to the School. He taught thousands of pharmacy students the intricacies of community pharmacy practice, and even raised funds to establish and equip the School's original pharmacy practice lab. Affectionately known as "Fred Lab," the lab first opened in 2001, and featured sophisticated dispensing systems and software. In 2010, Abramson helped spearhead the redesign of the new Fred Lab during the construction of Pharmacy Hall Addition.
"It is difficult to put into words just how much Fred meant to me as both a teacher and a colleague," says Cherokee Layson-Wolf, PharmD '00, BCACP, FAPhA, associate professor in PPS and associate dean for student affairs at the School of Pharmacy. "He worked hard to support so many of us as students, and continued to encourage us as we entered the profession as practicing pharmacists. When you talked to him, he always had a way of picking you up with kind words and big hugs. He helped so many of us become the best pharmacists we could in our careers. I am forever thankful for his friendship and mentorship, and I will miss him dearly."
In addition to teaching, Abramson was involved in several pharmacy professional associations, including the Maryland Pharmacists Association (MPhA), the National Community Pharmacists Association (NCPA), the American Association of Colleges of Pharmacy (AACP), and the Maryland Alumni Association. He served as class advisor for the School's student chapters of NCPA and Phi Lambda Sigma (PLS), and was presented with a number of awards during his time at the School, including Faculty Member of the Year, Preceptor of the Year, Best Class Advisor, Teacher of the Year, PLS National Advisor of the Year, the Maryland Pharmacists Association (MPhA) Seidman Distinguished Achievement Award, and the first Mentor of the Year award.
Although Abramson officially retired from the School in 2013, he remained a steadfast fixture in Pharmacy Hall until his passing.
"Even in his retirement, Fred stayed connected with the School, giving of his time, talents, and resources to support his alma mater," says Eddington. "It was a happy day when we would see Fred in Pharmacy Hall, whether he was here for a meeting, an alumni or donor event, or simply to check in on us."
Memorial services for Fred are planned for March 4, at Sol Levinson & Bros. Funeral Home in Pikesville, Md. Abramson's family has requested that individuals wishing to honor his memory make a donation to the Fred Lab Fund at the School of Pharmacy or The Michael J. Fox Foundation for Parkinson's Research.
Faculty, staff, students, and alumni who wish to share a favorite memory of Abramson are invited to complete and submit this form. The School of Pharmacy will share all of the memories submitted through the form with the Abramson family.
Related News Stories