White Coat Ceremony Welcomes Class of 2020 to Pharmacy Profession
Time-honored tradition emphasizes the importance of professionalism and celebrates the start of the Class's journey as student pharmacists.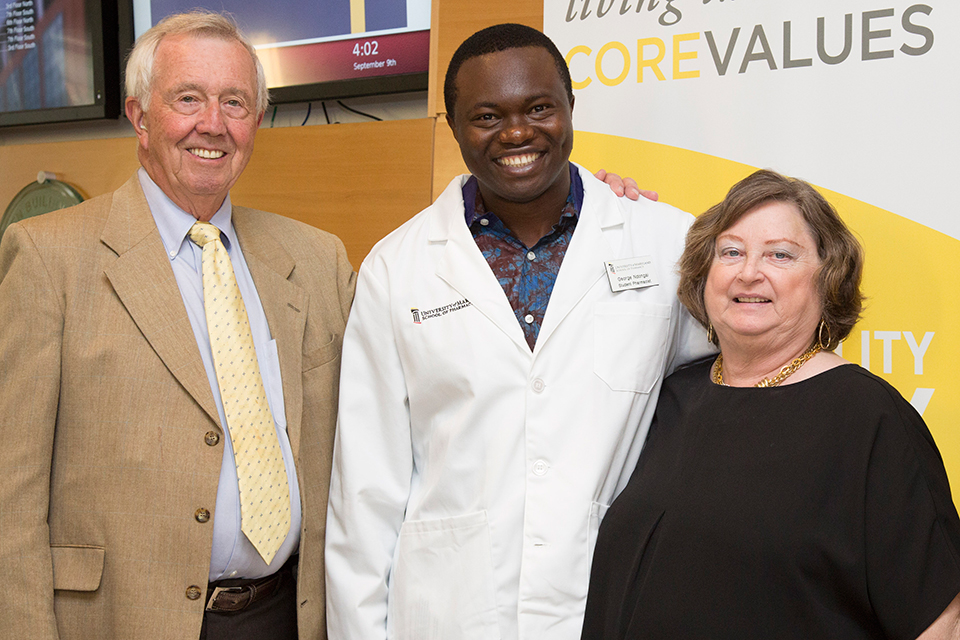 By Malissa Carroll
September 15, 2016
Family and friends joined faculty, staff, and alumni of the University of Maryland School of Pharmacy inside the historic Hippodrome Theatre on Sept. 9 to watch as the more than 160 members of the Doctor of Pharmacy (PharmD) Class of 2020 donned a pharmacist's white coat for the first time during the School's White Coat Ceremony. A tradition in which schools of pharmacy across the country participate each year, this annual ceremony marks students' entry into the profession as student pharmacists.
"The White Coat Ceremony is an opportunity for faculty, staff, and alumni at the School to welcome and congratulate you – our new first-year students – on the journey that you are beginning, and to validate your presence among us as student pharmacists and future colleagues," said Natalie D. Eddington, PhD, FCP, FAAPS, dean and professor of the School, as she addressed the students. "The white coat represents your past and current leadership endeavors and achievements, as well as your commitment to deliver the best care to your future patients. Wear it with pride and remember your responsibility to provide honest and accurate information to those in your care."
From the audience, George Ndongai reflected on his journey to reach this special day. A native of Cameroon, Ndongai was educated in both physics and accounting. However, it was not until he immigrated to the United States in 2013 that he had an opportunity to pursue his true passion – health care. "I have always known that I would rather be an expert in health care than an expert in business. Fortunately, after I arrived in the United States, I was able to gain some exposure to the pharmacy profession. I saw how much pharmacists contribute to the community and how they truly are the most accessible health care professionals. I take pride in serving others and giving back to the community, and look forward to the day when I am able to join the profession and help to improve the health of my community as a practicing pharmacist," he said.
After accepting a position as a pharmacy technician at Eagle Pharmacy in Marriottsville, Md., Ndongai met customers Richard and Gloria Lepson, who immediately took the then 28-year-old under their mentorship. "The connection was instantaneous. I was being treated for a serious illness, and George would call me at home to see if there was anything that I needed – whether it was dropping off medications at my house or washing the dishes. Every day through my illness, he was there," recalls Gloria Lepson.
Leveraging their relationships with family members and friends in the local area, the Lepsons worked to introduce Ndongai to the different career opportunities available to him. In 2015, Ndongai began working as a pharmacy technician at Johns Hopkins Hospital, where he met a number of pharmacists and pharmacy residents who graduated from the School of Pharmacy and sparked his interest in the School.
"After hearing stories from my colleagues about the University of Maryland School of Pharmacy, I decided to check it out for myself," says Ndongai. "I was immediately impressed when I learned that not only was the School the fourth oldest school of pharmacy in the United States, but had also recently been ranked ninth out of more than 130 schools of pharmacy across the country. I knew it would be a competitive admissions process, but that only reinforced my decision to apply. I wanted to be challenged."
Ndongai completed the necessary prerequisite courses, applied to the School, and was notified of his acceptance just one week after his interview. "It wasn't always easy balancing school work with my full-time job, but I remembered my goal and made the necessary sacrifices. I am not usually a very excitable person, but after learning that I had been accepted into the School of Pharmacy, I glowed with joy," he says.
Ndogai traveled to Cameroon to celebrate his success with family and friends, but discovered that his father had been hospitalized with complications from asthma and a pulmonary embolism. Ndongai spent eight days in the hospital with his father, using some of the skills that he had learned as a pharmacy technician to help care for him. After his father succumbed to his condition, Ndongai remained in Cameroon to assist with funeral arrangements, returning to the United States just in time to begin classes as a first-year student pharmacist.
"Losing my father was the most devastating experience that I have ever had to endure, and I did not think that I would be able to bear it," says Ndongai. "My father was my role model and best friend. He trusted me and always encouraged me in my endeavors. Although I have had a lot of support from my family and friends, I am still trying to cope with my grief."
Gloria Lepson, who attended the ceremony with her husband to support Ndongai, added, "The White Coat Ceremony has been his first jubilant experience since his father passed. This celebration is just what he needed."
The theme for this year's White Coat Ceremony was professionalism, and Ndongai intently listened as Eddington continued her remarks, highlighting the importance of this critical concept. "Professionalism encompasses a variety of characteristics, including altruism, duty, honor, integrity, and respect. It is the cornerstone of who we are as pharmacists. Once you embrace professionalism, you truly become a student pharmacist," she said.
Lucinda Maine, PhD, RPh, executive vice president and chief executive officer for the American Association of Colleges of Pharmacy (AACP), served as guest speaker for the event. In addition to reflecting on the history of the pharmacy profession over the last 175 years, in honor of the School's 175th anniversary, Maine challenged students to be "difference makers" in the profession. She encouraged them not to be constrained by professional silos and to use their knowledge, abilities, and professional courage to stimulate change to improve the well-being of individual patients as well as the entire population.
"The profession that you are preparing to enter looks vastly different than it looked when the University of Maryland School of Pharmacy was first established," said Maine. "However, there is still much difference to be made, and you have selected the right place to equip yourself for this challenge. The School of Pharmacy has a long history of outreach and collaboration, as well as a legacy of service to improve public health and the quality of health care delivery. Its faculty are leaders at the local, state, national, and international levels – they are difference makers. Take advantage of your proximity to these individuals and emulate them over the next four years and throughout your careers. They can share insights, advice, and encouragement to spirit you on your way into becoming the difference maker that I know each and every one of you has the potential to be."
After crossing the stage to don their white coats, Ndongai and his classmates recited the School's Pledge of Professionalism, committing themselves to building and reinforcing a professional identity founded on integrity, ethical behavior, and honor. And, despite his ongoing grief over the recent loss of his father, Ndongai found the motivation to continue his educational pursuits.
"While listening to the speakers during the White Coat Ceremony, I started to imagine that someday I, too, might have the opportunity to empower a crowd in the same way that those speakers have empowered me," says Ndongai. "I feel more motivated than ever to use my time at the School to acquire the knowledge and skills that I will need to become a 'difference maker' both in the United States and in Cameroon, as Dr. Maine encouraged. I am grateful to this country for giving me the opportunity to pursue my true passion, and I look forward to connecting the dots between all of my areas of expertise – accounting, physics, and pharmacy – to help achieve the best possible outcomes for all of my future patients."
Related News Stories