White Coat Ceremony Welcomes Class of 2019 to Pharmacy Profession
Time-honored ceremony emphasizes professionalism and celebrates the start of the Class's journey as student pharmacists.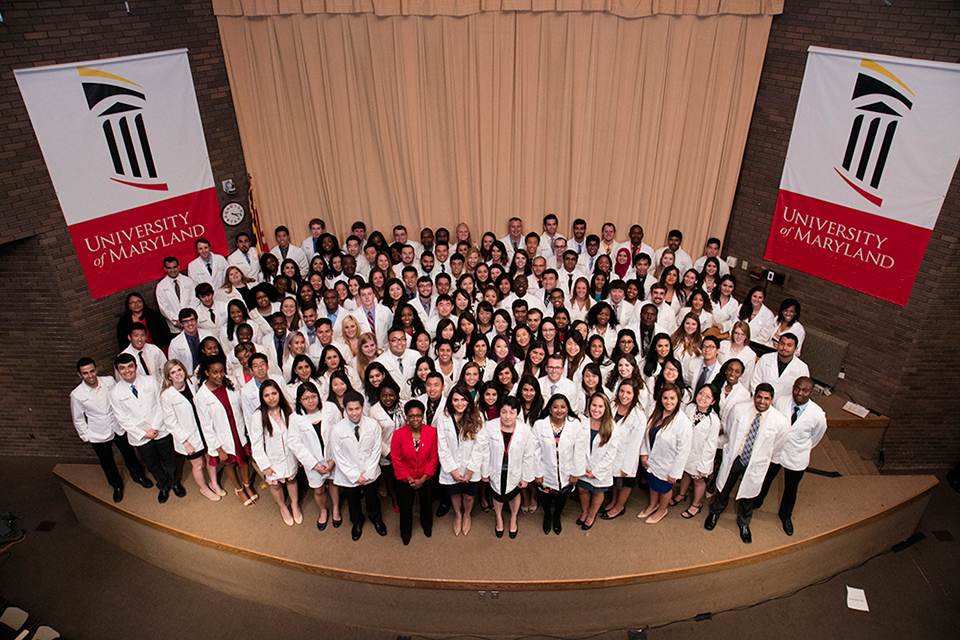 By Malissa Carroll
September 22, 2015
Family and friends joined faculty, staff, and alumni of the University of Maryland School of Pharmacy on Sept. 11 to watch as the more than 160 members of the Class of 2019 donned a pharmacist's white coat for the first time at the School's White Coat Ceremony. A tradition in which schools of pharmacy across the country participate each year, this annual ceremony marks students' entry into the profession as student pharmacists.
"The White Coat Ceremony is an opportunity for faculty, staff, and alumni at the School of Pharmacy to welcome and congratulate you, our new first year students, on the journey you are beginning and to validate your presence among us as student pharmacists and as future colleagues," said Natalie D. Eddington, PhD, FCP, FAAPS, dean and professor of the School, as she addressed the students. "The white coat represents your past and current leadership endeavors and achievements, as well as your commitment to provide the best care to your future patients. Wear it with pride and remember your responsibility to provide honest and accurate information to those in your care."
Sitting in the audience, Diamond Melendez reflected on her journey to reach this special day. Melendez, who was born and raised in the Bronx, recalled watching her mother sacrifice, working long hours to provide for her and her siblings. "My mother did the best that she could to support our family, and I always looked up to her as the strongest role model in my life. However, in her opinion, people survive in this country by entering the workforce as soon as possible and paying their bills — not necessarily by spending years in school. I wanted so much more than that," she says.
Having visited the local pharmacist on numerous occasions with her grandmother, a native of Puerto Rico for whom she often served as a translator, Melendez began to admire the relationships that pharmacists built with their patients and the impact that they had on their daily lives. "Those visits helped me to see just how much the pharmacist influenced my grandmother's life and health. I knew that I wanted a career that would allow me to help others, and pharmacy seemed like the perfect fit," she adds.
Although Melendez dreamed about becoming a pharmacist, her mother did not have the financial resources to support her educational pursuits. Despite working 40 hours each week at a fast food restaurant to save for her education, she doubted that she could afford to go to college.
"Fortunately, my manager helped me to believe otherwise," recalls Melendez. "She purchased all of the materials that I needed to begin school and helped me regain my hope for a more promising future. It was not financially easy to complete my undergraduate degree, but I did it."
The next hurdle that Melendez encountered was applying to pharmacy schools. Fortunately, while pursuing her undergraduate degree at Winthrop University in South Carolina, she was accepted into the Ronald E. McNair Postbaccalaureate Achievement Program, a program designed to prepare first generation, low income, and underrepresented college students to be successful in graduate programs. The program provided funding that allowed her to visit the National Institutes of Health (NIH), where she met JuliAna Brammer, MBA, director of admissions, records, and registration for the School of Pharmacy, at one of its career fairs.
"Ms. Brammer and her colleagues were very kind and welcoming, and that motivated me to conduct additional research on the School to see if it might be a good fit for me," says Melendez. "Although I applied to many different pharmacy schools across the country, the University of Maryland School of Pharmacy was my top choice. When I was told that I had been accepted into the School's Doctor of Pharmacy (PharmD) program, I cried. I knew that realizing my dream was now possible — that I could be someone who makes a difference in the lives of other people by serving my community in the same way that the pharmacist from my hometown served people like my grandmother."
The theme for this year's White Coat Ceremony was professionalism, and Melendez intently listened as Eddington continued her remarks, highlighting the importance of this critical concept.
"Professionalism encompasses a variety of characteristics, including altruism, duty, honor, integrity, and respect," she said. "I emphasize this concept today because it is the cornerstone of who we are as pharmacists. Once you embrace professionalism, you truly become a student pharmacist."
Remarks from guest speaker Rear Admiral Pamela Schweitzer, PharmD, BCACP, assistant surgeon general and chief professional officer for pharmacy with the U.S. Public Health Service, continued the theme. Schweitzer shared stories from her career that highlighted the importance of professionalism in team-based health care settings and emphasized the need for students to develop cultural competency, understanding that their goal should always be to provide the best possible care for their patients.
"As pharmacists, you will play a key role in the health care team and professionalism will be essential," said Schweitzer. "Today's White Coat Ceremony marks a significant milestone in your professional life. Whenever you wear that white coat, it will inspire confidence and trust among your patients and peers. I encourage you to embrace your new responsibilities with eagerness, inquisitiveness, and anticipation, and use your time at the School to hone your knowledge, skills, and talents to become among the best and most respected members of this noble profession."
After crossing the stage to don their white coats and sign the Student Honor Code, Melendez and her classmates recited the School's Pledge of Professionalism, committing themselves to building and reinforcing a professional identity founded on integrity, ethical behavior, and honor.
"I have faced a number of hardships in my journey to become a student pharmacist," says Melendez. "I am the first person in my family to attend college, and there were times when I had no choice but to be self-reliant and push myself to succeed. However, those experiences have helped to mold me into a stronger, more compassionate person, and have allowed me to blaze a path for others who come after me. Receiving my white coat is not only a testament to my success, but also a representation of my commitment to care for patients to the best of my ability, as well as to share my knowledge and empathy with the individuals whom I encounter each day."
Related News Stories