UMSOP Ranks in Top 10 in Research Funding
School received more than $25 million for research in the fiscal year 2022.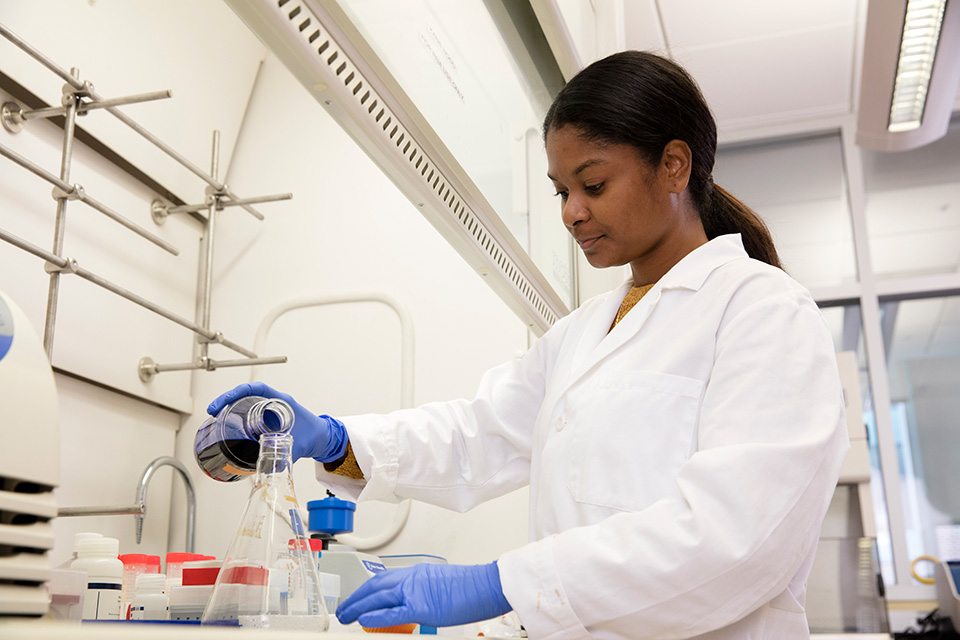 By Andrew Tie
July 17, 2023
The University of Maryland School of Pharmacy ranks among the top 10 pharmacy schools in the country in regards to funded research grants and contracts, according to new data from the American Association of Colleges of Pharmacy (AACP).
Fifty funded investigators helped the School place ninth with more than $25.8 million in research grants and contracts from the National Institutes of Health (NIH) and other federal and non-federal sources. AACP's ranking is based on data from Oct. 1, 2021 through Sept. 30, 2022.
UMSOP increased its research funding by more than $5 million between the 2021 and 2022 fiscal years. The School has shown year-over-year growth, with its number of funded faculty more than doubling and its total funding tripling in the last decade.
"The University of Maryland School of Pharmacy has outstanding faculty with creative and innovative ideas aimed at addressing basic biological questions, clinical problems, and pharmaceutical health services gaps," said Paul Shapiro, PhD, associate dean for research and advanced graduate studies and professor in the Department of Pharmaceutical Sciences (PSC). "The School's funding portfolio is quite diverse, coming from both federal and non-federal sources."
Groundbreaking Research
Faculty from PSC and the Department of Practice, Sciences, and Health Outcomes Research (P-SHOR) have earned contracts and grants for their groundbreaking research projects spanning drug discovery, translational medicine, population outcomes, and many more topics.
"Our dedicated faculty, researchers, and graduate students are committed to their pursuit of discoveries and innovation that will impact medicine, health care, and patient care," said Sarah L.J. Michel, PhD, interim dean and professor of the School. "A top 10 ranking of our research funding is a recognition of the pursuit of scientific excellence that exists at our School."
Related News Stories