Orientation Marks Beginning of Academic Year at UMSOP
Nearly 1,000 students are enrolled in the School's 10 programs.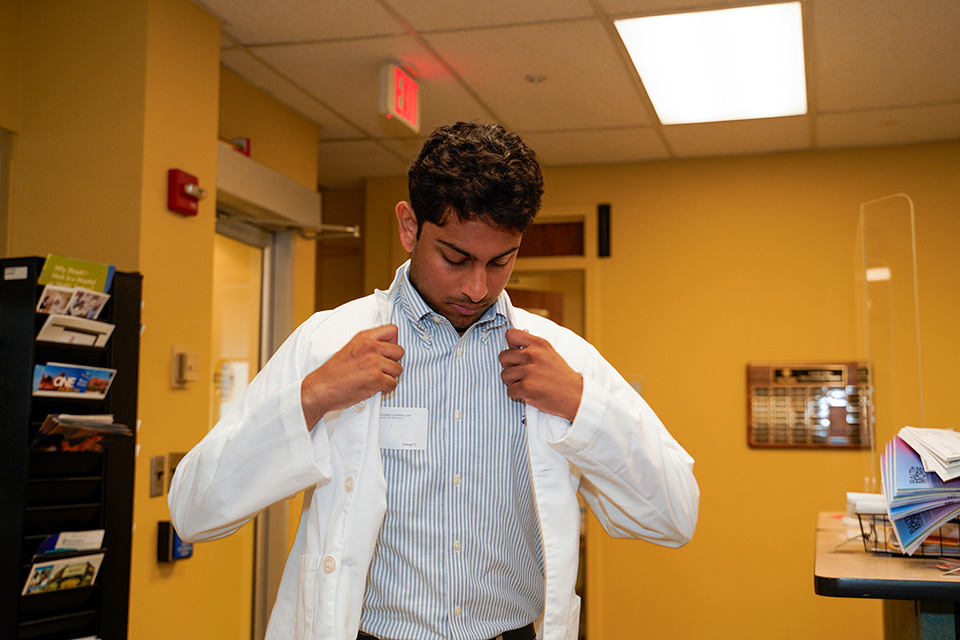 By Andrew Tie
September 7, 2023
The University of Maryland School of Pharmacy (UMSOP) kicked off the academic year with orientations to welcome new students in its 10 academic programs.
There are nearly 1,000 students at the School across its Doctor of Pharmacy (PharmD), PhD, MS, and certificate programs.
"It is wonderful to see everyone and to hear the buzz of excitement on campus," said Sarah L.J. Michel, PhD, interim dean of the School and professor in the Department of Pharmaceutical Sciences (PSC). "It is equally gratifying to see our online students meeting new colleagues virtually and making connections across the country and the world. The start of the academic year is a great time to set new priorities, develop new habits, or make a push towards an important goal."
PharmD Students Excited to Begin
During PharmD orientation from Aug. 15-17, more than 90 first-year students began their path to the pharmacy profession. Student pharmacists in the Class of 2027 got a preview of what the next four years will entail at UMSOP and the resources available to assist them along the way.
"This school has a really good reputation in creating leaders for the future of pharmacy," said Bruce Jarrell, MD, FACS, president of the University of Maryland, Baltimore, during his remarks at orientation. "I hope you appreciate you are in a great position and that many doors are going to be open to you for a pharmacy career."
Makala Brent said she chose UMSOP for her PharmD partly for the numerous opportunities and the demographics of the School.
"Orientation shows the diversity of the School and why I came here," Brent said. "It's family oriented and a great experience so far."
Victoria Porter said she was excited about getting started and meeting faculty and staff at orientation.
"I wanted to expand, learn patient interaction and people skills, and we have a great curriculum here," Porter said.
Opportunities Abound in PHSR Program
The PhD in Pharmaceutical Health Services Research (PHSR) program, based in the Department of Practice, Sciences, and Health Outcomes Research (P-SHOR), welcomed eight new doctoral students during orientation.
"I hope you take advantage of all the wonderful opportunities with research and learning at the department and School," said Jill A. Morgan, PharmD, BCPS, BCPPS, FNAP, professor and chair of P-SHOR. "You'll have the ability to work with big data or maybe pair up with a clinical pharmacist that specializes in an area you're interested in."
John Kim, a first-year PhD student from South Korea and Indonesia, said he was drawn to the program by the people and its strength in pharmacoeconomics.
"I talked to a lot of the faculty members and saw how welcoming and warm they were, especially during our interviews and informal conversations," Kim said. "Students are all super welcoming, and everybody's coming from such different stages and walks of life that it really expands your horizons."
Growth of PSC Program
The PhD in PSC program welcomed 14 new students, while the MS in PSC program welcomed 39, the largest cohort since its beginning in 2019.
Mirandia Szramowski, a PhD student from Pittsburgh, Penn., said the professors and academic areas at UMSOP were key in her decision to come to Baltimore.
"There's a wide variety of interests here," Szramowski said. "There's a lot of schools where it seems to be focused on one or two topics, but here we have an array of fields."
Olivia Anthony, an MS student, said she was looking forward to the biopharmaceutical industry internship program and learning about drug development and drug discovery. After traveling a long way from Mumbai, India, Anthony described orientation as hectic but welcoming.
"It's very scary to come from a different culture and meet a lot of new people, but everyone has been so welcoming and nice. The more people I meet, the more I like it here," Anthony said.
Other UMSOP academic programs that also welcomed new students include the MS and Graduate Certificate in Regulatory Sciences, the MS in Pharmacometrics, Graduate Studies in Medical Cannabis, and the PhD, MS, and Graduate Certificates in Palliative Care.
Related News Stories