PSC Faculty Member Receives $1.9 Million MIRA Award from the NIH
Five-year grant supports research on nanoparticles' design on inflammatory responses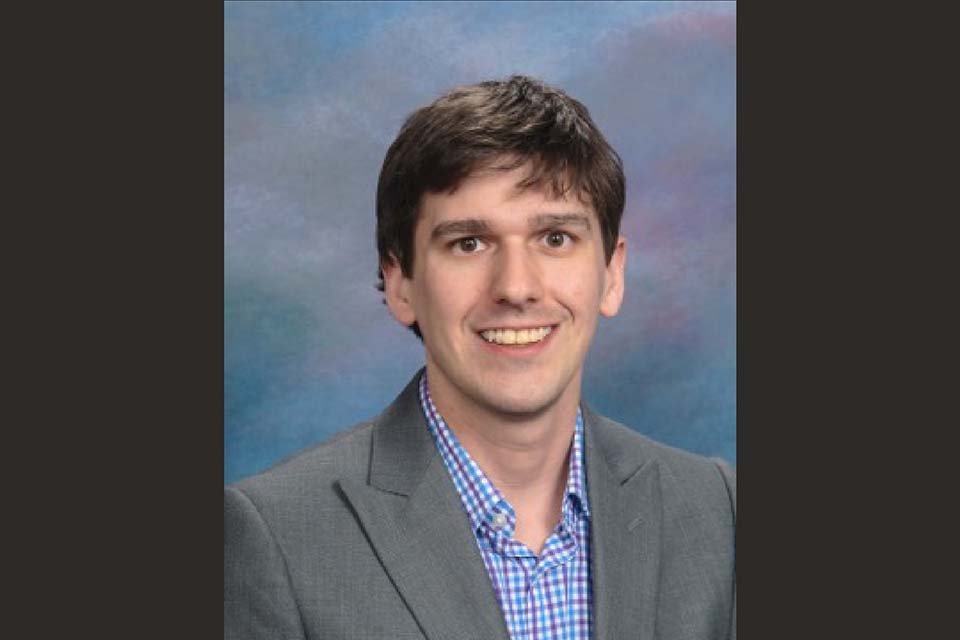 By Becky Ceraul
September 10, 2021
Ryan M. Pearson, PhD, assistant professor of pharmaceutical sciences at the University of Maryland School of Pharmacy (UMSOP), has received a highly prestigious Maximizing Investigators' Research Award (MIRA) from the National Institute of General Medical Sciences (NIGMS). The award provides $1.93 million over five years to support Pearson's work on understanding how nanoparticles can be precisely designed to modulate non-specific and antigen-specific inflammatory responses.
"Inflammation is not only essential to the maintenance of human health but could result in the initiation of autoimmune diseases when the body's regulatory mechanisms go awry," says Pearson. "With the rapid development of nanomedicine-based immunotherapies, there is an urgent need to understand how their characteristics can be manipulated to achieve a desirable immunological effect. We are diligently working towards identifying a set of design rules that govern these complex processes, which we hope will have high therapeutic value."
Merging nanotechnology and immunology, Pearson's immunoengineering research lab at UMSOP focuses on developing novel nanotechnology-focused approaches to produce the next-generation of immunotherapies for the treatment of inflammation-associated diseases such as sepsis, autoimmune, allergy, and cancer. His lab utilizes a series of high-tech nanoparticle fabrication methods in concert with clinically-relevant in vitro and in vivo models for evaluation. "UMB and the School of Pharmacy's Department of Pharmaceutical Sciences have provided me with an excellent environment to grow my new lab and the opportunity to collaborate with world-class researchers and clinicians within the School and across campus to carry out these exciting projects," says Pearson, who joined the School of Pharmacy in 2018.
Pearson studied chemical engineering as an undergrad at the University of Illinois at Chicago (UIC) and then obtained his PhD in biopharmaceutical sciences at UIC. He completed a postdoctoral fellowship in biomedical engineering at the University of Michigan before joining the faculty at UMSOP. His work has been published in prestigious journals such as Biomaterials, Journal of Controlled Release, ACS Nano, Proceedings of the National Academy of Sciences, and Advanced Functional Materials. He has been recognized with several awards, recently receiving the American Association of Colleges of Pharmacy New Investigator Award, the American Association of Immunologists' Early Career Travel Award, the National Institute for Pharmaceutical Technology and Education's Rising Star Award, and the Shock Society Faculty Research Award. Pearson serves on the editorial board of Pharmaceutical Research, is faculty advisor for UMSOP's student chapter of the American Association of Pharmaceutical Scientists, and is vice-chair of the Immuno Delivery Focus Group for the Controlled Release Society.
"This funding gives our lab the opportunity to develop and investigate innovative technologies to better our understanding of the mechanisms by which nanoparticle immunotherapies function in the context of inflammation-associated diseases. We aim to answer several outstanding and fundamental questions in the field, especially related to how particular design features of nanoparticles such as composition, size, shape, and surface chemistry affect immune cell interactions and signaling," Pearson explained.
As a member of the Bio- and Nano-technology Center at UMSOP, Pearson and his lab have access to specialized pieces of equipment to aid in their nanoparticle characterization efforts. "We anticipate that our research will be broadly applicable and act as a guide to design future nanomedicines."
The goal of MIRA is to increase the efficiency of NIGMS funding by providing investigators with greater stability and flexibility, thereby enhancing scientific productivity and the chances for important breakthroughs. NIGMS supports basic research that increases understanding of biological processes and lays the foundation for advances in disease diagnosis, treatment, and prevention.
"MIRA awards are designed to bring innovation and risk-taking back to basic medical research, so the competition for these awards is very intense. The fact that NIH awarded this grant to Dr. Pearson at this stage of his career is a reflection of the strong potential his research has to lead to breakthrough discoveries," says Peter Swaan, PhD, professor and chair of the Department of Pharmaceutical Sciences and the School of Pharmacy's associate dean for research and advanced graduate studies. "As a department, we are extremely proud to have our faculty compete at this level and be successful. It is also a reflection of our environment that allows innovative research to thrive."
Related News Stories