New Associate Dean for Research Named
PSC faculty member to oversee growth of the School's $38.5 million research portfolio.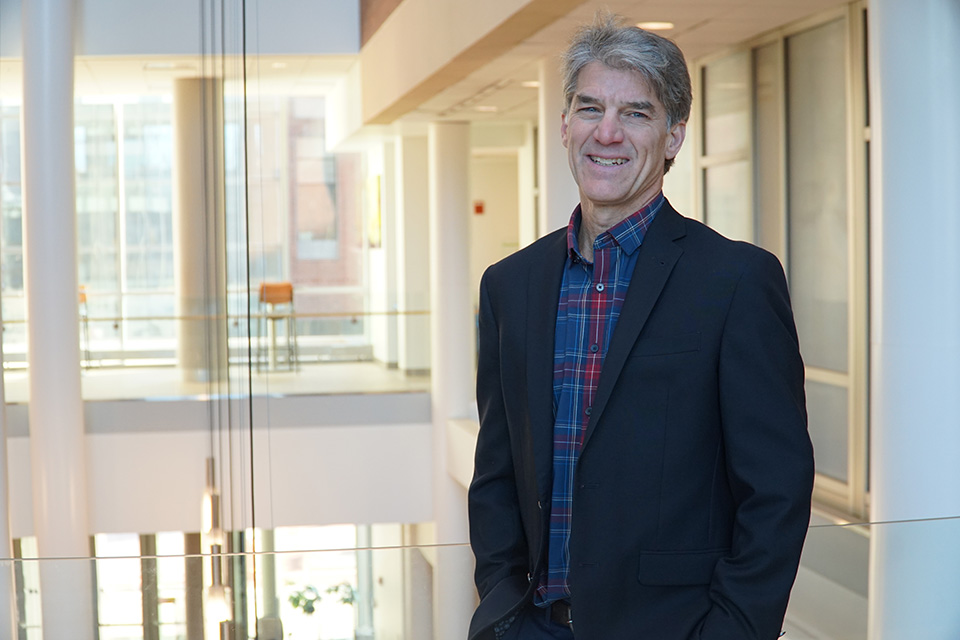 By Becky Ceraul
December 19, 2022
Paul Shapiro, PhD, professor in the Department of Pharmaceutical Sciences (PSC), has been named the University of Maryland School of Pharmacy's associate dean for research and advanced graduate studies. He succeeds Peter Swaan, PhD, who became dean of the University of Florida College of Pharmacy in December.
As associate dean for research and advanced graduate studies, Shapiro will work to enhance the impact of the School's research enterprise by increasing the number of funded investigators and by building interdisciplinary collaborations. He will also work with the directors of the PhD in PSC and the PhD in Pharmaceutical Health Services Research programs on their respective programs' growth and development. Shapiro previously served as the School's associate dean for research and graduate studies from 2009 to 2011.
Shapiro, a faculty member since 1999, received his Bachelor of Science from the University of Wisconsin-Madison and his PhD in molecular physiology and biophysics from the University of Vermont. He completed postdoctoral training in the Department of Chemistry and Biochemistry at the University of Colorado-Boulder.
His research focuses on developing new approaches to selectively regulate mitogen activated protein (MAP) kinases involved in promoting cancer cell proliferation and tissue injury due to inflammation. Specific areas of research are the discovery and development of novel small molecules that inhibit the extracellular signal-regulated kinases (ERK1/2) and p38 MAP kinases and provide the rationale for clinical applications of these molecules in treating cancer or inflammatory disease. He holds three patents for his discoveries.
"Dr. Shapiro is a distinguished researcher with an outstanding portfolio of grants and contracts from organizations such the National Institutes of Health, the Department of Defense, and the pharmaceutical industry," says Natalie D. Eddington, PhD, FAAPS, FCP, dean and professor of the School of Pharmacy. "His proven track record and tenure here make him a natural choice to further shepherd the impressive growth of our comprehensive research portfolio and to partner with faculty, staff, students, and trainees on their research endeavors in addition to collaborating on the growth of two of our PhD programs."
The School of Pharmacy has more than $32.8 million in grants and contracts, with more than $6.8 million of that funding from the National Institutes of Health. It is ranked by the American Association of Colleges of Pharmacy as 16th in research out of more than 140 schools.
As a top research school, the School of Pharmacy applies an integrative approach to drug discovery and development, innovative patient care, and drug outcomes and their economic impact. Researchers in PSC are identifying new drugs to treat drug abuse, cancer, neurodegenerative diseases, and infection. The Department of Practice, Sciences, and Health Outcomes Research (P-SHOR) provides valuable information on the economic costs, safety, and public policy issues that arise once drugs and therapies have been made available to the public. P-SHOR also shapes the future of pharmacy by offering innovative teaching methods and translating research discoveries and pharmacy practice innovations into exemplary patient care.
"I am honored to serve again as associate dean," Shapiro says. "My goals are to support faculty in obtaining research grants and contracts, to work with our two departments and external partners to optimize graduate student and postdoctoral fellow training that meets workforce needs, and to work with other University of Maryland, Baltimore schools to identify and promote collaborative research opportunities."
His other leadership roles have included director of PSC's PhD program and department chair from 2015 to 2020. He has extensive service on numerous departmental and School committees, in addition to mentorship of PharmD and PhD students and postdoctoral fellows.
Related News Stories