Layson-Wolf Named APhA-ASP Outstanding Chapter Advisor
Award recognizes chapter advisors who have gone above and beyond to promote the welfare of student pharmacists.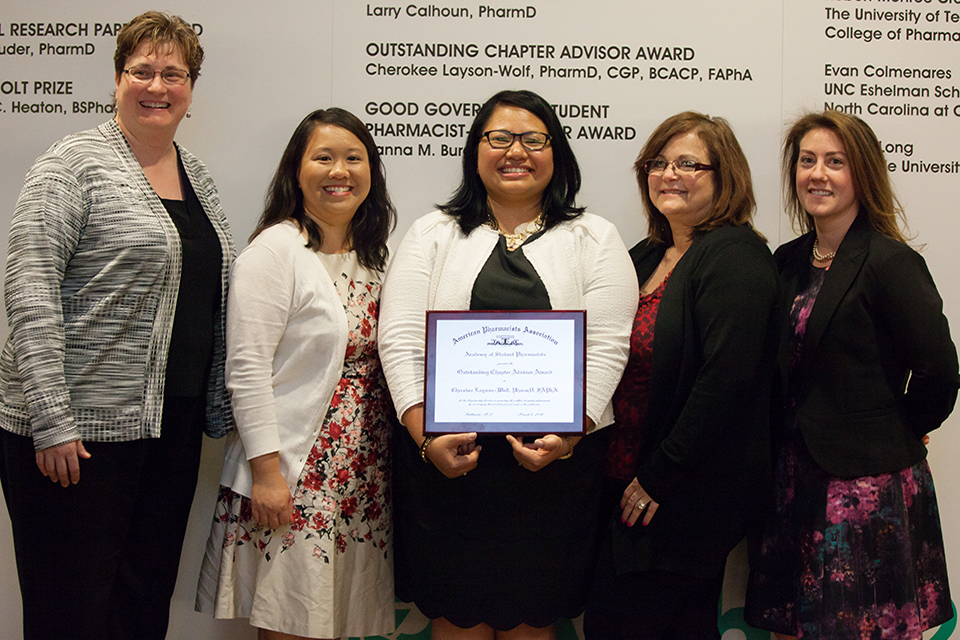 By Malissa Carroll
March 8, 2016
Cherokee Layson-Wolf, PharmD, BCACP, FAPhA, associate professor in the Department of Pharmacy Practice and Science (PPS) and associate dean for student affairs at the University of Maryland School of Pharmacy, has been named the 2016 American Pharmacists Association-Academy of Student Pharmacists (APhA-ASP) Outstanding Chapter Advisor. This award is presented each year to an exceptional pharmacy faculty member who has promoted with distinction the welfare of student pharmacists through various professional activities.
"Dr. Layson-Wolf has dedicated her career to helping student pharmacists at the School exceed their potential both inside and outside of the classroom," says Natalie D. Eddington, PhD, FCP, FAAPS, dean and professor of the School of Pharmacy. "She has served as the advisor for the School's APhA-ASP chapter for more than 10 years, mentoring its members and helping them win numerous awards and recognitions for their stellar patient education and outreach efforts. We are thrilled for her to be recognized at the national level and congratulate her on her success."
Layson-Wolf received her Doctor of Pharmacy (PharmD) from the School in 2000. She completed a residency in community pharmacy at Virginia Commonwealth University and Ukrop's Pharmacy before returning to the School as an assistant professor in 2001. She is board certified in ambulatory care pharmacy, and has held numerous positions at the School, including serving as assistant dean for experiential learning.
"The members of our chapter were excited to learn that Dr. Layson-Wolf would be recognized as APhA-ASP's Outstanding Chapter Advisor this year," says Elissa Lechtenstein, a third-year student pharmacist and president of the School's APhA-ASP chapter. "She has provided more than a decade of service to our chapter and has ensured that all of our projects and programs align with the organization's national mission to serve as the collective voice of student pharmacists, provide opportunities for professional growth, improve patient care, and envision and advance the future of pharmacy. She is an inspiration not only to me, but to all of the student pharmacists that she encounters through her work with our chapter."
Layson-Wolf also serves as director of the University of Maryland PGY-1 Community Pharmacy Residency Program. In 2014, she was honored by the American Pharmacists Association (APhA) with its Community Pharmacy Residency Excellence in Precepting Award. Her practice specialties include immunization, self-care, point of care testing, medication therapy management (MTM), and diabetes management. She currently serves as a pharmacist with the School's Patients, Pharmacists Partnerships (P3) Program, a pharmacist-delivered comprehensive medication management program for individuals with chronic diseases.
"Pharmacists are the most accessible members of the health care team, and I strive to encourage students in the School's APhA-ASP chapter to leverage their involvement in the nation's largest student pharmacy organization to help expand the profession and develop innovative education and outreach programs that showcase the impact that pharmacists can have on patients' health care," says Layson-Wolf. "Watching the student pharmacists that I advised and mentored go on to achieve great success in the profession is one of the most rewarding aspects of my career, so it is an incredible honor to be recognized for my work with the students in this organization."
Layson-Wolf received her award at the APhA Annual Meeting & Exposition held March 4-7, 2016 at the Convention Center in Baltimore.
Related News Stories