Student Pharmacists Participate in City-Wide Homeless Outreach Initiative
Project Homeless Connect helped more than 2,000 individuals experiencing homelessness in Baltimore receive an array of health care and social services.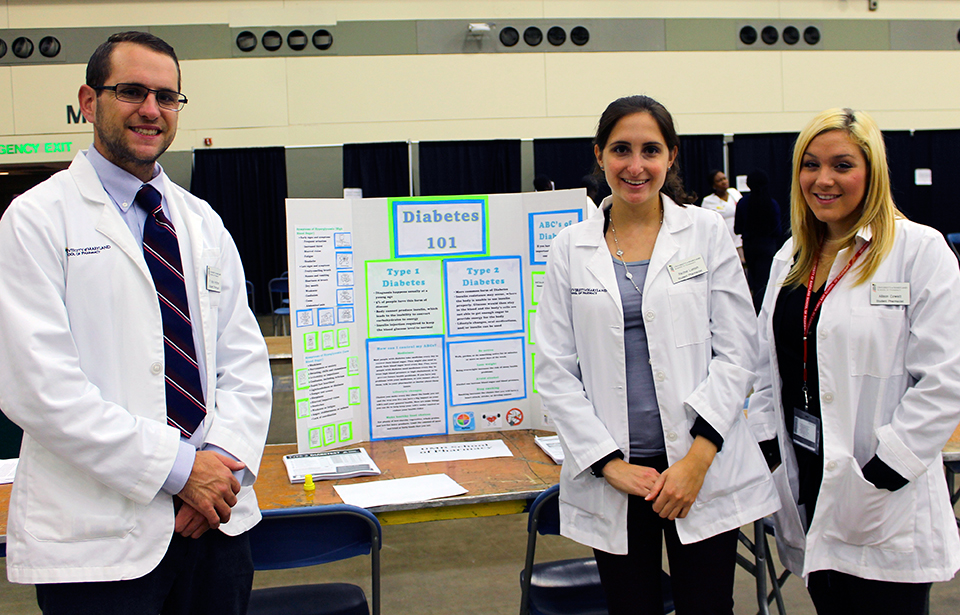 By Malissa Carroll
October 1, 2015
On Sept. 24, student pharmacists from the University of Maryland School of Pharmacy joined students from the University of Maryland Schools of Dentistry, Nursing, Medicine, Law, and Social Work as well as volunteers from dozens of corporations, non-profit organizations, religious groups, and other universities and colleges, at the Baltimore Convention Center to assist members of the city's most vulnerable population by participating in the fourth annual Project Homeless Connect. The students – representatives from the School's American Pharmacists Association-Academy of Student Pharmacists' (APhA-ASP) Operation Diabetes initiative – aided more than 2,000 individuals who attended the city-wide event by providing education about medication adherence and diabetes, and helping participants complete a diabetes risk assessment.
"The School of Pharmacy strives to lead pharmacy education, scientific discovery, patient care, and community engagement across the state of Maryland and beyond," says Cherokee Layson-Wolf, PharmD, CGP, BCACP, FAPhA, associate dean for student affairs and associate professor in the Department of Pharmacy Practice and Science (PPS) at the School. "Project Homeless Connect offered an excellent opportunity for our students to witness first-hand the need for accessible health care services in the local community. It not only exposed students to a patient population that they might not encounter in a typical pharmacy setting, but also allowed them to demonstrate their knowledge and skills as the most accessible members of the health care team."
Organized by the United Way of Central Maryland and the Baltimore City Mayor's Office of Human Services, Project Homeless Connect works to eliminate the barriers to accessing services that are often encountered by individuals experiencing homelessness. It provides individuals affected by homelessness with a "one stop shop" for a wide selection of health care and social services, including assistance with housing and shelter, employment and education, and medical and dental care.
"When I was in college, I attended an event at which the speaker was a man who became homeless after serving as the vice president for a large corporation for many years," says Ashley Fan, a third-year student pharmacist at the School of Pharmacy and chair of APhA-ASP's Operation Diabetes, who coordinated the group's participation in Project Homeless Connect. "Hearing his story helped me realize that homelessness can affect anyone at any time. As student pharmacists, our participation in events such as Project Homeless Connect is critical not only to our professional development, but also to our personal growth. This is a population in our community that needs help, and it is our responsibility as future health care professionals to provide that assistance in a kind and compassionate manner."
According to the American Diabetes Association, diabetes affects nearly 30 million children and adults in the United States. However, approximately 8 million of those individuals are not aware that they have this potentially serious disease. While diabetes can be difficult to manage for a typical patient, individuals experiencing homelessness often encounter additional challenges due to a lack of information, lack of access to services, and lack of a stable schedule and reliable transportation to keep medical appointments. Having student pharmacists present at Project Homeless Connect allowed participants to learn more about diabetes, determine their risk for the disease, and get information about the measures that they can take to prevent or manage the condition.
"It was truly inspiring to see many different organizations come together to serve the individuals affected by homelessness in our community," says Edward Neuberger, a third-year student pharmacist at the School of Pharmacy who volunteered to assist at the event. "Project Homeless Connect not only provided students like me with valuable hands-on experience educating patients about diabetes, but also served as an important resource for the patients with whom we interacted, as these individuals may not have reliable and regular access to this information in their daily lives."
Brian Lindner, another third-year student pharmacist at the School who provided information about diabetes to participants at the event, added, "When I expressed my desire to become a pharmacist, I told others that it was because I wanted to be able to help people in my community. Project Homeless Connect offered me a fantastic opportunity to do that, and to do so in a very creative manner. Through my participation in this event, I got to know each patient with whom I spoke on a personal level, and I was challenged to think outside of the box to optimize their care in ways that were practical for their lifestyles."
To view a video from the event and learn more about how other schools across the University of Maryland, Baltimore (UMB) contributed their services, visit the University's website.
Related News Stories