Pharmacy Students Reach Out to Voters on Election Day with Free Flu Shots
Students operating Vote & Vax in two Maryland communities exhibit the scope of new pharmacy practice in public health and disease prevention.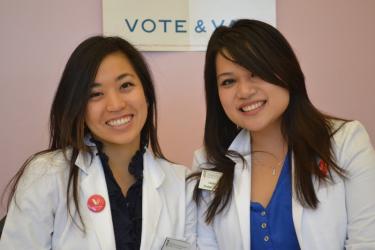 By Steve Berberich
November 19, 2012
By organizing Vote & Vax community outreach projects where free flu shots were provided at two sites on the Nov. 6 election day, students at the University of Maryland (UM) School of Pharmacy were able to vaccinate many people who would not have had the opportunity otherwise.
The 30 students and faculty members gave free flu shots to 159 people at Langley Park Community Center in Prince George's County and 62 people at the Lula G. Scott Community Center in Anne Arundel County. Both centers were adjacent to voting places.
Vote & Vax was especially meaningful to one woman, a breast cancer survivor, says student pharmacist Elizabeth Tien. "As a breast cancer survivor, she is part of the at-risk population who should receive annual flu vaccinations," Tien recalls. "However, she no longer had health insurance and could not afford to pay for immunizations."
The students organized Vote & Vax to help meet the needs of underserved residents and to demonstrate the expanding role of pharmacists, including the ability of board-registered immunizing pharmacists to immunize in all 50 states.
"It was extremely gratifying to see the impact we can impart as student pharmacists. Our goal was to serve the health care needs of the local community and advocate for our profession by exhibiting the scope of our practice in public health and disease prevention," says Tien.
The project was organized by the School's American Pharmacists Association (APhA)-Academy of Student Pharmacists, the American Society of Health-System Pharmacists, and the Student Section of the Maryland Public Health Association. The UM student pharmacists had passed the APhA's certificate program for immunizing pharmacists. They are fourth-year students expecting to graduate in May and were supervised by faculty under the School's experiential learning rotation.
Faculty advisor Cherokee Layson-Wolf, PharmD, CGP, FAPhA, says, "This is another way our students have learned to incorporate themselves into the realm of public health. Immunizing 221 people was important, but equally important perhaps was the six months of planning to identify locations with health disparities and organize this with the county health departments. The students did all of that," says Layson-Wolf, assistant dean for experiential learning and an associate professor in the School's Department of Pharmacy Practice and Science. "The inherent benefits of this activity are the students learning to plan the program and the county health officials seeing what pharmacists can do," she says.
The free flu shots, which were supplied by Prince George's County and Anne Arundel County health departments, provide protection against three strains of the flu virus, including H1N1. Each year, as many as 60 million people in the United States come down with the flu.
"Through our student pharmacists' vaccination efforts, they are playing a vital and important role in ensuring that the public health needs of Maryland's citizens are met," says Natalie D. Eddington, PhD, FAAPS, FCP, dean of the School of Pharmacy. "Their outreach is commendable and consistent with their focus on community engagement, a commitment they will surely continue as practicing pharmacists."
Related News Stories