Student Pharmacists Awarded Prestigious MedImmune Fellowships
Fellowships will provide students with the hands-on experience and leadership skills needed to pursue careers in clinical drug development.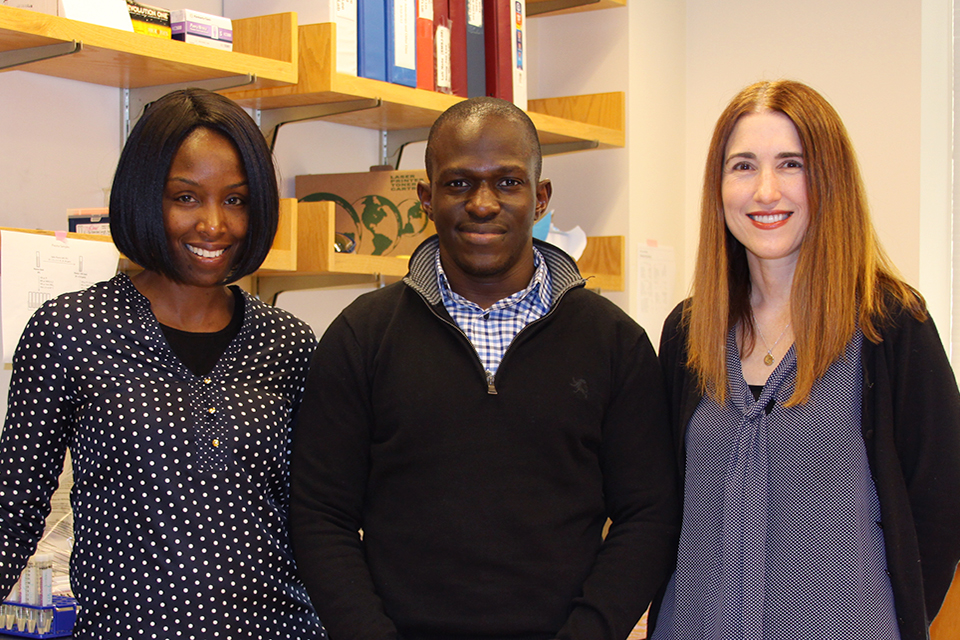 By Malissa Carroll
May 16, 2016
Abdulafeez Oluyadi and Andong Nkobena, fourth-year students in the Doctor of Pharmacy (PharmD) program at the University of Maryland School of Pharmacy, have been awarded fellowships at MedImmune — the global biologics research and development arm of AstraZeneca based in Gaithersburg, Md. The exclusive fellowships will provide Oluyadi and Nkobena with the hands-on experience and leadership skills necessary to pursue careers in clinical drug development following their graduation from the School in May 2016.
"The School of Pharmacy has partnered with MedImmune for more than five years to make this unique fellowship available to new graduates who are interested in pursuing careers in the pharmaceutical and biotechnology industries," says Peter Swaan, PhD, associate dean for research and graduate studies and professor in the Department of Pharmaceutical Sciences (PSC) at the School. "This fellowship not only provides a wonderful opportunity for outstanding graduates, but also creates a pipeline for the development of highly-qualified scientists who will be on the forefront of creating new medicines for the treatment of a variety of diseases. We are thrilled that Abdulafeez and Andong have been selected to participate in this innovative educational and research experience, and look forward to hearing about their research in the future."
Oluyadi and Nkobena first made their interest in research known in their second year at the School when they applied and were accepted into the School's research pathway for student pharmacists. The research pathway allowed Oluyadi and Nkobena to complete a number of research-intensive elective courses and conduct research in the laboratory of Sarah Michel, PhD, professor in PSC. Oluyadi studied the biochemical mechanism of ribonucleic acid (RNA) recognition for a protein targeted by the influenza virus, while Nkobena joined researchers on a clinical trial funded by the Food and Drug Administration (FDA) to examine intravenous iron drugs used to treat chronic kidney disease.
The students presented their research to representatives from MedImmune earlier this year. Although only one fellowship was initially available, the exceptional presentations delivered by Oluyadi and Nkobena persuaded the company to make job offers to both students.
"Faculty at the School of Pharmacy work to leverage the contemporary curriculum, innovative educational experiences, and strategic professional relationships offered at the School to inspire excellence in all of our students," says Michel. "Having both Abdulafeez and Andong selected to participate in prestigious fellowships at MedImmune truly speaks to the quality of the education that they have received, as well as the caliber of research opportunities in which they were able to participate during their time at the School."
Fellowships at MedImmune are designed to help recent graduates understand the pathways for preclinical research and the link between preclinical research and clinical development, as well as distinguish the toxicology requirements to enable clinical development plans, the relationship between regulatory and clinical development, and the value of health economics and patient-reported outcomes on clinical development activities.
"The School's research pathway provided me with exposure to a broad range of research and allowed me to complete rigorous research classes, attend multiple informative seminars, and tap into a source of continuous mentorship," says Oluyadi. "As I begin my fellowship with MedImmune, I hope to use the knowledge and skills that I have acquired through the pathway to play an integral role in bringing innovative therapies into the clinical landscape."
"Through my involvement in the School's research pathway, I was able to participate in an exciting FDA-funded project that allowed me to hone both my research and analytical skills," adds Nkobena. "This fellowship represents an extension of the transferable skills that I acquired through that project, and I am looking forward to using my time at MedImmune to develop even more skills and further contribute to the scientific advancements being made across the company."
Oluyadi and Nkobena will begin their two-year fellowships in July 2016.
"Abdulafeez and Andong are superlative students, and I am thrilled to have them join the Clinical Development Fellowship Program at MedImmune," says Filip Dubovsky, MD, MPH, vice president for clinical biologics and therapeutic area head for infectious disease and vaccines at MedImmune. "Other fellows from the School of Pharmacy have leveraged the experience gained during their time at our organization to obtain highly sought after positions as clinical scientists with a number of major pharmaceutical and biotechnology companies, including within MedImmune and AstraZeneca. It is our goal that, upon the completion of their fellowships, both Abdulafeez and Andong will have acquired the knowledge and hands-on experience necessary to pursue fulfilling careers developing new, life-saving medications."
Related News Stories