SOP Hosts First Mid-Atlantic Metals in Medicine Symposium
Event organized by the School's Metallotherapeutics Research Center brings together regional experts with interest in metal systems to stimulate interaction and collaboration.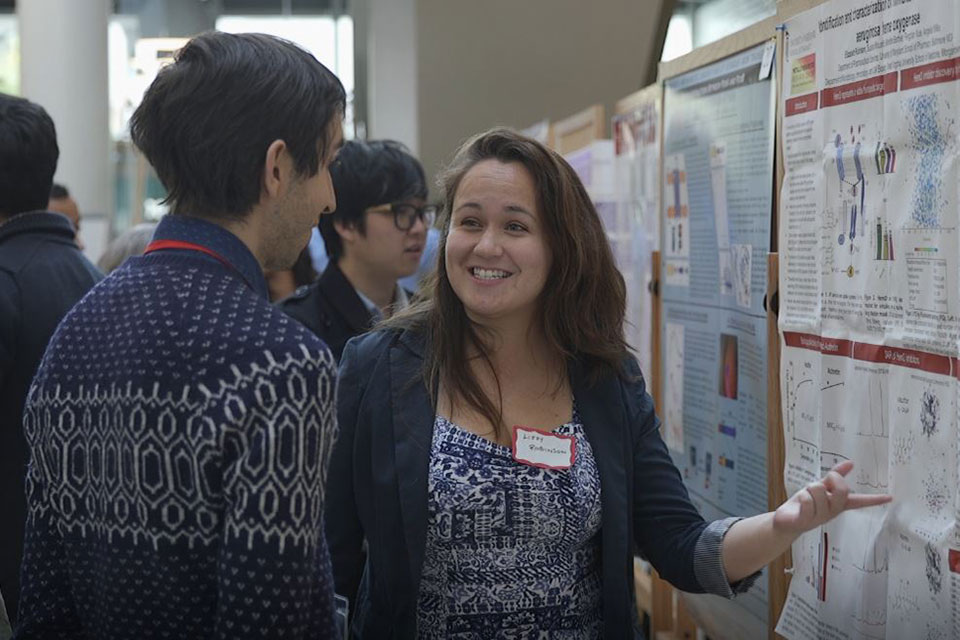 By Malissa Carroll
December 23, 2019
Nearly 100 researchers, graduate students, and postdoctoral fellows from across the Mid-Atlantic region gathered in Pharmacy Hall on Nov. 15 for the inaugural Frontiers in Metals and Medicine symposium. Hosted by the Metallotherapeutics Research Center at the University of Maryland School of Pharmacy, the symposium aimed to bring together current and aspiring researchers with an interest in metal systems to help stimulate interaction and collaboration in the field.
"Although metalloproteins have been implicated in a number of diseases, including cardiovascular disease, diabetes, and cancer, their function and role in these illnesses remains largely unknown," said Natalie D. Eddington, PhD, FCP, FAAPS, dean and professor of the School of Pharmacy, in her opening remarks to attendees. "While the School's Metallotherapeutics Research Center brings together the expertise of numerous faculty members to both develop new metallotherapeutics and train future scientists to meet the needs of industry and government agencies in this critical field, we also want to look beyond our walls to establish connections with faculty from surrounding institutions who have similar and complementary expertise. Today's program promises to be an excellent start in achieving that goal."
Combining Expertise to Advance Cutting-Edge Research
A metalloprotein is any protein that requires a metal ion, such as iron, copper, or zinc, to function. Approximately one-third of all proteins identified in the human genome are metalloproteins. Established in 2017, the Metallotherapeutics Research Center is housed within the School's Department of Pharmaceutical Sciences (PSC) and aims to improve human health and welfare locally, nationally, and internationally by identifying new metalloprotein drug targets, developing new metal therapeutics, and improving current metal-based medications.
"There are a lot of scientists across the region – including at institutions such as the National Institutes of Health, Johns Hopkins University, and the University System of Maryland – who study metalloproteins and are interested in developing new metallotherapeutics," says Angela Wilks, PhD, Isaac E. Emerson Professor of Pharmaceutical Sciences and co-director of the Metallotherapeutics Research Center at the School. "This symposium offered us an opportunity to bring these individuals together to begin building a focus in this field within the Baltimore-Washington metropolitan area. We encourage everyone who attended to network with one another and begin to think about new collaborative lines of research that they might want to pursue."
The day-long symposium featured four sessions focused on the identification and characterization of metallotherapeutic targets, the synthesis of metal-based inhibitors, metals and disease, and emerging tools and technologies in metallotherapeutics. In addition to presentations from several faculty members at the School of Pharmacy, including Fengtian Xue, PhD, associate professor in PSC; Sarah Michel, PhD, professor in PSC and associate dean for graduate programs; and Daniel Deredge, PhD, assistant professor in PSC, the symposium featured lectures from other nationally known experts in the field, such as Seth Cohen, PhD, professor of chemistry and biochemistry at the University of California, San Diego, whose presentation was titled "Enhancing Fragment-based Drug Discovery with Metallofragments."
"Symposiums like this offer an opportunity for researchers like us to raise awareness about the work being conducted by pharmaceutical scientists and medicinal chemists across the field," says Cohen. "Inorganic chemistry truly has an important role to play in medicine, and I hope that my talk helps stimulate interest among those working in this critical area, and better showcases the opportunities available there to help improve human health."
Offering Aspiring Researchers a Chance to Shine
Each session also included a talk from a graduate student who presented a poster at the symposium, allowing aspiring researchers an opportunity to highlight their current work and network with established leaders in the field.
"This symposium provided a forum for us to not only discuss top-notch science, but also help our trainees get more involved in the field," says Valeria Culotta, PhD, professor of biochemistry and molecular biology at Johns Hopkins University School of Medicine. "All of the superstars of metals in medicine in the Mid-Atlantic region are here, and our students are able to meet them and talk about their research."
"Having the opportunity to interact with professors and leaders in the field helps us better understand the research others across the region are currently pursuing," adds Sohini Dutt, a graduate student at the University of Maryland, College Park. "Based on our interactions here, we now know who we can reach out to for future collaborations that will build on the work we are doing in our lab."
And, it is the potential offered through these new collaborations about which the center's leadership is most excited.
"The excitement was palpable among the students in my lab who attended the symposium," says Michel, who also serves as co-director of the Metallotherapeutics Research Center with Wilks. "They are eager to pursue the new connections they made, and we are already planning to move forward with a number of new collaborations."
She adds, "It's the momentum of these new collaborations that will help us achieve our center's mission and continue to advance the field of metallotherapeutics not only in the Mid-Atlantic region, but across every region in the United States."

Related News Stories